Vol. 16 No. 2 (2021)
Articles
Hematological values of wild Caiman latirostris (Daudin, 1802) in the Atlantic Rainforest in Pernambuco, Brazil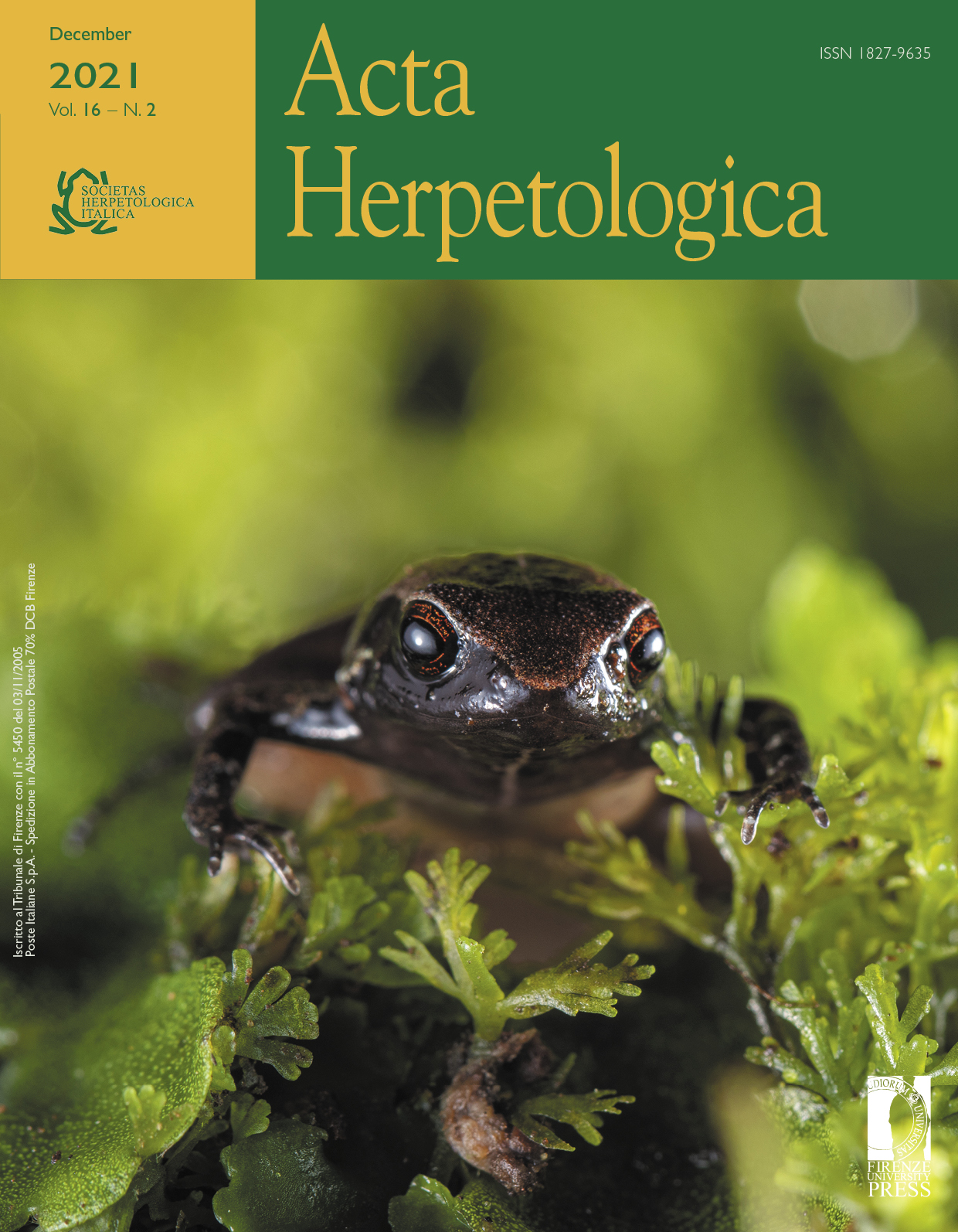 Published
November 4, 2021
Keywords
Broad-snouted Caiman

,

crocodilians

,

hematimetric indices

,

hematology
How to Cite
Rameh-de-Albuquerque, L. C., Zanotti, A. P., Souza, D. S., Diniz, G. T., Mascarenhas-Junior, P. B., Santos, E. M., & Correia, J. M. (2021). Hematological values of wild Caiman latirostris (Daudin, 1802) in the Atlantic Rainforest in Pernambuco, Brazil. Acta Herpetologica, 16(2), 99-108. https://doi.org/10.36253/a_h-11339
Copyright (c) 2021 Luciana C. Rameh-de-Albuquerque, Alexandre P. Zanotti, Denisson S. Souza, George T. Diniz, Paulo B. Mascarenhas-Junior, Ednilza M. Santos, Jozelia M.S. Correia
This work is licensed under a Creative Commons Attribution 4.0 International License.
Abstract
Hematological studies in crocodilians are important tools in the evolutionary diagnosis and control of sicknesses, such as anaemia, malnutrition, dehydration, inflammation, and parasitism, among others. We aimed to obtain reference intervals for the hemogram of Caiman latirostris in wild populations that inhabit Recife's Metropolitan Region, Pernambuco. We obtained blood samples from 42 caimans, from different sexes (22 males and 20 females) and ages classes (eight hatchlings, 24 subadults and 10 adults) in two areas of Atlantic Rainforest domain. We found that hematological parameters were included within the reference intervals for other crocodilian species. It was possible to observe differences between the areas for the mean corpuscular volume values, suggesting a possible difference between adult and juvenile individuals in the two study areas. When comparing sexes, there was no significant difference between the study parameters, but it was possible to observe differences in the mean corpuscular volume, mean corpuscular hemoglobin and hemoglobin in the Estação Ecológica de Tapacurá region. Although small differences have been observed between the two populations, we can infer that the hematological parameters are similar. We can use this information to evaluate animal's health in nature and for comparations with captive individuals, allowing the establishment of ideal maintenance conditions and assisting in the identification of possible pathologies.
References
Adelakun, K.M., Kehinde, A.S., Olaoye, O., Ihidero, A.A., Dalha, A. 92017): Blood biochemical of nile crocodile (Crocodylus niloticus) in Kano zoological garden, Nigeria. Bull. Ani. Hea. Prod. Afr. 65(1):95-102.
Almeida, A.V., Oliveira, M.A. (2009): A história da Estação Ecológica do Tapacurá (São Lourenço da Mata, PE) baseada no relatório de Vasconcelos Sobrinho de 1976. Available at: http://www. ufrpe. br/trabalho_ver. php. Accessed November, 12, 2020.
Alvares, C.A., Stape, J.L., Sentelhas, P.C., Gonçalves, J.D., Sparovek, G. (2013): Köppen's climate classification map for Brazil. Meteor. Zeits. 22(6):711-28.
APAC: Bacia do Capibaribe. (2020): Available at http://200.238.107.184/bacias-hidrograficas/40-bacias-hidrograficas/193-bacia-do-rio-capibaribe. Accessed September 10, 2020.
Barboza, N.N., Mussart, N.B., Coppo, J.A., Fioranelli, S.A., Koza, G.A. (2007): Oscilaciones del eritrograma en caimanes criados por sistema ranching. Rev. Vet. 18(2):84-91.
Barboza, N.N., Mussart, N.B., Prado, W.K., Gabriela, A., Coppo, J.A. (2006): Cambios del eritrograma durante el cautiverio de Caiman latirostris y Caiman yacare. Comum. Cient. Tecno. 1-4.
Basset, L.A.B. (2016): Estado sanitário do jacaré-de-papo-amarelo (Caiman latirostris) em paisagens antropizadas no Estado de São Paulo. Doctoral thesis: Ecologia de Agroecossistemas. Escola Superior de Agricultura Luiz de Queiroz, 85 p.
Bassetti, L.A.B., Verdade, L.M. (2014): Crocodylia (Jacaré, Crocodilo). In: Tratado de Animais Selvagens – Medicina Veterinária, 18p. Cubas, Z.S., Silva, J.C.R., Catão-Dias, J.L., Ed., São Paulo, São Paulo.
Campbell, T.W. (2006): Clinical pathology of reptiles, In: Reptile medicine and surgery, p 453-470. Mader, D.R., Ed., St. Louis, Missouri.
Carvalho, L.E. (2004): Os descaminhos das águas no Recife: os canais, os moradores e a gestão. Master thesis: Geografia, Universidade Federal de Pernambuco, 140 p.
Claver, J.A., Quaglia, A.I. (2009): Comparative morphology, development, and function of blood cells in non-mammalian vertebrates. Jou. Exo. Pet. Med. 18(2):87-97.
Coles, E.H. (1986): Veterinary clinical pathology, 4th Edition. New Delhi, DE:CBS Press.
Coutinho, M.E., Marioni, B., Farias, I.P. et al. (2013): Avaliação do risco de extinção do jacaré-de-papo-amarelo Caiman latirostris (Daudin, 1802) no Brasil. Available at: https://www.icmbio.gov.br/portal/images/stories/biodiversidade/fauna-brasileira/avaliacao-do-risco/crocodilianos/Caiman_latirostris_BB.pdf. Accessed August 01, 2020.
CPRH: Agência Estadual Do Meio Ambiente de Pernambuco. (2011): Unidades de Conservação de Proteção Integral. Available at: cprh.pe.gov.br/unidades_conservacao/Protecao_Integral/ Refugio_de_Vida_Silvestre/40032%3B56221%3B223705%3B0%3B0.asp. Accessed November 12, 2020.
Filogonio, R., Assis, V.B., Passos, L.F., Coutinho, M.E. (2010): Distribution of populations of broad-snouted caiman (Caiman latirostris, Daudin 1802, Alligatoridae) in the São Francisco River basin, Brazil. Braz. Jou. Biol. 70(4):961-8.
Heatley, J.J., Russell, K.E. (2019): Hematology. In: Mader's Reptile and Amphibian Medicine and Surgery, p 301-318. Divers, S.J, Stahl, S.J, Ed., St. Louis, Missouri.
Júnior, P.B.M., Santos, E.M., Correia, J.M.S. (2018): Diagnóstico dos resgates de jacarés na região metropoliana do Recife, Pernambuco. Ver. Ibero-Amer. de Ciênc. Ambientais. 9(4):138-45.
Leiva, P.M., Simoncini, M.S., Portelinha, T.C., Larriera, A., Piña, C.I. (2019): Size of nesting female Broad-snouted Caimans (Caiman latirostris Daudin 1802). Braz. Jou. Bio. 79(1):139-43.
Lima, Y.C. (2004): Dinâmica social e ambiental de capivaras (Hydrochoerus hydrochaeris Linnaeus, 1766) do Parque Estadual de Dois Irmãos, Recife-PE. Barchelor's monograph: Ciências Biológicas. Universidade Federal Rural de Pernambuco.
Magnusson, W.E. (1995): A conservação de crocodilianos na América Latina. In: La conservación y el manejo de caimanes e cocodrilos de America Latina, p 5-17. Larriera, A., Verdade, L.M., Ed., Santo Tomé, Santa Fé.
Mascarenhas-Junior, P.B., Anjos, H.R., Santos, E.M., Correia J.M.S. (2018): Caiman latirostris (Daudin, 1802) interaction with fishing nets in a lentic area, Northeast of Brazil. Herp Not. 11:977-80.
Mascarenhas-Junior, P.B., Santos, E.M., Moura, G.J., Diniz, G.T., Correia, J.M. (2020): Space-time distribution of Caiman latirostris (Alligatoridae) in lentic area of Atlantic Forest, northeast of Brazil. Herp Not. 13:129-37.
Moura, W.L., Matushima, E.R., Oliveira, L.W., Egami, M.I. Aspectos morfológicos e citoquímicos dos glóbulos sangüíneos de Caiman crocodilus yacare (Daudin, 1802) (Reptilia, Crocodilia). Braz. Jou. Vet. Res. Ani. Sci. 36(1):0-0.
Padilla, S.E., Weber, M., Jacobson, E.R. (2011): Hematologic and plasma biochemical reference intervals for Morelet's crocodiles (Crocodylus moreletii) in the northern wetlands of Campeche, Mexico. Jou.Wild. Dis. 47(3):511-22.
R Core Team. (2021): R: A language and environment for statistical computing. Available at https://cran.microsoft.com/snapshot/2014-09-08/web/packages/dplR/vignettes/xdate-dplR.pdf. Accessed April 12, 2021.
Rosenfeld, G. (1947): Método rápido de coloração de esfregaços de sangue. Noções práticas sobre corantes pancrômicos e estudo de diversos fatores. Mem. Inst. Butantan. 20:315-28.
Saggese, M.D. (2009): Clinical approach to the anemic reptile. Jou. Exo. Pet. Med. 18(2):98-111.
Santos, R.L., Bezerra, T.L., Correia, J.M.S., Santos, E.M. (2020): Artisanal fisheries interactions and bycatch of freshwater Testudines at the Tapacurá reservoir, Northeast Brazil. Herp. Not. 13:249-52.
Stacy, B.A., Whitaker, N. (2000): Hematology and blood biochemistry of captive mugger crocodiles (Crocodylus palustris). Jou. Zoo. Wild. Med. 31(3):339-47.
Webb, G.J., Manolis, S.C., Sack, G.C. (1984): Cloacal sexual of hatchling crocodiles. Wild. Res. 11(1):201-2.
Yanosky, A.A. (1990): Histoire naturelle du Caiman à museau large (Caiman latirostris), un alligatoriné mal connu. Rev. franc. d'aqua. 17(1):19-31.
Zayas, M.A., Rodríguez, H.A., Galoppo, G.H. et al. (2011): Hematology and blood biochemistry of young healthy broad-snouted caimans (Caiman latirostris). Jou. Herp. 45(4):516-524.