Short Note
Revisiting the polyploidy in the genus Odontophrynus (Anura: Odontophrynidae)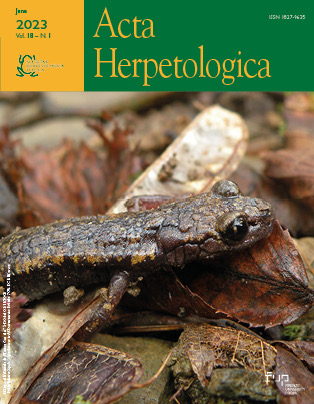 Published 2023-02-22
Keywords
Amphibian

,

Diploidization

,

Heterochromatin

,

rDNA
How to Cite
de Souza, A. L., Micalichen, M. A. das N., da Rocha, R. A., & Noleto, R. B. (2023). Revisiting the polyploidy in the genus Odontophrynus (Anura: Odontophrynidae). Acta Herpetologica, 18(1), 61–67. https://doi.org/10.36253/a_h-12539
Copyright (c) 2023 André Luis de Souza, Mayara Aparecida das Neves Micalichen, Roger Alves da Rocha, Rafael Bueno Noleto
This work is licensed under a Creative Commons Attribution 4.0 International License.
Abstract
The genus Odontophrynus, composed of ten species, is found in practically the entire south of South America. Odontophrynus americanus was the first vertebrate registered to present natural polyploidy, considering that most individuals have 2N = 4x = 44 chromosomes, although having 2N = 2x = 22 chromosomes is considered the ancestral condition for all genera of the family Odontophrynidae. The present study aimed to analyze the karyotype of O. americanus, providing a detailed and comparative description of conventional chromosomal markers, with focus on a possible diploidization process operating in this polyploid genome. The individuals were collected in a fragment of Atlantic Forest in the south-central region of Paraná State, Brazil. The analyzed individuals presented the tetraploid pattern, with biarmed chromosomes. The C-banding showed heterochromatic regions restricted to centromeres and telomeres. Among homologous chromosomes of the same quartet, small differences were observed in morphology, possibly the result of differentiation after the polyploidization event. Finally, the 45S rDNA (Nucleolar Organizer Regions) was mapped in the short arm of quartet 11, showing the nucleolus organizing regions active in the four homologous chromosomes. This genome, although structurally polyploid, may be undergoing a process of diploidization, by becoming functionally equivalent to a diploid genome, via chromosomal rearrangements, epigenetic mechanisms, and/or repetitive DNA dynamics.
References
Amaro-Ghilardi, R.C., Silva, M.J.D.J., Rodrigues, M.T., Yonenaga-Yassuda, Y. (2008): Chromosomal studies in four species of genus Chaunus (Bufonidae, Anura): Localization of telomeric and ribosomal sequences after fluorescence in situ hybridization (FISH). Genetica 134: 159–168.
Baldissera, F.A., Lopes Des Oliveira, P.S., Kasahara, S. (1993): Cytogenetics of four Brazilian Hyla species (amphibia-anura) and description of a case with a supernumerary chromosome. Rev. Brasil. Gen. 16: 335–345.
Beçak, M.L., Beçak, W., Rabello, M.N. (1966): Cytological evidence of constant tetraploidy in the bisexual South American frog Odontophrynus americanus. Chromosoma 19: 188–193.
Becak, M.L., Becak, W. (1974): Studies on Polyploid Amphibians: Karyotype Evolution and Phylogeny of the Genus Odontophrynus. J. Herpetol. 8: 337–341.
Bogart, J.P. (1967): Chromosomes of the South American amphibian family Ceratophridae with a reconsideration of the taxonomic status of Odontophrynus americanus. Can. J. Genet. Cytol. 9: 531–542.
Bogart, J.P. (1973): Evolution of anuran karyotypes. Pp. 337–349 in Vial JL (ed.) Evolutionary Biology of the Anurans. University of Missouri Press, USA.
Bogart, J.P. (1980): Evolutionary implications of polyploidy in amphibians and reptiles. Pp. 341–377 in W. H. Lewis (ed.), Polyploidy: Biological Relevance. Plenum Press, New York.
Böhne, A., Brunet, F., Galiana-Arnoux, D., Schultheis, C., Volff, J.N. (2008): Transposable elements as drivers of genomic and biological diversity in vertebrates. Chromosome Res. 16: 203–215.
Borteiro, C., Kolenc, F., Pereyra, M. O., Rosset, S., Baldo, D. (2010): A diploid surrounded by polyploids: Tadpole description, natural history and cytogenetics of Odontophrynus maisuma Rosset from Uruguay (Anura: Cycloramphidae). Zootaxa 2611: 1–15
Cianciarullo, A.M., Naoum, P.C., Bertho, Á.L., Kobashi, L.S., Beçak, W., Soares, M.J. (2000): Aspects of gene regulation in the diploid and tetraploid Odontophrynus americanus (Amphibia, Anura, Leptodactylidae). Genet. Mol. Biol. 23: 357–364.
Cianciarullo, A.M., Bonini-Domingos, C.R., Vizotto, L.D., Kobashi, L.S., Beçak, M.L., Beçak, W. (2019): Whole-genome duplication and hemoglobin differentiation traits between allopatric populations of Brazilian Odontophrynus americanus species complex (Amphibia, Anura). Genet. Mol. Biol. 42: 436–444.
Evans, B.J., Pyron R.A., Wiens J.J. (2012): Polyploidization and sex chromosome evolution in amphibians. In Polyploidy and genome evolution (pp. 385-410). Springer, Berlin, Heidelberg.
Feng, Y.J., Blackburn, D.C., Liang, D., Hillis, D.M., Wake, D.B., Cannatella, D.C., Zhang, P. (2017): Phylogenomics reveals rapid, simultaneous diversification of three major clades of Gondwanan frogs at the Cretaceous-Paleogene boundary. Proc Natl Acad Sci U.S.A. 114: E5864-E5870.
Frost, D.R. (2021): Amphibian Species of the World: an Online Reference. Version 6.1 (15.04. 2020). Electronic Database accessible at htps. amphibiansofheworld. amnh. org/index. php. American Museum of Natural History, New York, USA. (Accessed on 25 February 2021).
Furey, T.S., Sethupathy, P. (2013): Genetics driving epigenetics. Science 342: 705-706.
Gray, Y.H.M. (2000): It takes two transposons to tango: Transposable-element-mediated chromosomal rearrangements. Trends Genet. 16: 461-468.
Grenat, P., Salas, N., Pollo, F., Otero, M., Baraquet, M., Sinsch, U., Martino, A. (2018): Naturally occurring triploids in contact zones between diploid/tetraploid Odontophrynus cordobae and O. americanus (Anura, Odontophrynidae). Amphib. Reptil. 39: 1-10.
Hashimshony, T., Zhang, J., Keshet, I., Bustin, M., Cedar, H. (2003): The role of DNA methylation in setting up chromatin structure during development. Nat. Genet. 34: 187-192.
Howell, W.M., Black, D.A. (1980): Controlled silver-staining of nucleolus organizer regions with a protective colloidal developer: a 1-step method. Experientia 36: 1014-1015.
Lanzone, C., Baldo, D., Rosset, S.D. (2008): Meiotic differentiation in two allopatric population groups of the tetraploid frog Odontophrynus americanus from argentina. Herpetol. J. 18: 213-222.
Lynch, J.D. (1971): Evolutionary relationships, osteology, and zoogeography of leptodactyloid frogs. Univ. Kans. Mus. Nat. Hist., Misc. Publ. 53: 1-238.
Mable, B., Alexandrou, M.A., Taylor M.I. (2011): Genome duplication in amphibians and fish: an extended synthesis. J. Zool. 284: 151-182.
Mandrioli, M. (2000): Mariner-like transposable elements are interspersed within the rDNA-associated heterochromatin of the pufferfish Tetraodon fluviatilis (Osteichthyes). Chromosome Res. 8: 177-179.
Martino, A.L., Sinsch, U. (2002): Speciation by polyploidy in Odontophrynus americanus. J. Zool. 257: 67-81.
Martino, A.L., Dehling, J.M., Sinsch, U. (2019): Integrative taxonomic reassessment of Odontophrynus populations in Argentina and phylogenetic relationships within Odontophrynidae (Anura). PeerJ 7: 1-32.
Martins, C. (2007): Chromosomes and Repetitive DNAs: A Contribution to the Knowledge of the Fish Genome. In: Fish Cytogenetics. CRC Press, 421-453.
Ohno, S. (1970): Evolution by Gene Duplication. Springer-Verlag, Berlin.
Ohno, S. (1974): Protochordata, Ciclostomata and Pisces. In: Animal Cytogenetics (Chordata 1). Gebrüder Borntraeger, 92.
Pyron, R.A., Wiens J.J. (2011): A large-scale phylogeny of Amphibia including over 2800 species, and a revised classification of extant frogs, salamanders, and caecilians. Mol. Phylogenet. Evol. 61: 543-583.
Quiroga, L.B., Sanabria, E.A., Marangoni, F. (2015): Sexual size dimorphism and age in Odontophrynus cf. barrioi (Anura: Odontophrynidae) from the Monte Desert, Argentina. J. Herpetol. 49: 627-632.
Rocchi, M., Archidiacono, N., Schempp, W., Capozzi, O., Stanyon, R. (2012): Centromere repositioning in mammals. Heredity 108: 59-67.
Rocha, P.C., De Sena, L.M.F., Pezzuti, T.L., Leite, F.S.F., Svartman, M., Rosset, S.D., Baldo, D., de Anchietta Garcia, P.C. (2017): A new diploid species belonging to the Odontophrynus americanus species group (Anura: Odontophrynidae) from the espinhaço range, Brazil. Zootaxa 4329: 327-350.
Rosset, S.D., Baldo, D., Lanzone, C., Basso, N.G. (2006): Review of the geographic distribution of diploid and tetraploid populations of the Odontophrynus americanus species complex (Anura: Leptodactylidae). J. Herpetol. 40: 465-477.
Rosset, S.D. (2008): New species of Odontophrynus Reinhardt and Lütken 1862 (Anura: Neobatrachia) from Brazil and Uruguay. J. Herpetol. 42: 134-144.
Rosset, S.D., Fadel, R.M., Guimarães, C. da S., Carvalho, P.S., Ceron, K., Pedrozo, M., Serejo, R., Santos Souza, V. dos, Baldo, D., Mângia, S. (2021): A New Burrowing Frog of the Odontophrynus americanus Species Group (Anura, Odontophrynidae) from Subtropical Regions of Argentina, Brazil, and Paraguay. Ichthyol. Herpetol. 109: 228-244.
Ruiz, I.R.G., Beçak, W. (1976). Further studies on polyploid amphibians - V. C-banding in diploid and tetraploid species of Odontophrynus. Chromosoma 54: 69-74.
Ruiz I.R.G., Soma, M., Becak, W. (1981): Nucleolar organizer regions and consitutive heterochromatin in polyploid species of the genus Odontophrynus (Amphibia, Anura). Cytogenet. Cell Genet. 29: 84-98.
Ruiz, I.R.G., Brison, O. (1989): Methylation of ribosomal cistrons in diploid and tetraploid Odontophrynus americanus (Amphibia, Anura). Chromosoma 98: 86-92.
Salas, N.E., Martino, A.L. (2007): Cariotipo de Odontophrynus cordobae Martino & Sinsch, 2002 (anura, leptodactylidae). BAG. J. Basic Appl. Genet. 18: 1-5.
Schmid, M., Haaf, T., Schempp, W. (1985): Chromosome banding in Amphibia - IX. The polyploid karyotypes of Odontophrynus americanus and Ceratophrys ornata (Anura, Leptodactylidae). Chromosoma 91: 172-184.
Schmid, M., Evans, B.J., Bogart, J.P. (2015): Polyploidy in Amphibia. Cytogenetic and Genome Res. 145: 315-330.
Schmidtke, J., Engel, W. (1976): Gene action in fish of tetraploid origin. III. Ribosomal DNA amount in cyprinid fish. Biochem. Genet. 14: 19-26.
Schwarzacher, T., Leitch, A.R., Bennett, M.D., Heslop-Harrison, J.S. (1989): In situ localization of parental genomes in a wide hybrid. Ann. Bot. 64: 315-324.
Sumner, A.T. (1972): A simple technique for demonstrating centromeric heterochromatin. Exp. Cell Res. 75: 304-306.