Vol. 48 (2022): XLVIII - 2022
Articoli
'Platone' e l'anima δύσερως. Una nota ad AP 5.78=FGE 588 s.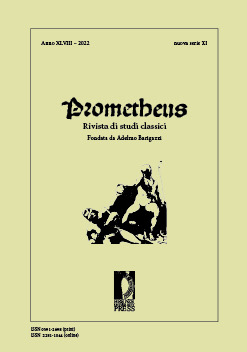 Keywords
Plato

,

epigrams

,

Anthologia Graeca

,

Syllogae Minores

,

Sylloge Parisina
Copyright (c) 2022 Lucia Floridi
This work is licensed under a Creative Commons Attribution 4.0 International License.
Abstract
Discussion of the textual variant δύσερως instead of τλήμων in 'Plato' AP 5.78.2 = FGE 589, preserved by the Sylloge Parisina.