Vol. 12 No. 2 (2021): MEDIA EDUCATION – Studi, ricerche e buone pratiche
Articles
Tecnologie immersive per la didattica museale: una proposta per la valorizzazione dello scambio intergenerazionale tra nonni e nipoti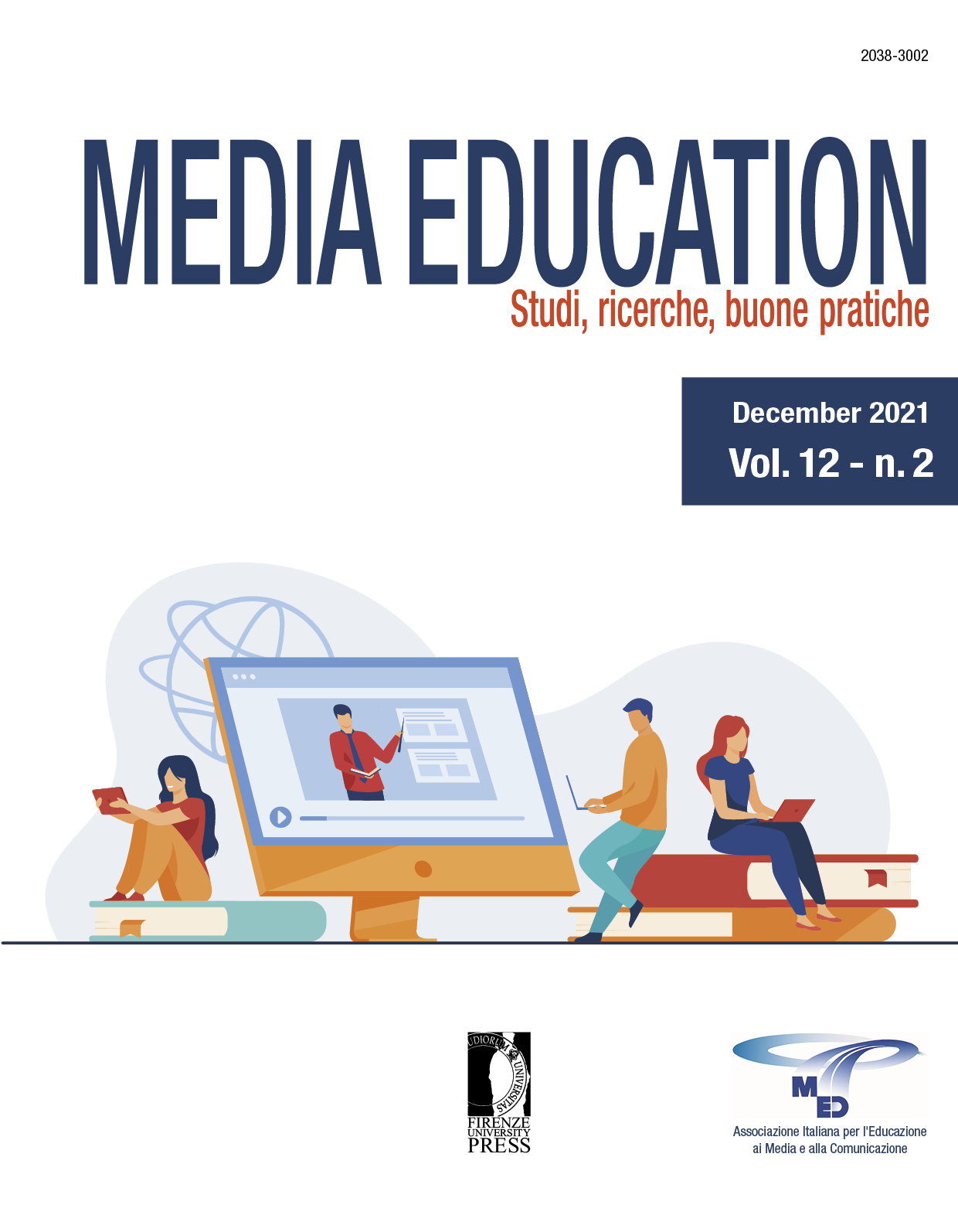 Published
November 29, 2021
Keywords
cultural heritage

,

museum education

,

immersive technologies

,

intergenerational exchange
Copyright (c) 2021 Silvia Coppola, Silvia Zanazzi
This work is licensed under a Creative Commons Attribution-NonCommercial-NoDerivatives 4.0 International License.
Abstract
The evolution of technology has led to a redefinition of training paradigms in different educational and cultural contexts. In particular, immersive technologies, which involve the user on a sensory, motor, emotional and cognitive level, have a high potential for success in learning processes. The contribution presents a proposal for the enhancement of the intergenerational exchange between elderly and young people through the fruition of cultural heritage, mediated by immersive technologies.
References
Amaro, A. and Oliveira, L. (2019), IoT for Playful Intergenerational Learning about Cultural Heritage: The LOCUS Approach. In Proceedings of the 5th International Conference on Information and Communication Technologies for Ageing Well and e-Health (ICT4AWE 2019), pp. 282-28.
Arduini, G. (2012), La realtà aumentata e nuove prospettive educative, «Education sciences & society», n.2, pp. 209-216.
Aroldi, P. (2018), Anziani e tecnologie digitali. Una sfida aperta per le famiglie e per la società, «La Famiglia, Rivista di problemi familiari», n.52/262, pp.38-51.
Aroldi, P. Colombo, F., Carlo, S. (2014), 'Stay Tuned': The Role of ICTs in Elderly Life. In Giuseppe Riva, Paolo Ajmone, Marsan Claudio Grassi (a cura di), Active Ageing and Healthy Living. A Human Centered Approach in Research and Innovation as Source of Quality of Life. Amsterdam, IOS Press.
Aroldi, P. Colombo, F., Carlo, S. (2015), New Elders, Old Divides: ICTs, Inequalities and Well Being amongst Young Elderly Italians, «Comunicar», n.23 (45), pp.47-55.
Bonacini, E. (2011), Nuove tecnologie per la fruizione e valorizzazione del patrimonio culturale, Roma, Aracne.
Bonacini, E. (2020), I musei e le forme dello storytelling digitale, Roma, Aracne.
Cameron, F., Kenderdine, S. (2007), Theorizing digital cultural heritage: a critical discourse, Cambridge, MIT Press.
Consiglio Europeo (2018), Raccomandazione 2018/C 189/01 del 22 maggio 2018. Competenze chiave per l'apprendimento permanente. Indirizzo internet: https://eur-lex.europa.eu/legalcontent/ [accesso 16.02.2021].
Coppola, S., Zanazzi, S. (2020), L'esperienza dell'arte. Il ruolo delle tecnologie immersive nella didattica museale, «Formazione & Insegnamento», n.2 (18), pp.36-49.
Cristini, C., Cesa-Bianchi, M., Cesa-Bianchi, G., & Porro, A. (2011), Transgenerazionalità. In L'ultima creatività, Milano, Springer, pp. 97-131.
Darinskaia, L., & Moskvicheva, N. (2019, May), Intergenerational Education as a Resource of Digital Socialization of Older People. In 2019 International Conference on Pedagogy, Communication and Sociology (ICPCS 2019), Atlantis Press, pp.448-451.
Dewey J. (1934), Art as experience, trad. it. L'arte come esperienza, Firenze, La Nuova Italia, 1951.
Di Pietro, I. (2018), Realtà aumentata per la fruizione museale: risorse culturali o inevitabili evasioni? Intrecci d'arte, 7, 117-122.
Dozza, L., Frabboni, F. (2012), Lo sguardo dei nonni. Ritratti generazionali, Milano, Franco Angeli.
Freeman, S., Marston, H. R., Olynick, J., Musselwhite, C., Kulczycki, C., Genoe, R., & Xiong, B. (2020), Intergenerational effects on the impacts of technology use in later life: insights from an international, multi-site study, «International journal of environmental research and public health», n.17(16), 5711.
Gibbs, K., Sani, M., Thompson, J. (a cura di) (2001), Life long learning in museums. A European handbook, Ferrara, EDISAI srl.
Gilli, G., & Rozzi, F.M. (2013), Smart Museum – La psicologia della fruizione artistica, Milano, Franco Angeli.
ISTAT (2020), Cultura, uso dei media e nuove tecnologie. Indirizzo internet: https://www4.istat.it/it/anziani/cultura-uso-dei-media-e-nuove-te [accesso 16.02.2021].
Liotta, G., Canhao, H., Cenko, F., Cutini, R., Vellone, E., Illario, M., & Marazzi, M. C. (2018), Active ageing in Europe: adding healthy life to years, «Frontiers in medicine», n.5, 123.
Lo Buono, D. L., Leedahl, S. N., & Maiocco, E. (2019), Older adults learning technology in an intergenerational program: Qualitative analysis of areas of technology requested for assistance, «Gerontechnology», n.18(2), pp. 97-107.
Maniello, D. (2018), Realtà aumentata in spazi pubblici - Tecniche avanzate di video mapping: La realtà spaziale aumentata applicata al bene culturale (Vol. 2), Brienza, Le Penseur.
Nardi, E. (2004), Musei e pubblico: un rapporto educativo, Milano, Franco Angeli.
National Research Council (1999), Being fluent with information technology, Washington, National Academy Press.
Nuzzaci, A. (2012), La didattica museale tra pedagogical literacy, heritage literacy e multiliteracies. Costruire il profilo del letterato del 21° secolo, Lecce, Pensa Multimedia.
Prensky M (2001), Digital natives, digital immigrants, Part 1, «On the Horizon», n.9 (5), pp. 1-6, Bingley, MCB University Press Ltd.
Prensky M. (2010), H. Sapiens Digitale: dagli Immigrati digitali e nativi digitali alla saggezza digitale, «TD-Tecnologie Didattiche», n.50, pp. 17-24.
Risi, E. (2009), L'apprendimento contro l'invecchiamento. Le opportunità di formazione per gli anziani all'uso delle nuove tecnologie, «Quaderni europei sul nuovo welfare», n.12, pp. 53-71.
Sanford, C., Knutson, K., & Crowley, K. (2007). 'We always spend time together on Sundays': How grandparents and their grandchildren think about and use informal learning spaces, «Visitor studies», n.10(2), pp.136-151.
Wang, Q., Myers, M.D., Sundaram, D. (2013), Digital Natives and Digital Immigrants Towards a Model of Digital Fluency, «Business & Information Systems Engineering», n.6, pp. 409-419.
Zanazzi, S., Coppola, S. (2021), Tecnologie immersive per la terza età: presupposti teorici e potenzialità, «Research trends in Humanities Education & Philosophy, RTH», n.8, pp. 61-70.