Articles
Formazione Service e-Learning: esperienza media-educativa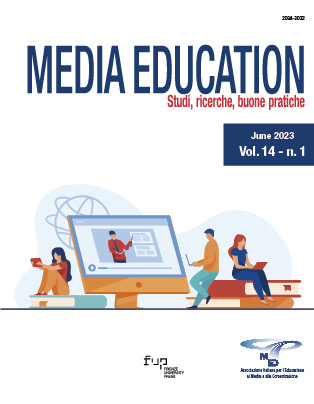 Published 2023-05-31
Keywords
students

,

good practices

,

learning experience

,

service e-learning

,

media education
Copyright (c) 2023 Federica Martino, Alessandra La Marca, Cristina Zuccaro
This work is licensed under a Creative Commons Attribution-NonCommercial-NoDerivatives 4.0 International License.
Abstract
The use of technology is an interesting device, which constitutes a useful self-training approach, related to an experience, from which to extract significant materials and traces of their personal learning. In Italy, Service Learning (SL) projects that use digital media in the university environment are still rare and therefore there are not many data and research results related to the introduction of SL in the training of future teachers. On the contrary, at the international level we find a vast scientific literature on SL and its applications, also in the academic field. Service e-Learning (Se-L) can in fact represent an essential approach for university education, which allows students to mobilize skills, putting into practice what they have acquired, and to improve their self-efficacy. Ability to check if your knowledge has an applicability, useful in a real-life situation, opportunity to develop digital skills and self-reflective on their actions. The contribution presents a training experience to the Service e-learning (4 meetings, for a total of 16 hours) realized in the academic year 2022/23, for the Project [PR]A.S.S.I. with a sample of 260 students enrolled in the first year of the Master of Science in Primary Education (LM-85bis) of the University of Palermo. In this experience we have chosen to give voice, consistency to the actions and methodological choices of university students who, through specific activities, were able to express the enormous potential of technology as a relevant tool to promote engagement and learning, factors linked in SL. It presents a laboratory path of Service e-learning that takes advantage of the potential of the MED, the referral to the internal and external resources of the person, to intercept, tune and strengthen its generating tension useful to itself and the community service. Technology, a source of strategic information in order to identify the progress of experience and skills, has thus been considered a training engine-effect for the construction of critical thinking and personal identity.
References
Alam, SL & McLoughlin, C. (2010). Using digital tools to connect learners: Present and future scenarios for citizenship 2.0. In C.H. Steel, M.J. Keppell, P. Gerbic & S. Housego, Curriculum, technology & transformation for an unknown future. Proceedings ascilite 2010.
Allen, I. E., & Seaman, J. (2010). Learning on demand: Online education in the United States, 2009. Sloan Consortium. PO Box 1238, Newburyport, MA 01950.
Conrad, R., & Donaldson, J. A. (2004). Engaging the online learner: Activities and resources for creative instruction. San Francisco, CA: John Wiley & Sons, Jossey-Bass.
Culcasi, I. (2020). Il Virtual Service-Learning. Tuttoscuola, 603, pp. 34-38.
Dailey-Hebert, A., Donnelli-Sallee, E., & DiPadova-Stocks, L. (2008). Service eLearning: Educating for citizenship. Charlotte, NC: Information Age Publishing.
Eyler, J. S., & Giles, D. E., Jr. (1999). Where's the learning in service-learning? San Francisco, CA: Jossey-Bass.
Fiorentino, G., & Salvatori, E. (2020). La didattica a distanza, dall'emergenza alle buone pratiche. Umanistica Digitale, 8, 165-182.
Furco, A., & Billig, S. H. (2002). Service-learning: the essence of the pedagogy. Greenwich, CT: Information Age Publishing.
Horton, W. (2006). E-learning by design. San Francisco, CA: John Wiley & Sons.
Hoy, A., & Johnson, M. (2013). Future possibilities: High-impact learning and community engagement. In A. Hoy & M. Johnson (Eds.), Deepening community engagement in higher education (pp. 273–281). Palgrave Macmillan.
Landri, P., Mangione, G. R. J., Cannella, G., Parigi, L., Bartolini, R., Taglietti, D., & Tancredi, A. (2021). Nel crepuscolo dell'ora di lezione. La "normalità" post-pandemica nell'immaginario degli insegnanti.
Lehman, R., & Conceição, S. (2010). Creating a sense of presence in online teaching: How to "be there" for distance learners. San Francisco, CA: John Wiley & Sons.
Marcus, V. B., Atan, N. A., Yusof, S. M., & Tahir, L. (2020). A systematic review of e-service learning in higher education. International Journal of Interactive Mobile Technologies (IJIM), 14(06), 4. https://doi.org/10. 3991/ijim.v14i06.13395
Mazzoni, V., & Ubbiali, M. (2015). Diventare insegnanti, tra ricerca e servizio. La pedagogia del Service Learning nella formazione dei futuri docenti. Form@ re-Open Journal per la formazione in rete, 15(3), 243-257.
Meyers, E. M., Erickson, I., & Small, R. V. (2013). Digital literacy and informal learning environments: an introduction. Learning, Media and Technology, 1-13.
Mills, S. (2001). Electronic journaling: Using the web-based, group journal for service-learning reflection. Michigan Journal of Community Service Learning, 8(1), 27–35.
Mishra, P., & Koehler, M. J. (2006). Technological pedagogical content knowledge: A framework for teacher knowledge. Teachers College Record, 108(6), 1017–1054.
Mossberger, K., Tolbert, C. J., & McNeal, R. S. (2008). Digital citizenship. Mit Press.
Olberding, J. C., & Downing, M. (2021). "Extreme" e-student philanthropy: Expanding grantmaking into fully online classes and assessing outcomes for students as learners, community members, and social activists. Journal of Nonprofit Education and Leadership, 11(2). https://doi.org/10. 18666/jnel-2021-10697
Rama, D. V., Ravencro, S., Wolcott, S.K. & Zlotkowski, E. (2000). Service- Learning Outcomes: Guidelines for Educators and Researchers. Issues in Accounting Education. 15(4), 656-689.
Richards, R. (2010). Digital citizenship and web 2.0 tools. Journal of Online Learning and Teaching 6.2: 516-522.
Savia, G. (2016). Universal design for learning. La Progettazione Universale per l'Apprendimento per una didattica inclusiva. Erickson, Trento.
Skinner, R., & Chapman, C. (1999). Service-learning and community service in K-12 public schools. Washington, DC: National Center for Education Statistics, U.S. Department of Education.
Strage, A. (2004). Long-term academic benefits of service-learning: When and where do they manifest themselves? College Student Journal, 38(2), 257–261.
Waldner, L., McGorry, S., & Widener, M. (2010). Extreme e-service learning (XE-SL): E-service learning in the 100% online course. MERLOT Journal of Online Learning and Teaching, 6(4), 839–851.
Waldner, L.S., McGorry, S.Y., & Widner, M.C. (2012). The evolution of Service-Learning to engage a growing online student population. Journal of Higher Education Outreach and Engagement, 16, 2012/2, pp. 123-149.
Wilhite, S., & Silver, P. (2005). Educating citizens vs. educating technicians: A false dichotomy for higher education. National Civic Review, 94(2), 46–54.