Studi Slavistici XVI (2019) 1
Articoli
Kazane na pogrebe (Trebnik, Vilnius 1621) in the Context of the Catholic Funeral Sample Sermons Tradition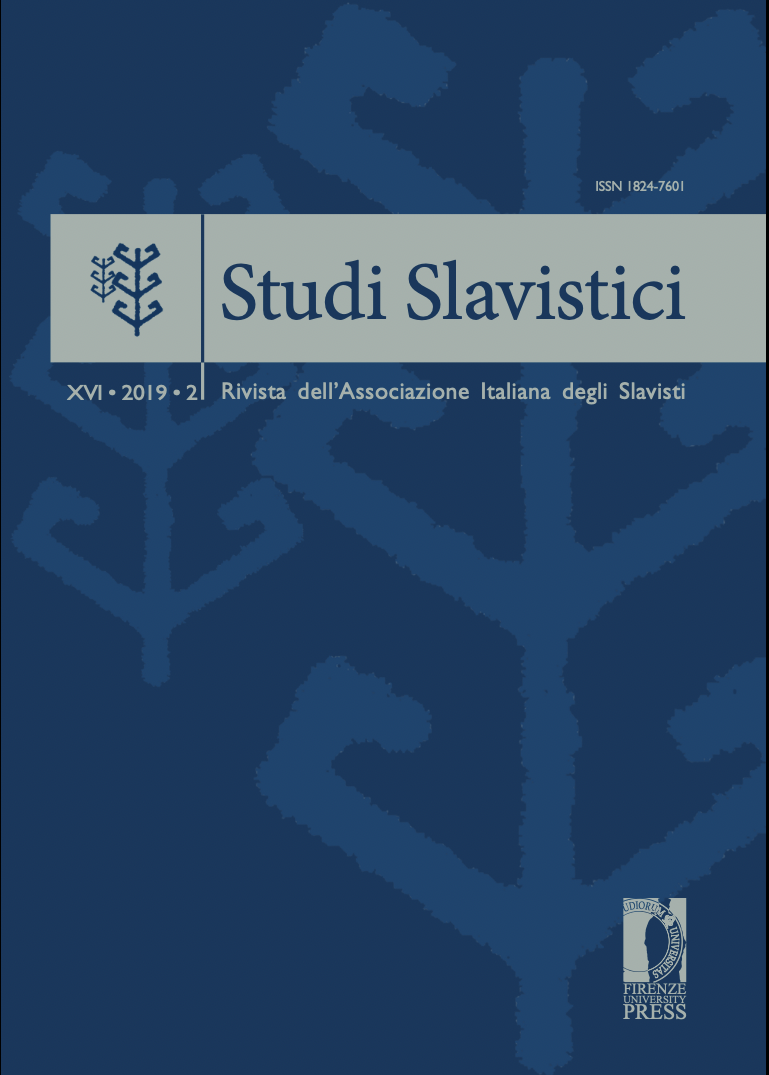 How to Cite
Korzo, M. (2019). Kazane na pogrebe (Trebnik, Vilnius 1621) in the Context of the Catholic Funeral Sample Sermons Tradition. Studi Slavistici, 16(1), 5-22. https://doi.org/10.13128/Studi_Slavis-24105
Abstract
The article discusses hypotheses for the possible sources of two funeral sample sermons written in prostaja mova, which were addressed to the laity and attached to the Ritual edition by the Orthodox Brotherhood of Vilnius in 1621. The author suggests that the very combination of homiletic material in vernacular language with the traditional ecclesiastical rites goes back to the Catholics Ritual рublished in 1551 in Mainz and was later followed in the Polish-Lithuanian Commonwealth by Stanisław Karnkowski, Marcin Kromer and Hieronim Powodowski. 
The two funeral sample sermons attached to the Vilnius Ritual used as a main source a homiletic work of Georg Barthold Pontanus (1550-1614), Incineratio Funebres (1611). The first sermon used as a model a fragment entitled Consolatoria super omnes charissimos, et habet decem rationes, composed by Pontanus on the basis of the medieval consolation, which goes back to the English Dominican Robert Holсot (1290-1349). This text of consolation, sometimes called as Fatuitates immoderate lugentiam, was widely available in different published editions in the 15th, 16th and 17th centuries: in liturgical sermons, books on rhetoric, dialogs 'pompa funebris', and manuals for Jesuits Sodalities of the Blessed Virgin Mary. This consolation was also translated in Polish at the beginning of the 17th century.
The second funeral sermon of the Vilnius Ritual used a fragment from Pontanus, which goes back to the Summa de Abstinentia by Nicolaus de Byard (died 1261). The chapter of this work (entitled Mors or De Mortis) was found in the Middle Ages in Speculum morale, attributed to Vincent of Beauvais (ca. 1190-ca. 1264), and in the 16th century was included in Dictionarium pauperum by Franciscan Petrus Ridolfi (1536-1601).
Although the funeral sample sermons from 1621 were not republished in other Vilnius Rituals, they served as an example for the later Orthodox hierarchs, who expanded their Rituals editions with instructive sermons in vernacular language.