È consuetudine dell'AIS — associazione che ha per statuto scopi eminentemente scien­tifici e di promozione degli studi slavi — non prendere posizione ufficiale di fron­te a fatti, anche gravi, che si verifichino nell'ambi­to dei paesi di pertinenza degli slavisti. Senza voler derogare a tale principio e in accordo con l'intero Direttivo AIS, in questo drammatico frangente la Redazione non può tuttavia non esprimere un profondissimo moto di sdegno per l'invasione dell'Ucraina e non proclamare la propria solidarietà a tutte le vittime di questo indicibile orrore.
Auspichiamo con forza che la ripresa delle trattative porti all'immediato ritiro delle truppe russe e alla fine di questa campagna di odio.
Ogni minuto di questa spaventosa guerra provoca danni forse irreparabili. Da parte nostra, la rivista continuerà il proprio lavoro, nella convinzione che la slavistica costituisca un indispensabile terreno di dialogo tra i popoli slavi, fondamentale anche nei loro rapporti con il resto del mondo.
---
It is customary for the AIS – an association that, as outlined in its very Constitution and mission statement, has only scientific objectives aiming at promoting Slavic studies – not to express an official political opinion on situations, even when unfortunately serious and dangerous, occurring in the countries concerning the research work of Slavists. Without wishing to ignore this principle and in agreement with the entire AIS Board, given the current extremely dramatic situation the Editorial staff cannot but express regret and profound indignation for the invasion of Ukraine. We wish to openly proclaim our solidarity with all the victims of this unspeakable horror. We strongly hope that the negotiation process will lead to an immediate ceasefire and withdrawal of Russian troops from Ukrainian territory, and to the end of this violent campaign of hate. Every minute of this dreadful war is causing enormous, perhaps irreparable, damage and pain. The journal will continue its work, as we are deeply convinced that Slavic Studies can serve as a meeting ground to stimulate dialogue among the Slavic peoples and, also equally important, with the rest of the world.
---
Ассоциация AIS, устав которой предполагает исключительно научные цели и продвижение славистики, обычно не высказывает официальной позиции по поводу событий, даже серьезных, происходящих в странах, являющихся объектом славистических исследований. Однако, не отступая от этой установки, в согласии со всем Правлением AIS, в нынешней драматической ситуации редакция не может оставаться в стороне и не выразить свое глубочайшее возмущение вторжением в Украину и не заявить о своей солидарности со всеми жертвами этой неизмеримой трагедии. Мы искренне надеемся, что возобновление переговоров приведет к немедленному выводу российских войск из Украины и прекращению этой кампании ненависти. Каждая минута этой чудовищной войны наносит непоправимый ущерб. Редакция журнала продолжит свою работу, с убеждением, что славистические исследования представляют собой незаменимое пространство для диалога между славянскими народами, основополагающим в их отношениях с остальным миром.
---
AIS, Асоціація, маючи за статутом виключно наукову та промоційну мету славістичних студій, зазвичай не висловлює офіційних позицій щодо подій, навіть серйозних подій, що відбуваються в країнах, які є предметом наших досліджень. Не поступаючись своїм принципам, але за згодою всіх членів Дирекції AIS, у ці драматичні дні Редакція не може залишатися осторонь. Ми висловлюємо своє найглибше занепокоєння щодо військового вторгнення в Україну і засвідчуємо свою солідарність всім жертвам цієї невимовної трагедії. Ми сподіваємося, що результатами мирного переговориного процесу стануть виведення російських військ з території України та завершення кампанії ненависті навколо цих подій. Кожна хвилина цієї страшної війни завдає втрат, деякі з них назавжди залишаться невиправними. Наша редакція продовжить свою роботу з вірою в те, що славістичні студії зможуть забезпечити необхідний ґрунт для діалогу між слов'янськими народами, який є визначальним і для їхнього співіснування з іншими країнами світу.
---
Studi Slavistici is the Open Access journal of the Italian Association of Slavists (A.I.S.). It publishes academic articles, research and book reviews and informative essays. Its main aim is to foster specialized Slavic research and to make quality information available to a broader public of readers and Internet users. The journal also acts as a bridge between the academic tradition of Italian and European Slavic studies and the latest cultural trends in various Slavic subjects. Special attention is devoted to the literature, languages, culture and various art forms of all Slavic countries, but also to interdisciplinary approaches in methodology, inter-Slavic and Slavic-European literary, linguistic and cultural relationships. <
Editor-in-Chief
Nicoletta Marcialis, Università di Roma "Tor Vergata", Italy
Studi Slavistici is indexed in:







Current Issue
Studi Slavistici XIX (2022) 2
Published
January 25, 2023
Issue Description
Editor-in-Chief : Nicoletta Marcialis 
Section Editors : Alessandro Amenta, Maria Grazia Bartolini, Maurizia Calusio, Paola Cotta Ramusino, Lucyna Gebert, Maria Rita Leto, Barbara Lomagistro, Gabriele Mazzitelli, Bianca Sulpasso
Managing Editor : Noemi Albanese
Layout Editor : Alberto Alberti
Copyeditors : Alberto Alberti, Chiara Benetollo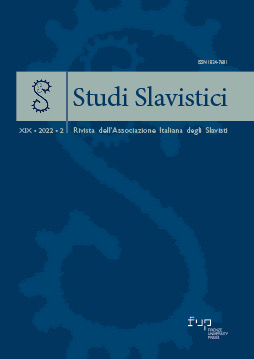 ##issue.tableOfContents##
View All Issues