...e passato
La donna nel Medioevo, impura per antonomasia?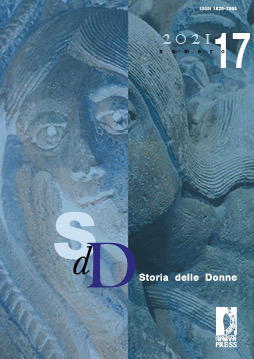 Published 2022-07-26
How to Cite
Moulinier-Brogi, L. (2022). La donna nel Medioevo, impura per antonomasia?. Storia Delle Donne, 17, 145–158. https://doi.org/10.36253/sd-13458
Abstract
In the Middle Ages, woman often passes for a model of impurity, both physical for her cycle and moral as a daughter of Eve; Leviticus was full of prescriptions on the need to purify the body after the expulsion of bodily flows such as blood, during menstruation and after childbirth, or semen; males too, therefore, had to undergo prohibitions or purification rites, particularly, but not limited to, in Jewish culture. This article seeks to recall that not only women were seen as ontologically or cyclically impure: in view of their sexual activity, according to their condition or the Christian calendar, or their professional activity, certain men could be viewed as unclean. Finally, it is recalled that entire groups, such as Jewish men and women, lepers, or prostitutes, considered impure by medieval societies, were progressively segregated from the social body by the authorities.