Presente...
Lampedusa tra necropolitica e immaginario mitico di trasformazione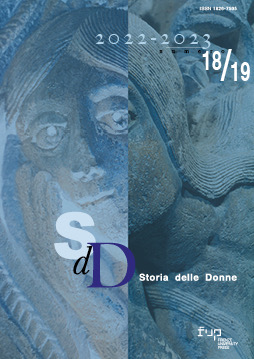 Published 2023-08-03
Keywords
How to Cite
De Michelis, L. (2023). Lampedusa tra necropolitica e immaginario mitico di trasformazione. Storia Delle Donne, 19, 71–94. Retrieved from https://oaj.fupress.net/index.php/sdd/article/view/15008
Copyright (c) 2023 Lidia De Michelis
This work is licensed under a Creative Commons Attribution 4.0 International License.
Abstract
This essay explores a cluster of plays by Italian and British authors who, against the public spectacles of border enforcement, border deaths and humanitarian rescue, have recently placed Lampedusa and the figure of the migrant at the heart of their aesthetic and civil commitment. Lampedusa Beach by Lina Prosa is the main focus of this analysis, which relies, mainly, on a cultural studies and postcolonial approach. Along with Rumore di acque by Marco Martinelli and Lampedusa by Anders Lustgarten, the play resists the current necropolitical management of migration across the Mediterranean, advocating, instead, a vision of the "middle sea" as a space of transit and encounter, and a crossroads of stories and desires. Consistent with her views that migrants are the last agents of utopia, and the theatre the only scene where utopia can be achieved, Prosa re-mythologizes Mediterranean crossings as imaginative re-enactments of Ulysses' mythical voyage and establishes a powerful counter-discursive imaginary of interconnection and relationality.