Presente...
Naanaaba'amii: In the footsteps of others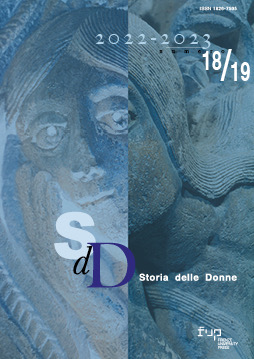 Published 2023-08-03
Keywords
How to Cite
Matthews, M., Simmons, M., Tait, M., & Turnbull, L. A. (2023). Naanaaba'amii: In the footsteps of others. Storia Delle Donne, 19, 139–164. Retrieved from https://oaj.fupress.net/index.php/sdd/article/view/15011
Copyright (c) 2023 Maureen Matthews, Margaret Simmons, Myra Tait, Lorna A. Turnbull
This work is licensed under a Creative Commons Attribution 4.0 International License.
Abstract
This paper brings the stories of Anishinaabe women's lives into conversation with a remarkably comprehensive Manitoba database that looks at the relationships between income, education, and health status, as well as engagement with social services, justice, and law enforcement institutions in the province. It considers the roles of women in navigating a transition from a rural/fur trade lifestyle in the mid-20th century to roles as heads of households in contemporary Manitoba. The stories and data offer both a narrative and a comparative perspective on Indigenous women in motion, following in the footsteps of others and taking lessons learned to venture on new paths and trajectories. Limes seems to be a useful way of talking about historical and contemporary transitions and exploring the way that women respond to opportunities that emerge within a colonial and often oppressive political environment. The approach taken here is one of co-creation between Anishinaabe women scholars and settler scholars. It is also undertaken in a bicultural space, where ideas formed and articulated in Anishinaabemowin (the Anishinaabe language) are presented in the language and form the bedrock of interpretation. In this way the paper explores the idea of being poised between two worlds or two or more cultures and languages and formulates responses to the condition of transition in Anishinaabe women's terms.