Studi Slavistici XIX (2022) 2
Articoli
"Here, I have measured with my span the Heaven and the Earth". Some Comments on the Pilgrimage of the Hegumen Daniil (12th Century)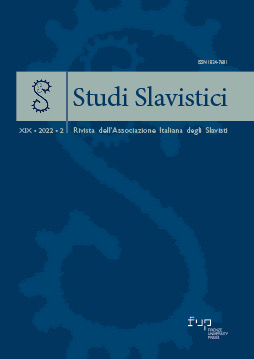 Published
January 25, 2023
How to Cite
Preobrazhenskaya, A. A. (2023). "Here, I have measured with my span the Heaven and the Earth". Some Comments on the Pilgrimage of the Hegumen Daniil (12th Century). Studi Slavistici, 19(2), 27-50. https://doi.org/10.36253/Studi_Slavis-13087
Copyright (c) 2022 Anastasia Preobrazhenskaya
This work is licensed under a Creative Commons Attribution 4.0 International License.
Abstract
The 12th-century pilgrimage of hegumen Daniil to the Holy Land is the earliest recorded journey to Jerusalem by a Russian. The pilgrimage has been studied widely, especially because of the multiple measurements Daniil used to describe the places he visited. No other Russian pilgrim who went to Constantinople or Jerusalem after Daniil was so interested in measuring things. The question arises why these measurements were so necessary for Daniil and whether they have any symbolic meaning. The article attempts to interpret these measurements through a theological and symbolic perspective and argues that these measurements can be seen as a key for understanding the whole text. 
 When describing the Church of the Holy Sepulcher, Daniil mentions a small ciborium constructed above the omphalos – the navel of the Earth – and a graphite reading Se pędju moeju izměrich nebo i zemlju 'Here, I have measured with my span the heaven and the earth'. The phrase, though closely resembling Is 40:12, is rather a combination of several paraphrased Bible verses, including Ps 38:6. In the article, a linguistic commentary to the phrase is provided, and parallels in the medieval Russian sources are identified and discussed.
Other pilgrims, both Russian and European, do not speak about the graphite, but provide a number of legends connected with the navel, including those in which Jesus (or sometimes Nimrod, a figure from the Old Testament) measures the earth with his own hand and marks the center of the universe in the place where the navel is located. The article argues that Daniil may have known that very legend from his Jerusalem guide, vož dobr 'a good guide', and that he incorporated it into his text in the form of a mosaic graphite in order to legitimize it since the written word in Rus' was deemed sacred and thus always true.