Blocco tematico
Notes on Russian Poetry Translated into Italian between 1987 and 2022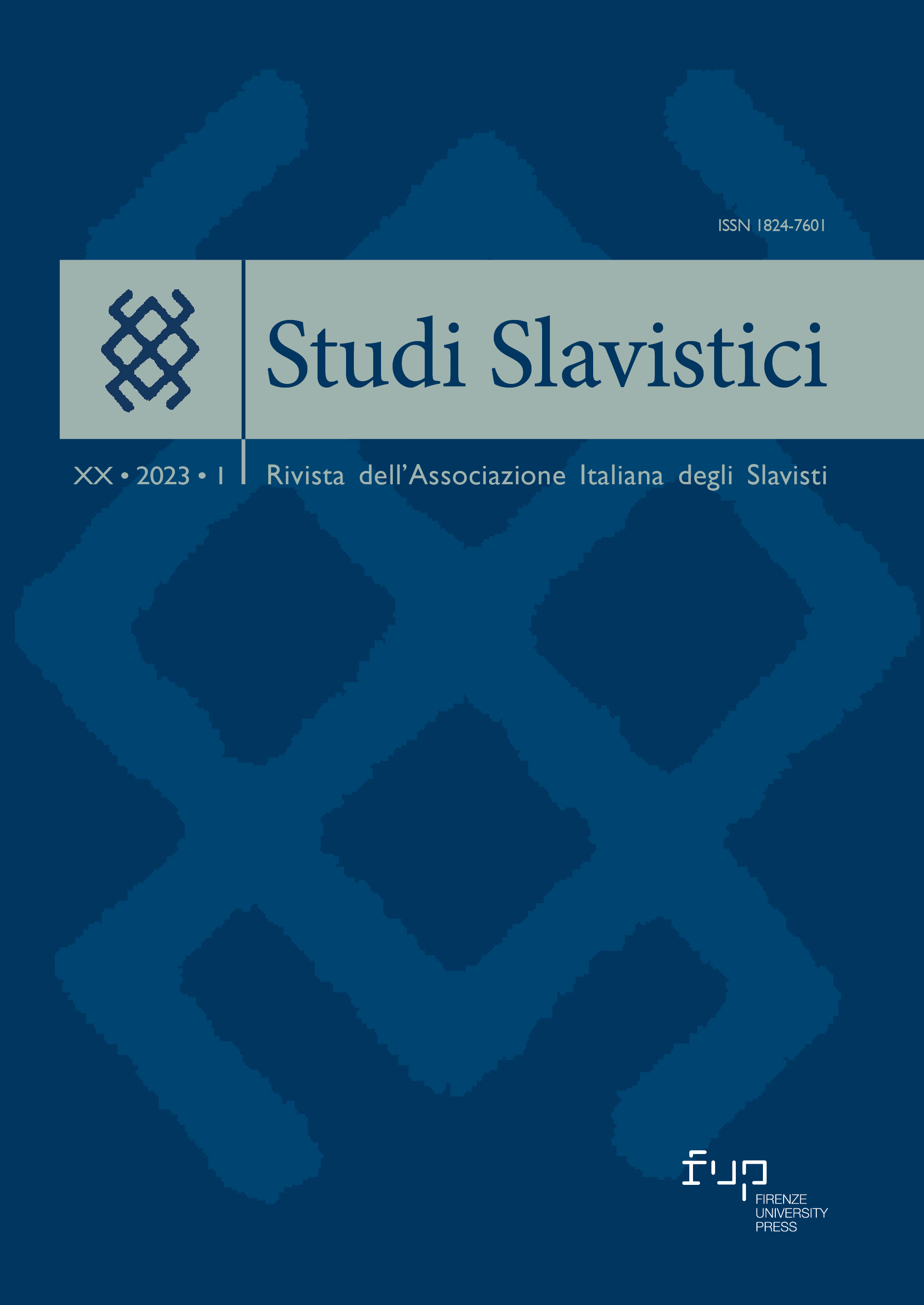 Published 2023-07-12
Keywords
Poetry Translation

,

Russian Poetry in Italian (1987-2022)

,

Reception of Russian Literature Abroad
How to Cite
Niero, A. (2023). Notes on Russian Poetry Translated into Italian between 1987 and 2022. Studi Slavistici, 20(1), 95–109. https://doi.org/10.36253/Studi_Slavis-14216
Copyright (c) 2023 Alessandro Niero
This work is licensed under a Creative Commons Attribution 4.0 International License.
Abstract
The paper discusses the Italian reception of Russian language poetry taking into account translations carried out between 1987 and 2022. The survey deals mainly with anthologies, journal issues devoted entirely or partially (but significantly) to Russian poetry, and single volumes of Russian poets translated into Italian entirely devoted to poets writing in Russian. With more than four hundred publications, it is clear Russian poetry has found a place in the Italian language. This is shown by the amount of poets who have appeared in Italian (and have been included in the table attached to the paper), and by the extensive bibliography placed in the repository of the journal "Studi Slavistici".
References
Achmadulina 1971: A. Achmadulina, Tenerezza e altri addii, introd. e trad. di S. Vitale, Guanda, Parma 1971 (= Collana fenice. Sezione poeti).
Blok 2021: A. Blok, Gli ultimi giorni del potere imperiale. I dodici, trad. e cura di I. Sibaldi, Neri Pozza, Vicenza 2021 (= Biblioteca Neri Pozza).
Brodskij 2015: I. Brodskij, Conversazioni, a cura di C.L. Haven, trad. di M. Campagnoli, Adelphi, Milano 2015 (= La collana dei casi, 110).
Carpi 2016: G. Carpi, Storia della letteratura russa, i-ii, Carocci, Roma 2016 (= Frecce, 88, 219).
De Michelis 1971: C.G. De Michelis (a cura di), Poesia sovietica degli anni 60, tradd. di G. Venturi, G. Giudici e J. Spendel, Mondadori, Milano 1971 (= Lo specchio. I poeti del nostro tempo).
Jakobson 1975: R. Jakobson, Una generazione che ha dissipato i suoi poeti. Il problema Majakovskij, a cura di V. Strada, Einaudi, Torino 1975 (= Nuovo Politecnico, 70).
Niero 2022: A. Niero, Per un repertorio bibliografico della poesia in lingua russa tradotta in italiano (1987-2022), "Europa Orientalis", xli, 2022, pp. 175-207, <https://www.academia.edu/98338225/Per_un_repertorio_bibliogr_della_poesia_russa_tradotta_in_it_1987_2022_> (ultimo accesso: 27.06.2023).
Pasolini 1976: P. P. Pasolini, Appunti con molti punti per ecc., in: E. Evtušenko, Le betulle nane, a cura di G. Buttafava, Mondadori, Milano 1976 (= Lo Specchio. I poeti del nostro tempo), pp. 9-13.
Puškin 1865: Racconti poetici di Alessandro Puschin poeta russo, tradotti da L. Delâtre, Felice Le Monnier, Firenze 1856.
Puškin 1909: A. Pushkin, Eugenio Anieghin. Romanzo in versi, prima versione metrica italiana di G. Cassone, Tipografia Zammit, Noto 1906.
Puškin 1998-2012: A. Puškin, Eugenio Onegin, a cura di S. Blancato, 1998-2012 [dattiloscritto inedito gentilmente fornitomi dall'Autore].
Ripellino 1954: A.M. Ripellino (a cura di), Poesia russa del Novecento, Guanda, Parma 1954 (= Fenice. Edizione fuori serie, 25).
Ripellino 1983: A.M. Ripellino (a cura di), Poesia russa del Novecento, Feltrinelli, Milano 19835 (= Universale Economica Feltrinelli, 313-314)(19601).
Vinnik, Parščikov 2001: N. Vinnik, A. Parščikov (a cura di), Vremja "Č": stichi o Čečne i ne tol'ko, Novoe literaturnoe obozrenie, Moskva 2001.