Studi Slavistici XVII (2020) 1
Materiali e discussioni
An Unpublished Tolstoj Manuscript: The First Draft of Lev Tolstoj's Tale King Asarhaddon (1903) and the Commentary of Boris Ėjchenbaum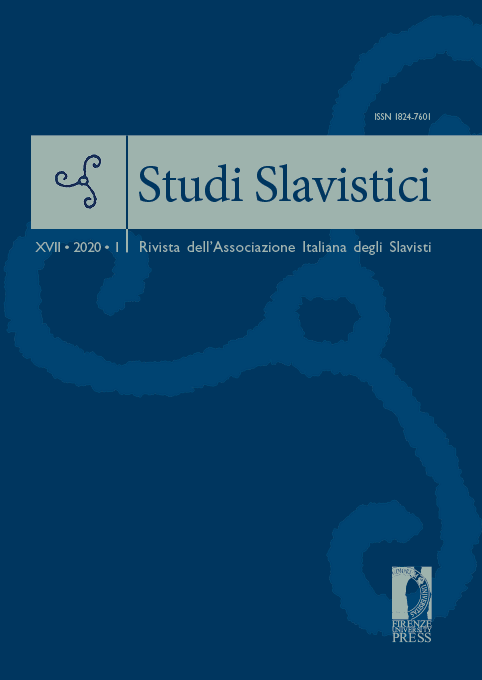 Keywords
Tolstoj

,

Ėjchenbaum

,

Asarhaddon
How to Cite
De Giorgi, R. (2020). An Unpublished Tolstoj Manuscript: The First Draft of Lev Tolstoj's Tale King Asarhaddon (1903) and the Commentary of Boris Ėjchenbaum . Studi Slavistici, 17(1), 215-227. https://doi.org/10.13128/Studi_Slavis-8297
Copyright (c) 2020 Roberta De Giorgi
This work is licensed under a Creative Commons Attribution 4.0 International License.
Abstract
The essay deals with the original version, largely unpublished, of the comment that Boris Ėjchenbaum (1886-1959) wrote for Tolstoj's Three Tales (Tri skazki) for the Complete Collected Works (PSS, XXXIV, Moscow 1952). The document includes an extended and more detailed version of the comment that later appeared in the PSS. All the critical apparatus of PSS was cut by at least 30 percent at the time of the change in editorial policy, in 1939. This fate also affected the meticulous work of Ėjchenbaum, presently preserved in his personal collection in Moscow (RGALI: fond 1527, opis 2, edinica chranenija 23, 66l.).
This essay focuses on the textual history of of King Assarhadon (Assirijskij car' Asarchadon, 1903), the first of the Three Tales. The comment by Ėjchenbaum under consideration was written directly on the Tolstoian manuscript (L.N. Tolstoj, Tri skazki, Otdel rukopisej – Gosudarstvennyj Muzej L.N. Tolstogo, fond 1, ruk. 1). Hence, it included the unpublished first draft of the tale (A), which constitutes the initial stage of Tolstoj's quest to depict (and condemn) evil, revived in a remote history with exotic contours.