Studi Slavistici XVII (2020) 2
Blocco tematico
The Verbs naest'sja, napit'sja and doždat'sja and their Italian Equivalents in the Russian-Italian Parallel Corpus: Interaction among Verbal Stem Semantics, Circumfixes and Context in the Expression of Intensification in Russian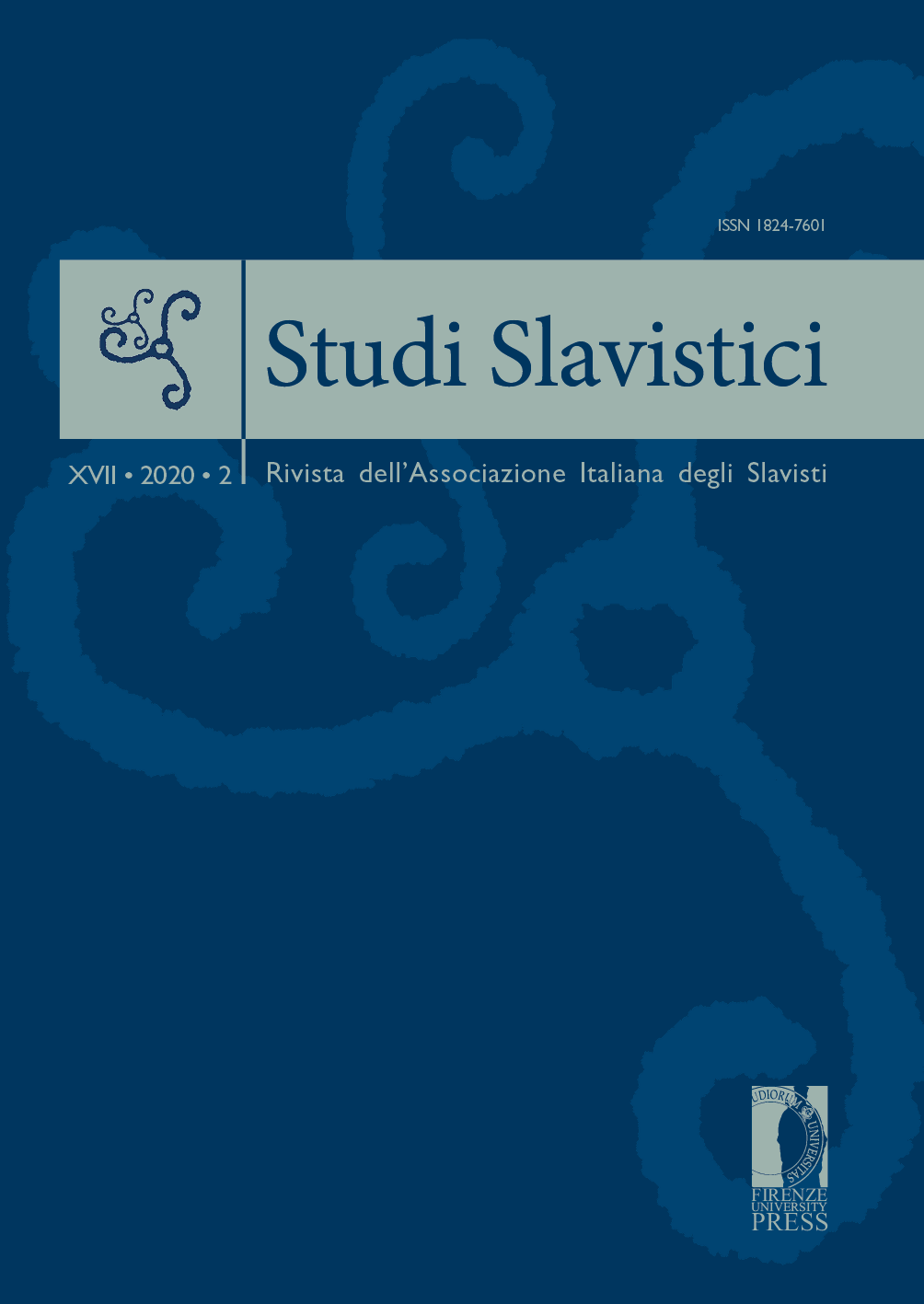 Published
December 7, 2020
Keywords
Intensive-Resultative Aktionsart

,

Intensification

,

Italian-Russian Contrastive Analysis

,

Russian Intensive Reflexive Verbs
How to Cite
Biagini, F. (2020). The Verbs naest'sja, napit'sja and doždat'sja and their Italian Equivalents in the Russian-Italian Parallel Corpus: Interaction among Verbal Stem Semantics, Circumfixes and Context in the Expression of Intensification in Russian. Studi Slavistici, 17(2), 77-98. https://doi.org/10.13128/Studi_Slavis-9533
Copyright (c) 2020 Francesca Biagini
This work is licensed under a Creative Commons Attribution 4.0 International License.
Abstract
The primary aim of this work is to analyse the Italian equivalents of some common Russian intensive-resultative verbs (naest'sja, napit'sja, doždat'sja), in order to highlight the role of interaction among verbal stem semantics, circumfixes, and context in the expression of intensification in Russian. Data from the Russian-Italian Parallel Corpus show that the verbs naest'sja and napit'sja are sometimes used with meanings which are absent or scarcely represented in dictionaries. One of the reasons for this is that in some contexts the forms obtained by adding a circumfix to aspectually hybrid verbs, such as est' and pit', function as 'pure' perfectives and the circumfix is partially emptied of its meaning. The verb doždat'sja/dožidat'sja expresses the reaching of a limit, which may consist in the realization or non-realization of an expected event, or the intention or possibility of waiting coming to an end. Particularly interesting are those examples in which the Italian equivalents are verbs which differ from aspettare and express the state resulting after the waiting process and whose semantics depends on the context. In some cases, a perception verb is added in Italian.
On the whole, Italian translations make it possible to highlight how the verbs interact differently with the context on the basis of the verbal stem semantics. As underlined by Tatevosov (2010), for verbs with the circumfix na-...-sja, the verbs analysed herein introduce a result state whose descriptive proprieties are underspecified, leaving a considerable amount for context and world knowledge to determine what exactly this state is.