Essays and Viewpoint
Syn(En)ergies in neighbourhood regeneration. Al Safarat experimental laboratory in transition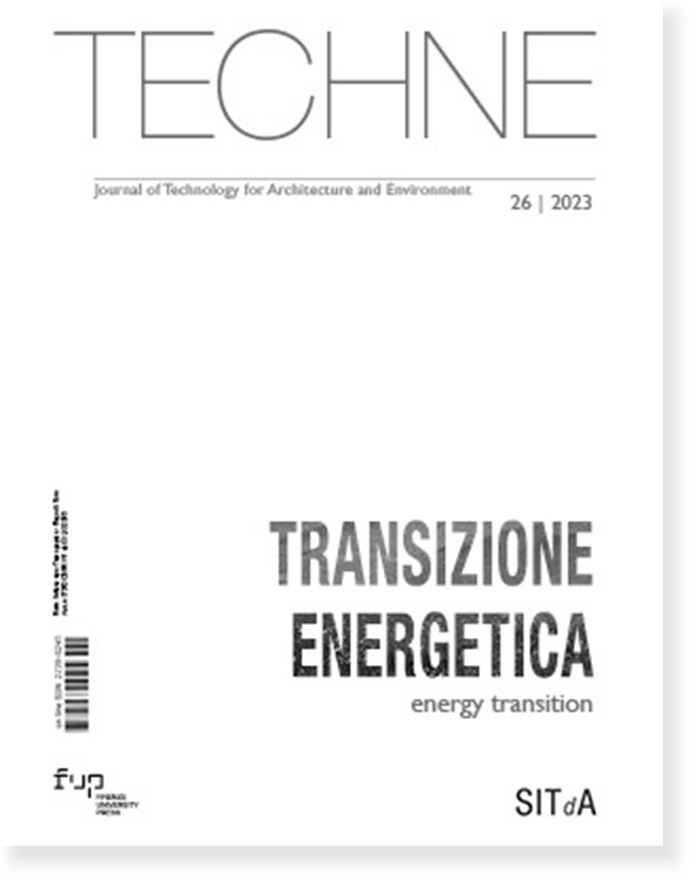 Published 2023-10-31
Keywords
Energy transition

,

Regeneration

,

Neighbourhood

,

Landscape

,

Design
How to Cite
Moscatelli, M., & Raffa, A. (2023). Syn(En)ergies in neighbourhood regeneration. Al Safarat experimental laboratory in transition. TECHNE - Journal of Technology for Architecture and Environment, (26), 94–102. https://doi.org/10.36253/techne-14419
Copyright (c) 2023 Monica Moscatelli, Alessandro Raffa
This work is licensed under a Creative Commons Attribution 4.0 International License.
Abstract
Integrating the energy issue in the regeneration of neighbourhoods influences the entire metabolism of the urban settlement. It opens up a reflection, within the disciplines of the project, on approaches, methods, and tools to make the energy transition operational in space. The complexity of the energy transition requires a holistic, multidisciplinary and integrated approach to design, capable of addressing energy transition processes at the neighbourhood scale. By adopting a method that interprets the landscape as a complex techno-natural infrastructure, the Al Safarat neighbourhood in Riyadh will be considered a possible experimental laboratory for the energy transition of the districts of the Gulf cities.
Downloads
Download data is not yet available.
References
Abdullatif, A., Othman, Z., and Ward, G. (1985), "The Diplomatic Quarter and Ministry of Foreign Affairs Staff Housing Project, Riyadh", in Margaret Bentley Sevcenko, (Ed.), Designing in Islamic Cultures 5: Large Housing Projects, Cambridge, Massachusetts: Aga Khan Program for Islamic Architecture.
Ahmed, K.G. (2018), Sustainable Urban Regeneration Strategies for Deteriorated Neighborhoods Centers in UAE, in Fırat, S., Kinuthia, J., Abu-Tair, A. (eds), Proceedings of 3rd International Sustainable Buildings Symposium (ISBS 2017). ISBS 2017. Lecture Notes in Civil Engineering, Vol. 6, Springer, Cham, pp. 736-749.
Al Arfai, K.A. (2022), Energy Transition in Saudi Arabia.
Al-Hathloul, S. (2003), "Riyadh, Saudi Arabia", in R. S. Sennott (Ed.), Encyclopedia of 20th-Century Architecture, pp. 1113-1115, Chicago: Fitzroy Dearborn Publishers.
Cajot, S., Peter, M., Bahu, J.-M., Guignet, F., Koch, A., and Maréchal, F. (2017), "Obstacles in energy planning at the urban scale", Sustainable Cities and Society, Vol. 30, pp. 223-236.
Chaiechi, T., Pryce, J., Eijdenberg, E., and Azzali, S. (2022). "Rethinking the Contextual Factors Influencing Urban Mobility: A New Holistic Conceptual Framework", Urban Planning, Vol. 7, n. 4, pp. 140-152.
Girardet, H. (2010), "Regenerative Cities", in Shmelev, S. (Ed.), Green Economy Reader. Studies in Ecological Economics, Springer, Cham, pp. 183-204.
Katar, I. (2022), "Promoting pedestrian ecomobility in Riyadh City for sustainable urban development", Scientific Reports, Vol. 12, n. 14808.
Koutra, S., Balsells Mondejar, M. and Beuce V. (2022), "The Nexus of 'urban resilience' and 'energy efficiency' in cities", Current Research in Enviornmental Sustainability, Vol. 4, 100118.
Lyle, J.T. (1996), Regenerative Design for Sustainable Development, Wiley, New York.
Mareeva, V.M., Ahmad, A.M., Ferwati, M.S. and Garba, S.B. (2022), "Sustainable Urban Regeneration of Blighted Neighborhoods: The Case of Al Ghanim Neighborhood, Doha, Qatar", Sustainability, Vol.14, 6963.
Ministry of Municipal and Rural Affairs and UN-Habitat, (2019), Saudi Cities Report, UN-Habitat, Nairobi.
Mirakyan, A. and Guio, R.D. (2014), "A methodology in innovative support of the integrated energy planning preparation and orientation phase", Energy, Vol. 78, pp. 916-927.
Molintas, D.T. (2017), Sustainable design principles: Analysis of The Al Safarat diplomatic quarters, YTT Quaesitum Research.
Nižetić, S., Arıcı, M. and Hoang, A.T. (2023), "Smart and Sustainable Technologies in energy transition", Journal of Cleaner Production, Vol. 389.
Oudes, D., and Stremke, S. (2018), "Spatial transition analysis: Spatially explicit and evidence-based targets for sustainable energy transition at the local and regional scale", Landscape and Urban Planning, Vol. 169, n.1, pp. 1–11.
Pintaris, S. and Kießling, D. (2022), Creating NEBourhoods Together – Munich Neuperlach, Presentation, 14/07/2022.
Rogemma, B. (2022), Design for Regenerative Cities and Landscapes, Springer, Cham.
Sijmons, D., Hugtemburg, J., Feddes, F., and van Hoorn, A. (2014), Landscape and Energy. Designing Transition, NAI010 Publishers, Rotterdam.
Shubbar, F. and Furlan, R. (2018), "Kanoo, a Traditional Urban Neighborhood in Manama City: an Approach to Promote Urban Regeneration and Enhance Livability", Saudi Journal of Civil Engineering, pp.105-121.
Stoeglehner, G. (2020), "Integrated spatial and energy planning: a means to reach sustainable development goals", Evolutionary and Institutional Economics Review, Vol 17, pp. 473-486.
Stoeglehner, G., Narodoslawsky, M., Erker, S., and Neugebauer, G. (2016), "Introduction", In SpringerBriefs in Applied Sciences and Technology, Springer: Cham, pp. 1–10.
Stremke, S. (2010), Designing sustainable energy landscapes: concepts, principles and procedures, PhD Thesis, Wageningen University.
Sultan, B., Katar, I.M. and Al-Atroush, M.E. (2021), "Towards sustainable pedestrian mobility in Riyadh city, Saudi Arabia: A case study", Sustainable Cities and Society, Vol. 69, n. 102831.
Terrados, J. Almonacid, G. and Hontoria, L. (2007), "Regional energy planning through SWOT analysis and strategic planning tools: Impact on renewables development", Renewable and Sustainable Energy Reviews, Vol. 11, 6, pp. 1275-1287.
UN-Habitat (2014), A new strategy of sustainable neighborhood planning: Five Principles, Discussion note 3.
UN-Habitat (2018), Energy and Resource Efficient Urban Neighborhood Design Principle for Tropical Countries. A Practitioner's Guidebook, UNON Publishing Services Section, Nairobi.
UN Saudi Arabia (2018), Towards Saudi Arabia's Sustainable Tomorrow.