Research and Experimentation
Performance optimisation of the building envelope. Case studies on recently constructed residential buildings in the United Kingdom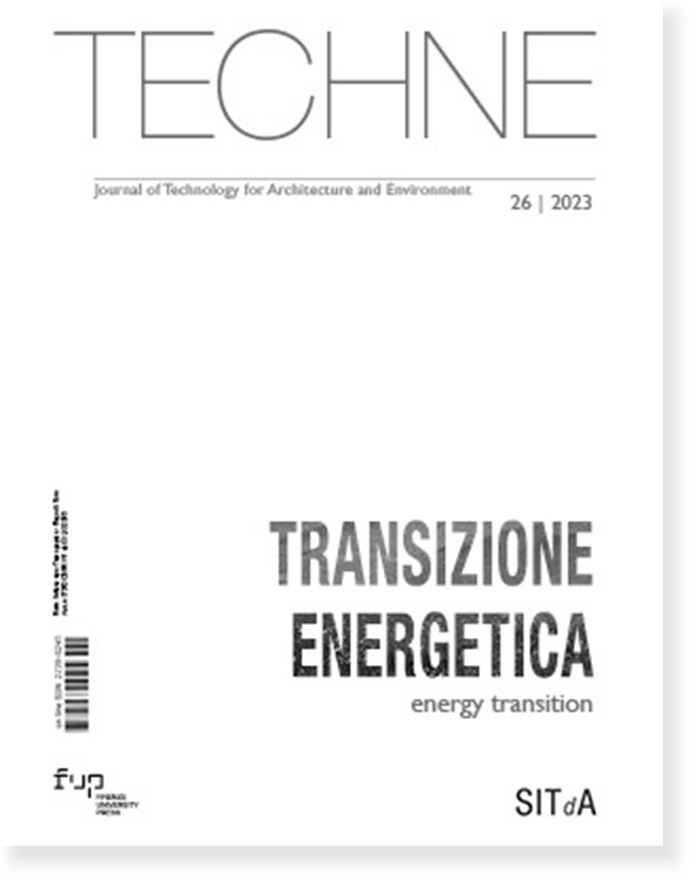 Published 2023-10-31
Keywords
Carbon neutrality

,

Fabric first approach

,

Residential stock upgrade

,

Building envelope performance
How to Cite
Ascione, P., & Borriello, A. (2023). Performance optimisation of the building envelope. Case studies on recently constructed residential buildings in the United Kingdom. TECHNE - Journal of Technology for Architecture and Environment, (26), 195–206. https://doi.org/10.36253/techne-14480
Copyright (c) 2023 Aniello Borriello, Paola Ascione
This work is licensed under a Creative Commons Attribution 4.0 International License.
Abstract
In the UK, the policy and practical drive for both new housing and carbon are achieving massive growth in the available stock and huge reductions in energy consumption per unit. The enormous new stock will, however, be almost immediately outdated by the arrival of the more restrictive rules under "The Future Homes Standard". These events are a mirror image of the current and near-future ones occurring in all the nations of the European Union. The construction industries and real estate sectors of all these nations are faced with the looming obligations of retrofitting the housing just completed or even still in creation, in order to achieve the mandatory energy classes. In the light of this, the research reported addresses the adequate need for short and long-term strategies to rework our recently constructed buildings. The methodological approach is applied to the cases of two residential buildings recently built in the framework of an urban regeneration plan for northern England.
Downloads
Download data is not yet available.
References
Concerted Action EPBD (2018), "Implementing the Energy Performance Building Directive – Country Reports", p. 285. Available at: https://epbd-ca.eu/archives/2905 (Accessed on 02/031/2023)
Department for Communities and Local Government (2009),"Sustainable New Homes – The Road to Zero Carbon Consultation on the Code for Sustainable Homes and the Energy Efficiency Standard for Zero Carbon Homes", p. 33. Available at: https://assets.publishing.service.gov.uk/government/uploads/system/uploads/attachment_data/file/8557/1415525.pdf (Accessed on 02/031/2023)
Department for Levelling Up, Housing & Communities (2021), "The Future Buildings Standard: summary of responses, and government response". Available at: https://www.gov.uk/government/consultations/the-future-buildings-standard#:~:text=Government%20response%20to%20the%20Future,government%20response%20to%20that%20consultation. (Accessed on 02/031/2023)
Graf, F. , Marino, G. (2012), "La cité du Lignon, 1963-1971 Étude architecturale et stratégies dintervention, Patrimonie & Architecture", Ginevra.
Greater London Authority (2020), "Energy Assessment Guidance Greater London Authority guidance on preparing energy assessments as part of planning applications", p. 4. Available at: https://www.london.gov.uk/sites/default/files/gla_energy_assessment_guidance_april_2020.pdf (Accessed on 02/031/2023)
Gutiérrez, R. U., de la Plaza Hidalgo, L. (2020), "Elements of Sustainable Architecture", Routledge Edition, Abingdon, United Kindgom.
Johnstone, A. (2022), "Building regs what's changed: Part L, F and introducing Part 0 on ventilation" Cousins, S., the RIBA Journal, Available at: https://www.ribaj.com/intelligence/changes-to-part-l-part-f-part-o-future-buildings-standard (Accessed on 02/031/2023)
Harvey, E. (2022), "Decarbonising heat in homes - House of Commons Business, Energy and Industrial Strategy Committee", p. 20. Available at: https://publications.parliament.uk/pa/cm5802/cmselect/cmbeis/1038/report.html (Accessed on 02/031/2023)
Herzog, T. (2005), "Reacting Skin", Kappa Edition, Rome, Italy.
HM Government (2023), "Approved Document L - Conservation of fuel and power – Volume 1: Dwelling 2021 edition incorporating 2023 amendments – for use in England", p. 22 Available at: https://www.gov.uk/government/publications/conservation-of-fuel-and-power-approved-document-l (Accessed on 02/031/2023)
House of Commons - Business, Energy and Industrial Strategy Committee (2022), "Decarbonising heat in homes - Seventh Report of Session 2021–22", p. 20. Available at: https://publications.parliament.uk/pa/cm5802/cmselect/cmbeis/1038/report.html (Accessed on 02/031/2023)
London Energy Transformation Initiative LETI (2020), "How new buildings can meet UK climate change targets", p. 44. Available at: https://www.leti.uk/cedg (Accessed on 02/031/2023)
Morris, N. (2022), "New Building Regulations changes to Part L are now in effect", Royal Institute of British Architects (RIBA), Available at: https://www.architecture.com/knowledge-and-resources/knowledge-landing-page/new-building-regulations-changes-to-part-l-are-now-in-effect (Accessed on 02/031/2023)
Paris, S., Bianchi, R. (2015), "La riqualificazione architettonica e ambientale dei quartieri moderni di edilizia residenziale pubblica: una opportunità per la città contemporanea. Un caso di studio a Roma" , in TECHNE, n. 10,
Turley Sustainability (2018), "Carbon Budget Statement X1 Manchester Waters", pp. 10.
United Nations Environment Programme (2022), "Global Status Report for Buildings and Construction: Towards a Zero‑emission, Efficient and Resilient Buildings and Construction Sector", p. 18. Available at: https://www.unep.org/resources/publication/2022-global-status-report-buildings-and-construction
Zero Carbon Hub (2009), "Defining a Fabric Energy Efficiency Standard for Zero Carbon Homes", p. 4. Available at: https://www.merton.gov.uk/system/files/Defining-a-Fabric-Energy-Efficiency-Standard-Executive-Summary.pdf (Accessed on 02/031/2023)