Vol. 76 No. 1 (2021)
Articles
A A new Muscarella (Orchidaceae: Pleurothallidinae) from Tapantí National Park, Costa Rica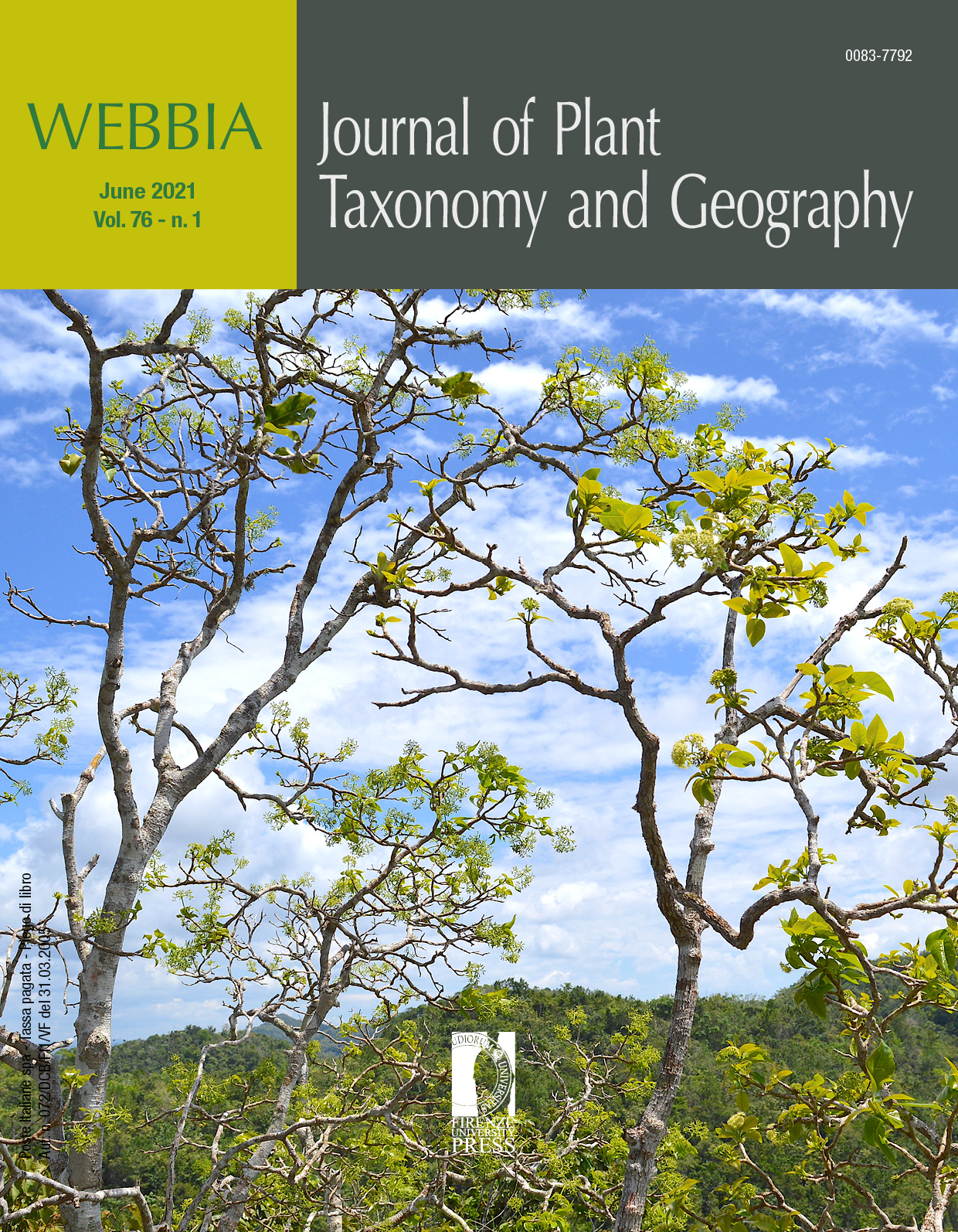 How to Cite
Fernández, M., Bogarín, D., & Pupulin, F. (2021). A A new Muscarella (Orchidaceae: Pleurothallidinae) from Tapantí National Park, Costa Rica. Webbia, 76(1), 65-70. https://doi.org/10.36253/jopt-10029
Copyright (c) 2021 Melania Fernandez, Diego Bogarín, Franco Pupulin
This work is licensed under a Creative Commons Attribution 4.0 International License.
Abstract
A new species of Muscarella from Costa Rica, is described and illustrated. Muscarella tapantiensis most resembles M. coeloglossa but differs in the longer pedicels (3-5 vs. 1-2 mm), the shorter (2.5-2.8 vs. 3.75 mm), connate (vs. free) lateral sepals, and the lip with triangular (vs. broadly rounded) lower lateral lobes. Muscarella xanthella also resembles M. tapantiensis; however, it differs in the successively flowered raceme with alternate pedicels, the deeply fimbriate petals and the thick, rounded lip with densely verrucose lateral lobes. We provide illustrations, etymology, notes on ecology, pictures of the plants and habitat, and a distribution map of the new species. We discuss the inclusion of this species in the genus Muscarella.
References
Barbosa Rodrigues J. 1892. Gen. Sp. Orchid. 2: 9.
Bernard F, de Groot RS, Campos JJ. 2009. Valuation of tropical forest services and mechanisms to finance their conservation and sustainable use: A case study of Tapantí National Park, Costa Rica. For Policy Econ, 11, 174–183. URL:https://www.sciencedirect.com/science/article/abs/pii/S1389934109000264
Crain BJ, Fernández M. 2020. Biogeographical analyses to facilitate targeted conservation of orchid diversity hotspots in Costa Rica. Divers Distrib 26: 853–866. URL: https://onlinelibrary.wiley.com/doi/full/10.1111/ddi.13062
Garay LA. 1974. Acostaea y los géneros del complejo Pleurothallis. Orquideología 9(2): 121–123.
Higgins MA, Ruokolainen, K. 2004. Rapid tropical forest inventory: a comparison of techniques based on inventory data from western Amazonia. Conserv Biol 18(3): 799–811. URL: https://www.jstor.org/stable/3589090?seq=1
Holdridge LR. 1967. Life Zone Ecology. San José, Costa Rica: Tropical Science Center.
Holdridge LR. 1987. Ecología basada en zonas de vida. San José, Costa Rica: IICA.
Karremans AP, Albertazzi FJ, Bakker FT, Eurlings MCM, Pridgeon A, Pupulin F, Gravendeel B. 2016. Phylogenetic reassessment of Specklinia and its allied genera in the Pleurothallidinae (Orchidaceae). Phytotaxa 272: 1–36. URL: https://www.biotaxa.org/Phytotaxa/article/view/phytotaxa.272.1.1
Kraenzlin FWL. 1925. New species of Masdevallia and allied genera. Bull Misc Inform Kew 3: 116.
Lindley J. 1830. The genera and species of orchidaceous plants 8. London: J. Ridgway.
Luer CA. 1986. Icones Pleurothallidinarum III. Systematics of Pleurothallis (Orchidaceae). Monogr Syst Bot Missouri Bot 20: 1–89.
Luer CA. 2003. Pleurothallis. In: B.E. Hammel, M.H. Grayum, C. Herrera, N. Zamora, editors. Manual de Plantas de Costa Rica. Vol. III. Monogr Syst Bot Missouri Bot 95; p. 386–452.
Luer CA. 2004. Icones Pleurothallidinarum XXVI. Systematics of Pleurothallis subgenus Acianthera (Orchidaceae): a second century of new species of Stelis; Epibator, Ophidion, Zootrophion. Monogr Syst Bot Missouri Bot 95: 1–258.
Luer CA. 2006. Icones Pleurothallidinarum XXVIII. A reconsideration of Masdevallia. Systematics of Specklinia and vegetatively similar taxa (Orchidaceae). Monogr Syst Bot Missouri Bot 105: 1–94.
Mora C, Tittensor DP, Adl S, Simpson AGB, Worm B. 2011. How Many Species Are There on Earth and in the Ocean? PLoS Biol 9(8): e1001127. URL: https://journals.plos.org/plosbiology/article?id=10.1371/journal.pbio.1001127
Ossenbach C, Pupulin F, Dressler RL. 2007. Orquídeas del Istmo Centroamericano catálogo y estado de conservación. Orchids of the Central American Isthmus. San José, Costa Rica: Editorial 25 de Mayo.
Pérez-Escobar OA, Chomicki G, Condamine FL, Karremans AP, Bogarín D, NJ Matzke, Silvestro D, Antonelli A. 2017. Recent origin and rapid speciation of Neotropical orchids in the world's richest plant biodiversity hotspot. New Phytologist 215(2): 891–905. URL: https://nph.onlinelibrary.wiley.com/doi/full/10.1111/nph.14629
Pessoa E, De Barros F, Alves M. 2014. Specklinia integripetala and S. ianthina spp. nov. (Orchidaceae: Pleurothallidinae) from northeastern Brazil. Nord J Bot 32: 129–132. URL: https://onlinelibrary.wiley.com/doi/abs/10.1111/j.1756-1051.2013.00183.x
Pridgeon AM, Solano R, Chase MW. 2001. Phylogenetic relationships in Pleurothallidinae (Orchidaceae): combined evidence from nuclear and plastid DNA sequences. Am J Bot 88(12): 2286–2308. URL: https://pubmed.ncbi.nlm.nih.gov/21669661/
Pupulin F. 2001. Extending the range - A new Dracula from Costa Rica. Orchids 70(6): 564-567.
Pupulin F. 2003. Tapantí - Orquídeas – Orchids. Cartago, Costa Rica: Jardín Botánico Lankester, Universidad de Costa Rica.
Pupulin F, Bogarín D, Jiménez D. 2009. New species and records in Mesoamerican Lepanthes. Orch Dig 73: 136–145.
Pupulin F, Bogarín D. 2012. Lepanthes novae tapantiensis. Orch Dig 76(1): 20–29.
Sánchez J. 2002. Aves del Parque Nacional Tapantí / Birds of Tapantí National Park. Heredia, Costa Rica: Ed. INBIO.
Schlechter FRR. 1923. Beiträge zur Orchideenkunde von Zentralamerika. II: Additamenta ad Orchideologiam Costaricensem. Repert. Spec Nov Regni Veg Beih 19: 22–23.