Vol. 76 No. 2 (2021)
Articles
Lectotypification of five names in the genus Blumea (Asteraceae)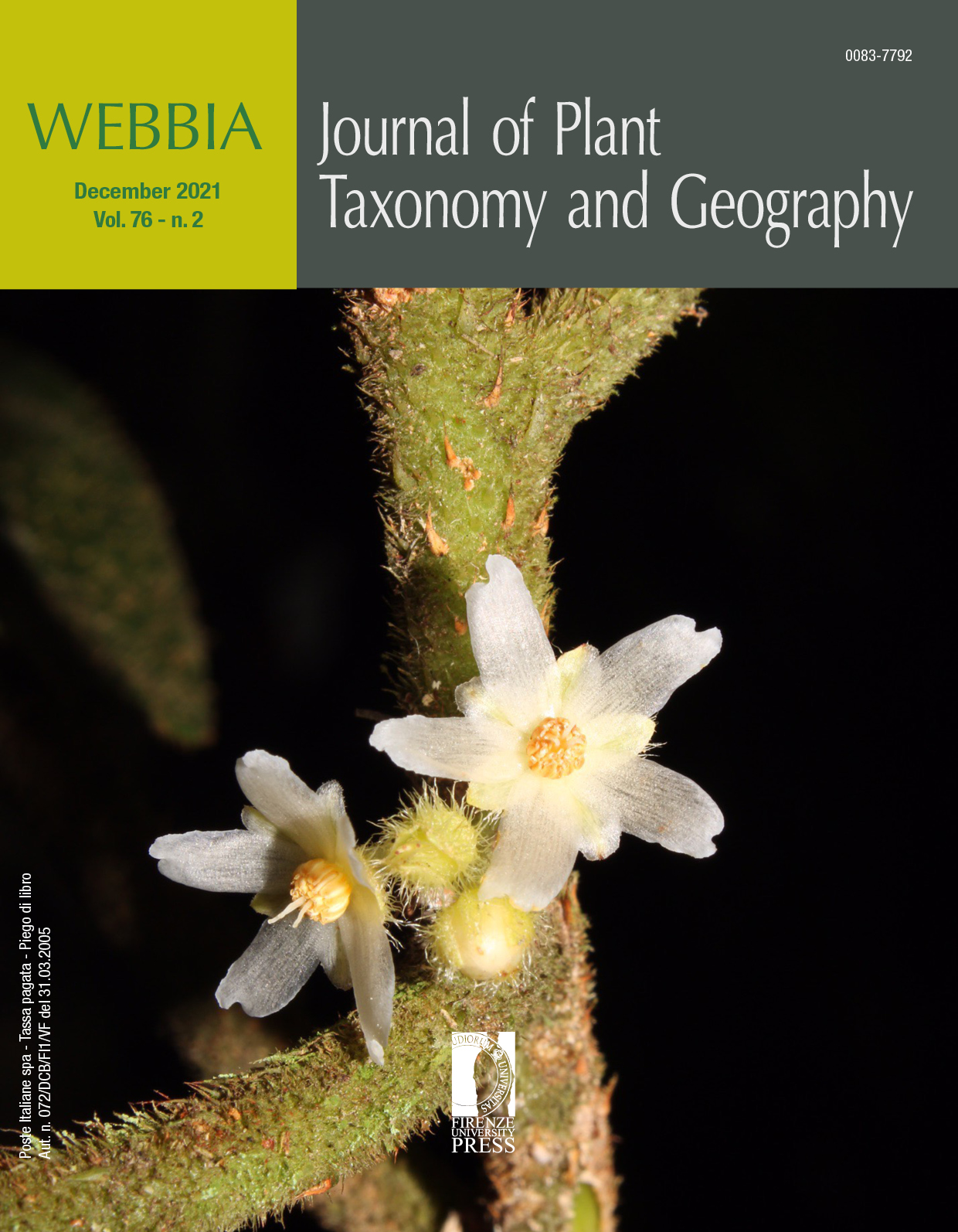 Published
September 7, 2021
Keywords
Asteraceae

,

Blumea

,

Nomenclature

,

Taxonomy
How to Cite
Dilsha M. V., & Satheesh George. (2021). Lectotypification of five names in the genus Blumea (Asteraceae). Webbia, 76(2), 281-288. https://doi.org/10.36253/jopt-10530
Copyright (c) 2021 Dilsha M. V., Satheesh George
This work is licensed under a Creative Commons Attribution 4.0 International License.
Abstract
The lectotypification of five names in the genus Blumea (Asteracea): Blumea glomerata DC., B. pterodonta DC., B. hamiltonii DC., Blumea arenaria DC. and Blumea virens DC., is discussed and lectotypes designated.
References
Anderberg AA (1991) Taxonomy and phylogeny of the tribe Inuleae (Asteraceae). Plant Systematics and Evolution 176(1-2): 75-123. https://doi.org/10.1007/BF00937947
de Candolle AP (1833) Genres nouveaux appartenant à la famille des Composées ou Synanthérées. Archives de Botanique 2: 514-519.
Giri GS, Mitra B (1984) On the identity of two varieties of Blumea obliqua (Linn.) druce complex. Indian journal of forestry.
Hooker JD (1882) The Flora of British India. Vol. 3. London.
Pornpongrungrueng P, Gustafsson MH, Borchsenius F, Koyama H, Chanta ranothai P (2016) Blumea (Compositae: Inuleae) in continental Southeast Asia. Kew bulletin 71(1): 1–46. https://doi.org/10.1007/s12225-016-9612-2
Randeria AJ (1960) The Compositae genus Blumea: A taxonomic revision. Blumea 10: 176–317.
Turland NJ, Wiersema JH, Barrie FR, Greuter W, Hawksworth DL, Herendeen PS, Knapp S, Kusber WH, Li DZ, Marhold K, May TW, McNeill J, Monro AM, Prado J, Price MJ, Smith GF (2018) International Code of Nomenclature for algae, fungi, and plants (Shenzhen Code) adopted by the Nineteenth International Botanical Congress Shenzhen, China, July 2017. Regnum Vegetabile 159. Glashütten: Koeltz Botanical Books. https://doi.org/10.12705/Code.2018

Wight R (1834) Contributions to the Botany of India. London.