Articles
You 'Sau' Me! A new species and a rediscovery in the genus Saurauia (Actinidiaceae) from Zamboanga Peninsula, Mindanao Island, Philippines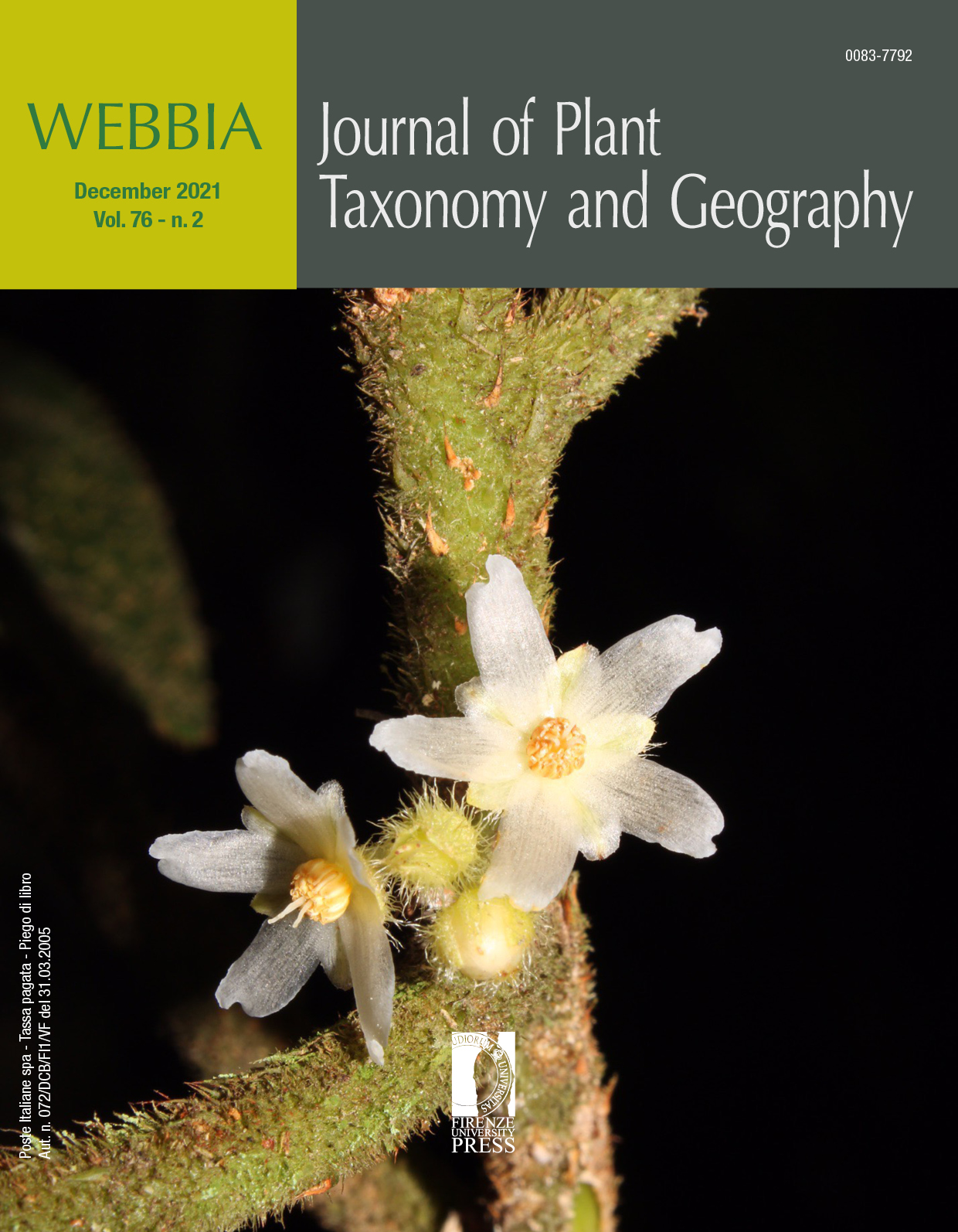 Published 2021-09-07
Keywords
Actinidia

,

Actinidiaceae

,

endemism

,

Philippines

,

taxonomy
How to Cite
Mazo, K. R. F., Mansibang, J. A., Aribal, L. G., & Tamayo, M. N. (2021). You 'Sau' Me! A new species and a rediscovery in the genus Saurauia (Actinidiaceae) from Zamboanga Peninsula, Mindanao Island, Philippines. Webbia, 76(2), 203–212. https://doi.org/10.36253/jopt-10712
Abstract
Abstract. A new species and a rediscovery in the genus Saurauia (Actinidiaceae) from Zamboanga Peninsula, Mindanao island, Philippines are presented here. The new species, Saurauia abbreviata, closely resembles Saurauia lanaensis Merr. but can be differentiated by having longer petioles, uniformly setose adaxial leaf surface, longer and wider leaves, more lateral veins, 3 styles, and a 3(–4)-locular ovary. This discovery raises the current number of recognized Saurauia in the Philippines to 57 following an 87-year gap in the taxonomic study of this genus in the country. S. longipedicellata Merr. is also rediscovered after almost a century. A lectotype is here assigned for this name selected among the syntypes. Photographs, ecological notes, and an amended description are also provided to aid taxonomic identification.
Abstrak. Usa ka bag-ong species ug nadiskobrehan pag-usab sa genus nga Saurauia (Actinidiaceae) gikan sa Zamboanga Peninsula, isla sa Mindanao, Philippines ang gipresentar dinhi. Ang bag-ong species, Saurauia abbreviata, nahisama pag-ayo sa Saurauia lanaensis Merr. apan ang bag-ong species adunay labi ka taas nga mga petioles, uniformly setose ang ilalom nga dahon, mas taas ug mas lapad nga dahon, labi pang mga lateral veins, 3 styles, ug 3(–4)-locular nga obaryo. Ang nadiskobrehan nagdugang sa kadaghanon sa mga giila nga Saurauia sa Pilipinas ngadto sa 57 human sa 87 ka tuig nga gintang sa taxonomic nga pagtuon sa kini nga genus sa nasud. Ang Saurauia longipedicellata Merr. nadiskobrehan usab pagkahuman sa hapit usa ka gatus ka tuig. Ang tipipikasyon gihimo dinhi aron mapalig-og ang ngalan. Mga litrato, mga notang ekolohikal, ug giusab nga hulagway alang sa maong species makita usab dinhi.
References
Barcelona JF, Nickrent DL, LaFrankie JV, Callado JRC, Pelser PB. 2013. Co's Digital Flora of the Philippines: Plant Identification and Conservation through Cybertaxonomy. Philippine Journal of Science 142: 57–67.

Briggs M. 2001. Saurauia (Actinidiaceae) of New Guinea: current status, future plans. Gardens' Bulletin Singapore 63 (1 & 2): 77–82.

Briggs M. 2015. A New Name in New Guinea Saurauia Willd. Actinidiaceae. Kew Bulletin 70: 51.

Conn BJ, Damas KG. 2013. A new species of Saurauia (Actinidiaceae) from Papua New Guinea. Telopea. 15: 9–1.

IUCN Standards and Petitions Committee. 2019. Guidelines for Using the IUCN Red List Categories and Criteria. Version 14. Prepared by the Standards and Petitions Committee. Available from: http://www.iucnredlist.org/documents/RedListGuidelines.pdf. (accessed 08 September 2020).

Merrill ED. 1906. Publications of the Bureau of Science Government Laboratories. Manila. 35: 41-45.

Merrill ED. 1922. New or noteworthy Philippine plants XVII. The Philippine Journal of Science 20: 407.

Pelser, P.B., J.F. Barcelona & D.L. Nickrent (eds.). 2011 onwards. Co's Digital Flora of the Philippines. www.philippineplants.org (accessed 08 September 2020).

Turland NJ, Wiersema JH, Barrie FR, Greuter W, Hawksworth DL, Herendeen PS, Knapp S, Kusber W-H, Li D-H, Marhold K, May TW, McNeill J, Monro AM, Prado J, Price MJ, Smith GF. (ed.) 2018. International code of nomenclature for algae, fungi and plants (Shenzhen Code) adopted by the Nineteenth International Botanical Congress Shenzhen, China, July 2017. Regnum Vegetabile 159: 1–227.