Vol. 76 No. 2 (2021)
Articles
On the status of the genus Hybochilus, with a new combination in Leochilus (Orchidaceae: Oncidiinae)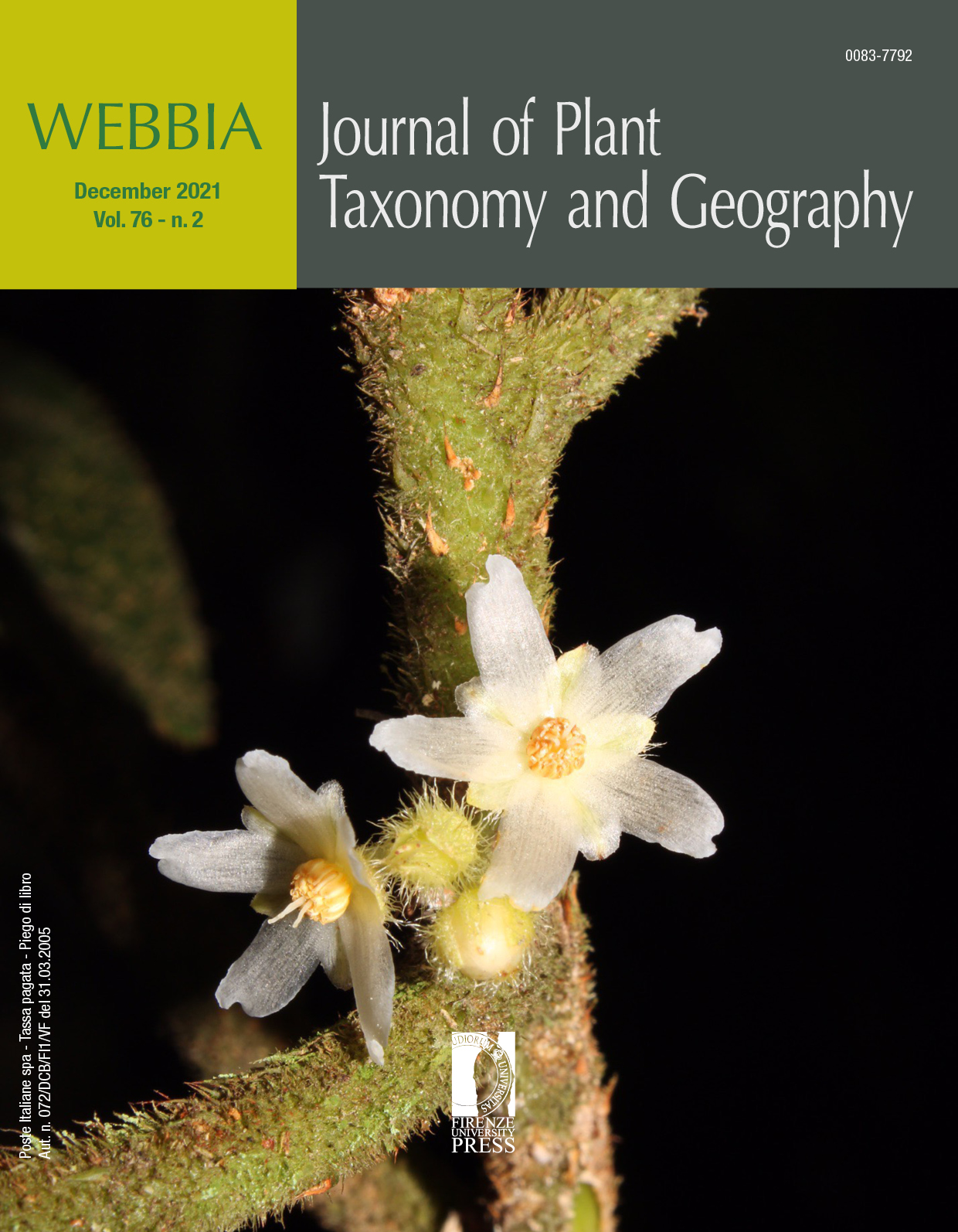 Published
September 7, 2021
How to Cite
Pupulin, F. (2021). On the status of the genus Hybochilus, with a new combination in Leochilus (Orchidaceae: Oncidiinae). Webbia, 76(2), 289-293. https://doi.org/10.36253/jopt-10856
Copyright (c) 2021 Franco Pupulin
This work is licensed under a Creative Commons Attribution 4.0 International License.
Abstract
The name Rodriguezia inconspicua, proposed as a replacement name for Trichocentrum candidum, is a homotypic synonym of the latter, as well as the new combinations based on the same name. The genus Hybochilus, typified by Rodriguezia inconspicua, is reduced into synonymy under Trichocentrum. A new combination, Leochilus candelariae, is proposed to accommodate the species from Costa Rica. Rodriguezia candelariae is typified.
References
Autran, E. J. B. & T. Durand. 1896. Hortus Boissierianus: énumération des plantes cultivées en 1885 à Valleyres (Vaud) et à la Perrière (Chambésy près Genève). Imprimérie Georges Bridel & Co, Lausanne.
Chase, M.W. 1986. A monograph of Leochilus (Orchidaceae). Syst. Bot. Monogr. 14: 1–97.
Christenson, E. A. 1991. Notes on neotropical Orchidaceae. Phytologia. 71: 440–444.
Knowles, G.B. & Westcott, F. 1838. Botanical notices on new plants. Pp. 141–143 in: G.B. Knowles & F. Westcott. Floral Cabinet and Magazine of Exotic Botany. Vol. 2. W. Smith, London.
Kränzlin, F. W. L. 1895. Eine neue Rodriguezia-Art. Bulletin de l'Herbier Boissier. 3: 630¬–631 (t.18).
Kränzlin, F. W. L. 1916. Plantae novae andinae imprimis Weberbauerianae VII, 5. Orchidaceae andinae. Bot. Jahrb. Syst. 54 (Beibl. 117): 16–34.
Lindley, J. 1837. Burlingtonia candida. Snow-white Burlingtonia. 43. Edwards's Bot. Reg. 23: sub pl. 1927.
Lindley, J. 1843. Miscellanoeus matter of the Botanical Register 1843. No. 18. Edwards's Bot. Reg. 29: misc. 9.
Ossenbach, C. 2009. Orchids and Orchidology in Central America: 500 Years of History. Lankesteriana. 9(1–2): 1–268.
Poeppig, E & S. Endlicher. 1836 [as 1838]. Nova Genera ac Species Plantarum 2. Friderici Hofmeister, Lipsiae.
Pupulin, F., D. Bogarín, M. Fernández, M. Díaz-Morales, J. Aguilar & C. Ossenbach. 2016. Orchidaceae Tonduzianae: typification of Costa Rican Orchidaceae described from collections of Adolphe Tonduz. Harvard Papers in Botany. 21(2): 263–320.
Schlechter, R. 1920. Studium zur Klärung der Gattung Rodriguezia Ruiz et Pav. Repert. Spec. Nov. Regni Veg. 16(468/473): 425–430.
Turland, N. J., Wiersema, J. H., Barrie, F. R., Greuter, W., Hawksworth, D. L., Herendeen, P. S. Knapp, S., Kusber., W.-H., Li, D.-Z., Marhold, K., May, T. W., McNeill, J., Monro, A. M., Prado, J., Price, M. J. & Smith, G. F. 2018. International Code of Nomenclature for algae, fungi, and plants (Shenzhen Code) adopted by the Nineteenth International Botanical Congress Shenzhen, China, July 2017. Regnum Vegetabile. 159. DOI https://doi.org/10.12705/ Code.2018
University of Costa Rica. 2021. EPIDENDRA – the global orchid taxonomic network by Lankester Botanical Garden. Available at: http://www.epidendra.org/index.html, consulted on April 2021.