Vol. 76 No. 2 (2021)
Articles
Studies on Schismatoglottideae (Araceae) of Peninsular Malaysia III: New species for the Schismatoglottis Calyptrata Clade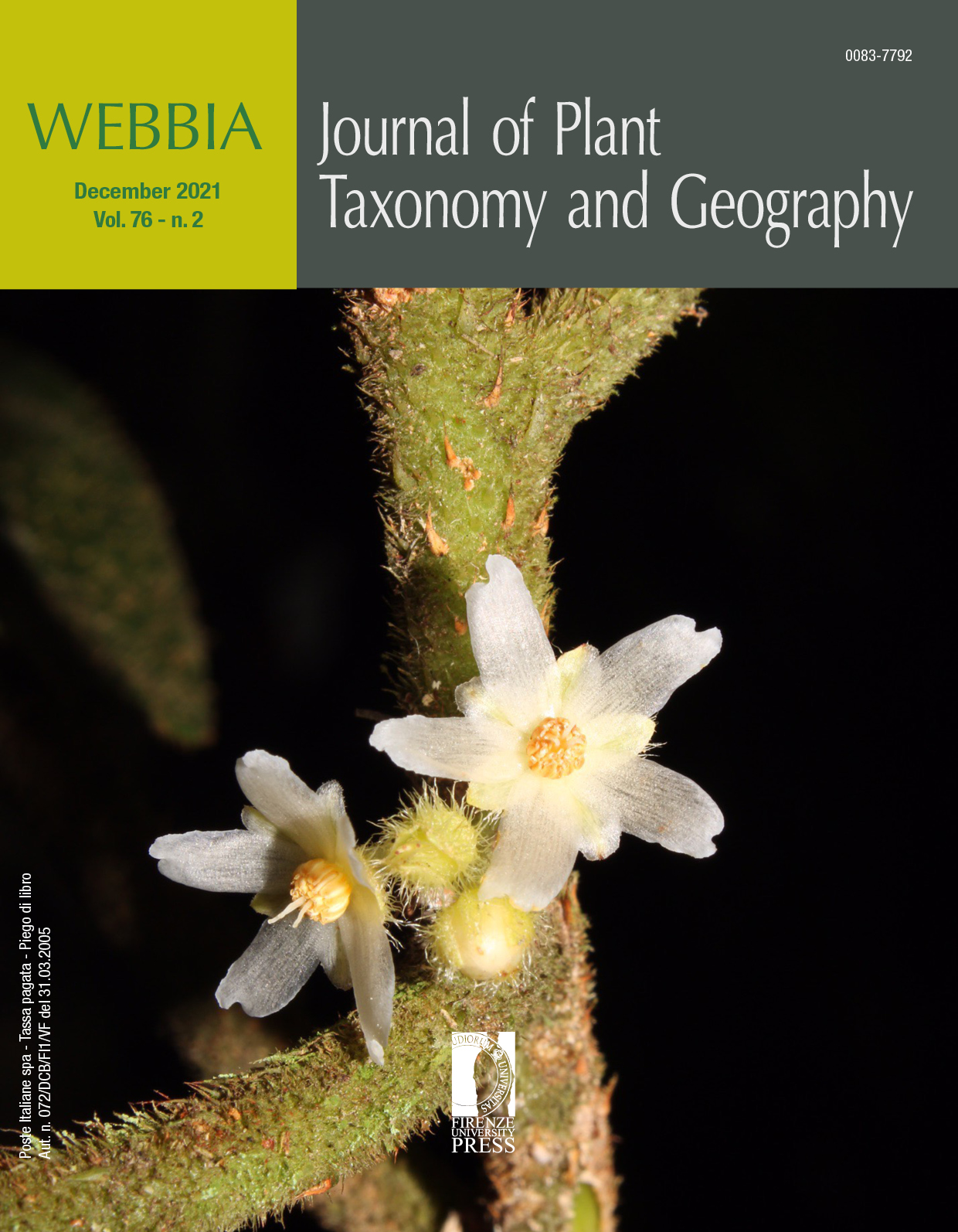 Published
September 7, 2021
Keywords
Araceae

,

Schismatoglottis

,

Calyptrata clade

,

Peninsular Malaysia
How to Cite
Sin Yeng, W., Boyce, P. C., & Yin Chen, H. (2021). Studies on Schismatoglottideae (Araceae) of Peninsular Malaysia III: New species for the Schismatoglottis Calyptrata Clade. Webbia, 76(2), 245-259. https://doi.org/10.36253/jopt-11285
Copyright (c) 2021 Wong Sin Yeng, Peter C. Boyce, Hoe Yin Chen
This work is licensed under a Creative Commons Attribution 4.0 International License.
Abstract
Three new colonial species of Schismatoglottis Calyptrata clade are described from Peninsular Malaysia and compared with the four already known morphologically similar species described from there. All seven species are illustrated from living plants and an identification key is provided.
References
Hay A. 1996. The genus Schismatoglottis Zoll. & Moritzi (Araceae: Schismatoglottideae) in
Peninsular Malaysia and Singapore. Sandakania 7: 1-30.
Hay A, Yuzammi. 2000. Schismatoglottideae (Araceae) in Malesia I -Schismatoglottis.
Telopea 9: 1-177.
Hoe YC, Gibernau M, Wong SY. 2018. Diversity of pollination ecology in the
Schismatoglottis Calyptrata Complex Clade (Araceae). Plant Biology 20(3): 563-578.
Hoe YC, Gibernau M, Wong SY. 2020. Thermogenesis in four species of Schismatoglottis
Calyptrata Clade (Schismatoglottideae: Araceae). Feddes Repertorium 131(4): 268–277.
Hoe YC, Wong SY. 2016. Floral biology of Schismatoglottis baangongensis (Araceae) in
West Sarawak, Malaysian Borneo. Plant Systematics and Evolution 302: 1239-1252.
Hooker JD. 1893. Araceae. In: The Flora of British India 6. Reeve & Co., London, pp. 490-
558.
Ridley HN. 1911. A scientific expedition to Temengoh, Upper Perak. Journal of the Straits
Branch of the Royal Asiatic Socety 57: 5-122.
Tate RB, Tan DNK, Ng TF. 2008. Geological Map of Peninsular Malaysia. Scale
1:1,000,000. Geological Society of Malaysia and University of Malaya.
Wong SY, Boyce PC. 2017. Studies on Schismatoglottideae (Araceae) of Peninsular
Malaysia I: On the identity of Schismatoglottis wallichii var. oblongata and a new species S. lowae. Aroideana 40(1): 29-38.
Wong SY, Boyce PC. 2020. Studies on Schismatoglottideae (Araceae) of
Peninsular Malaysia II: Schismatoglottis guabatuensis [Calyptrata Clade], a new
locally endemic limestone-obligated species. Nordic Journal of Botany 2020: e02808: 1-5.
Wong SY, Hay A, Boyce PC. 2018. An annotated check-list for Schismatoglottis. Aroideana 41(2&3): 34-200.
Wong SY, Hoe YC, Boyce PC. 2016. Studies on Schismatoglottideae (Araceae) of Borneo
LIX – A preliminary conspectus of Schismatoglottis Calyptrata Clade species for Sarawak. Aroideana 39(2): 71-100.