Vol. 77 No. 1 (2022)
Articles
Prain's Erycibe (Convolvulaceae) types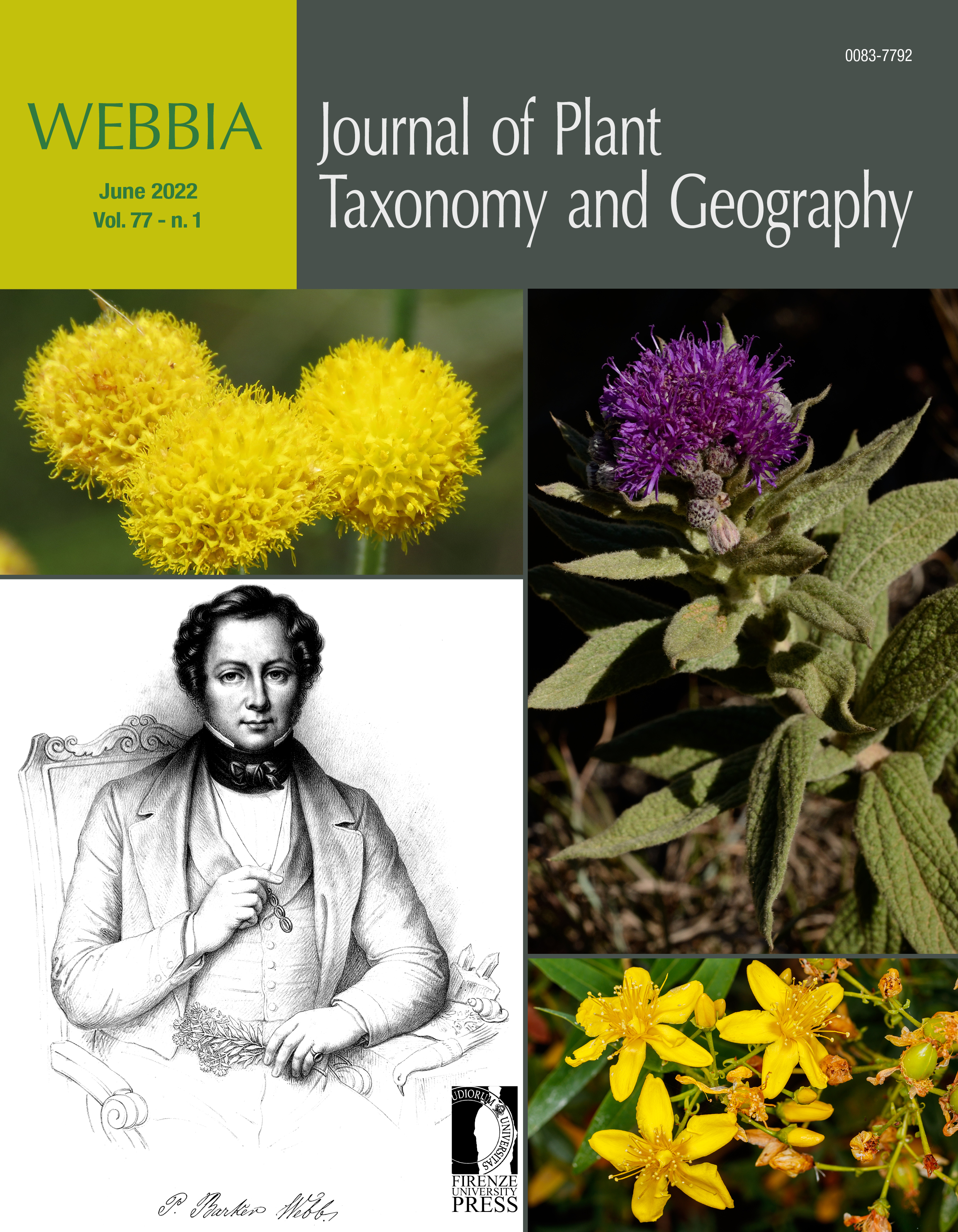 Keywords
Asia

,

Erycibe

,

Hoogland

,

Prain

,

typification
How to Cite
Turner, I. M., & Kumar, A. (2022). Prain's Erycibe (Convolvulaceae) types. Webbia, 77(1), 169-172. https://doi.org/10.36253/jopt-12014
Copyright (c) 2022 Ian M. Turner, Anand Kumar
This work is licensed under a Creative Commons Attribution 4.0 International License.
Abstract
The typification of 14 species names authored by Prain in Erycibe (Convolvulaceae) is reviewed. The species range from Myanmar to Taiwan and New Guinea, with most from the Malay Peninsula. For 12 of the names, lectotypes in CAL were designated by Hoogland without seeing the specimens. Either through failure to find the designated specimen, or location of more than one specimen in the designated herbarium, we make 12 new lectotype designations, nine of which are at the second stage.
References
Hallier H. 1897. Bausteine zu einer Monographie der Convolvulaceen. Bull Herb Boissier 5(5): 366-387.
Hoogland RD. 1953. A review of the genus Erycibe Roxb. Blumea 7: 342-361.
Prain D. 1894. Noviciae indicae VIII. Some additional species of Convolvulaceae. J Asiat Soc Bengal, Pt 2, Nat Hist. 63(2): 83-115.
Prain D. 1896. Noviciae indicae XIII. Further notes on Indian Convolvulaceae with descriptions of three additional species. J Asiat Soc Bengal, Pt 2, Nat Hist. 65(3): 536-538.
Prain D. 1904. Some new plants from Eastern Asia. J Asiat Soc Bengal, Pt 2, Nat Hist. 73(1): 14-21.