Vol. 77 No. 1 (2022)
Articles
Studies on Schismatoglottideae (Araceae) of Borneo LXXIII - Schismatoglottis auyongii [Calyptrata Clade], a new species for the Penrissen Range, Sarawak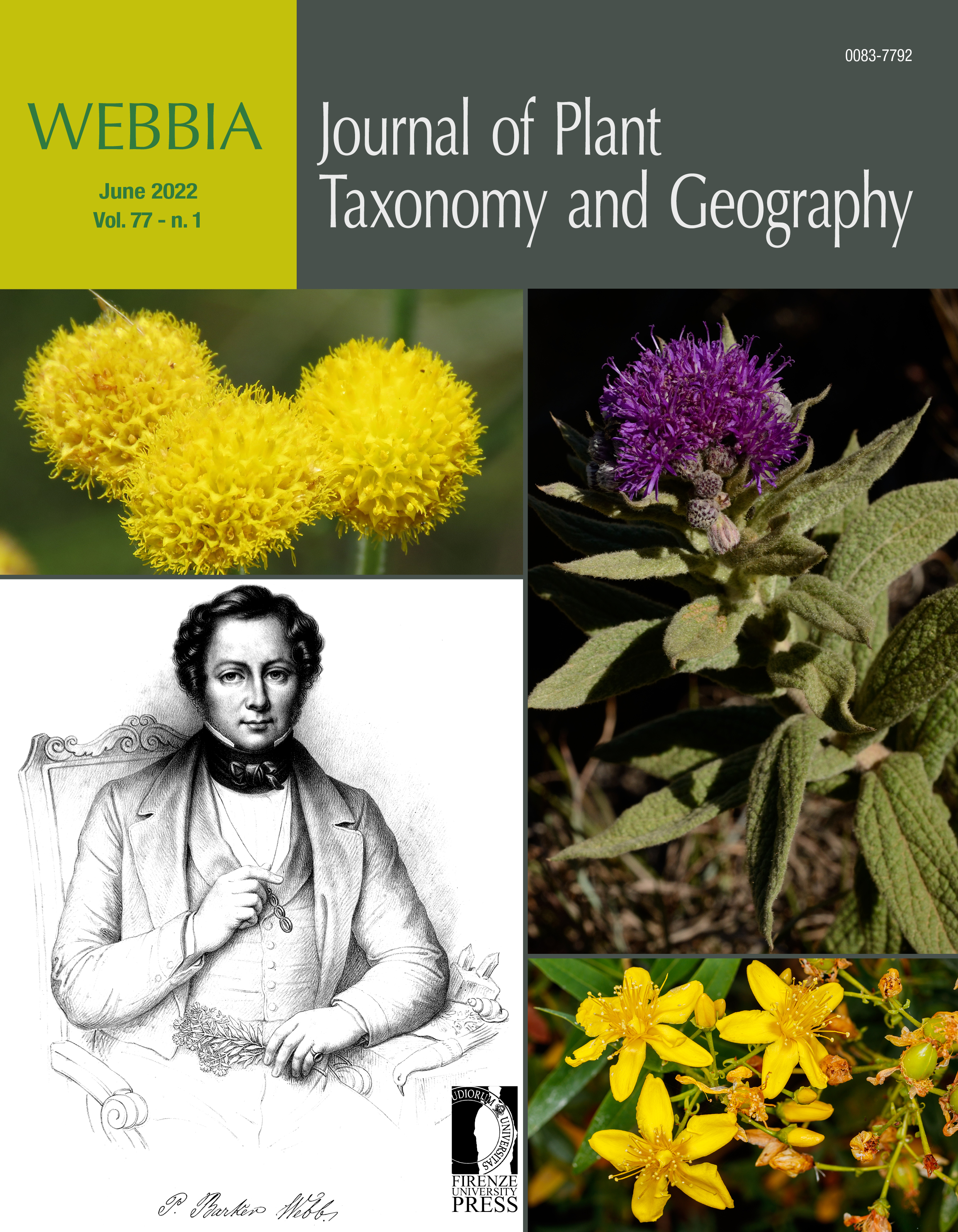 Keywords
Borneo

,

Malaysia

,

Penrissen Range

,

Sarawak

,

Schismatoglottis
How to Cite
Sin Yeng, W., & Boyce, P. C. (2022). Studies on Schismatoglottideae (Araceae) of Borneo LXXIII - Schismatoglottis auyongii [Calyptrata Clade], a new species for the Penrissen Range, Sarawak. Webbia, 77(1), 153-157. https://doi.org/10.36253/jopt-12256
Copyright (c) 2022 Wong Sin Yeng, Peter C. Boyce
This work is licensed under a Creative Commons Attribution 4.0 International License.
Abstract
Schismatoglottis auyongii is described and illustrated as a new clumping species of the Schismatoglottis Calyptrata clade from wet slopes in hill forest on the extremely hard Paleogene sandstones of the Penrissen Range, SW Sarawak.
References
Chai SK, Wong SY. 2019. Five pollination guilds of aroids (Araceae) at Mulu National Park
(Sarawak, Malaysian Borneo). Webbia 74(2): 353-371.
Hay A, Yuzammi. 2000. Schismatoglottideae (Araceae) in Malesia I — Schismatoglottis.
Telopea. 9: 1-177.
Hoe YC, Gibernau M, Wong SY. 2018. Diversity of pollination ecology in the
Schismatoglottis Calyptrata Complex Clade (Araceae). Plant Biology 20(3): 563-578.
Hutchinson,CS. 1989. Geological Evolution of South-East Asia. Malaysia: Oxford University
Press.
Hutchinson, C.S. 2005. Geology of north-west Borneo: Sarawak, Brunei and Sabah. Elsevier,
The Netherlands.
Tate RB. 2001. The Geology of Borneo Island CD-ROM. Persatuan Geologi Malaysia:
Geological Society of Malaysia.
Wong SY, Boyce PC. 2021. Studies on Schismatoglottideae (Araceae) of Borneo LXX —
New colonial species for the Schismatoglottis [Calyptrata Clade] from Sarawak. Webbia 76(2): 81-103.
Wong SY, Hay A, Boyce PC. 2018. An annotated checklist for Schismatoglottis. Aroideana.
41(2-3): 34-200.