Vol. 77 No. 1 (2022)
Articles
Typification of Geranium arnottianum Steud. (Geraniaceae)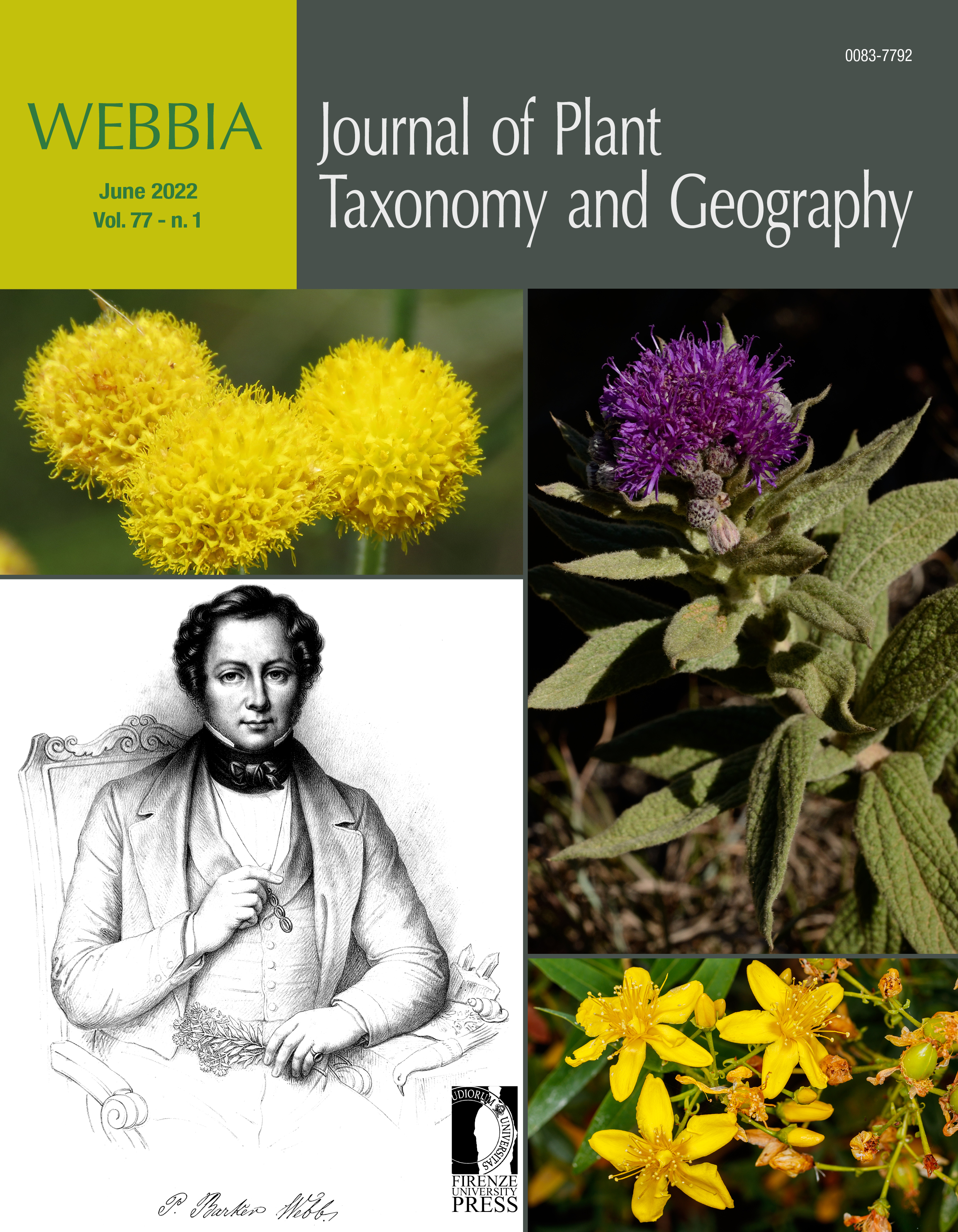 Keywords
Geraniaceae

,

Geranium

,

nomenclature

,

Peninsula India Orientalis

,

typification
How to Cite
Hurrah, I. A., & Wagh, V. V. (2022). Typification of Geranium arnottianum Steud. (Geraniaceae). Webbia, 77(1), 173-176. https://doi.org/10.36253/jopt-12406
Copyright (c) 2022 Imitiyaz A. Hurrah, Vijay V. Wagh
This work is licensed under a Creative Commons Attribution 4.0 International License.
Abstract
Nomenclature issue of Geranium arnottianum is here discussed. The comparison of G. arnottianum with its allied species is also discussed for its easy identification.
References
Aedo C. 2001. The genus Geranium L. (Geraniaceae) in North America. II. Perennial species. Anales Jardin Botánico de Madrid 59: 3–65
Aedo C. 2017. Taxonomic revision of Geranium Sect. Ruberta and Unguiculata (Geraniaceae). Annals of the Missouri Botanical Garden 102: 409–465. https://doi.org/10.3417/D-16-00016A
Aedo C, Garmendia M, Pando F. 1998. World checklist of Geranium L. (Geraniaceae) Anales Jardin Botánico de Madrid 56(2): 211–252.
http://dx.doi.org/10.3989/ajbm.1998.v56.i2.230
De Candolle AP. 1824. Prodromus Systematis Naturalis Regni Vegetabilis. Vol. 1. Treuttel & Würtz, Paris 641 pp.
Komarov VL. 1929. Flora Peninsulae Kamtschatka. Vol. 2. Leningrad, St. Petersburgh, 294–295 pp.
Ledebour CF. 1831. Flora Altaica Vol. 3. Berlin, 229 pp.
Linnaeus C. 1753. Species Plantarum 2. Salvinus, Stockholm, 681 pp.
Malhotra CL. 1997. Geraniaceae. In: Flora of India, vol. IV. Botanical Survey of India, Calcutta, 62‒94 pp.
Maximowicz CJ. 1859. Primitiae florae Amurensis. Mémoires présentés a l'académie impériale des sciences de St.-Pétersbourg par divers savants et lus dans ses assemlées, 9: 1–504.
Miyabe K, Tatewaki M. 1936. Contribution to the Flora of Northern Japan. Transactions of the Sapporo Natural History Society. 14: 263 pp.
Steudel ET. 1840. Nomenclator botanicus, seu, synonymia plantarum universalis: enumerans ordine alphabetico nomina atque synonyma, tum generica tum specifica, et a Linnaeo et a recentioribus de re botanica scriptoribus plantis phanerogamis imposita. 2nd ed., Vol. 1. Sumtibus J.G. Cottae, Stuttgartiae et Tubingae. 677 pp.
Takeda H. 1910. Beitrage zur Kenntnis der Flora von Hokkaido. The Botanical Magazine, Tokyo 24: 258 pp.
Thiers B. 2020 continuously updated. Index Herbariorum: A global directory of public herbaria and associated staff. New York Botanical Garden's Virtual Herbarium. Available from: https://sweetgum.nybg.org/ih/ (accessed 09 July 2020).
Turland NJ, Wiersema JH, Barrie R, Greuter W, Hawk-sworth DL, Herendeen PS, Knapp S, Kusber WH, Li DZ, Marhold K, May TW, McNeill J, Monro AM, Prado J, Price MJ, Smith GF. 2018. International Code of Nomenclature for algae, fungi, and plants (Shenzhen Code) adopted by the Nineteenth International Botanical Congress Shenzhen, China, July 2017. Regnum Vegetabile. 159. Glashütten: Koeltz Botanical Books. https://doi.org/10.12705/Code.2018
Wagh VV, Datt B, Hussain T. 2015. An assessment of the diversity of genus Geranium L. (Geraniaceae) in India with special emphasis on Indian Himalayan region. Journal of Biodiversity Management and Forestry 4: 2.
https://doi.org/10.4172/2327-417.1000140.
Wight R, Arnott GAW. 1834. Prodromus Florae Peninsulae Indiae Orientalis Vol. 1. Parbury, Allen & Co., London, 133 pp.