Vol. 77 No. 1 (2022)
Articles
Tracking Brazil's Colonization Footprints: First record of the tea plant (Camellia sinensis (L.) Kuntze – Theaceae) naturalized in the Atlantic Forest Hotspot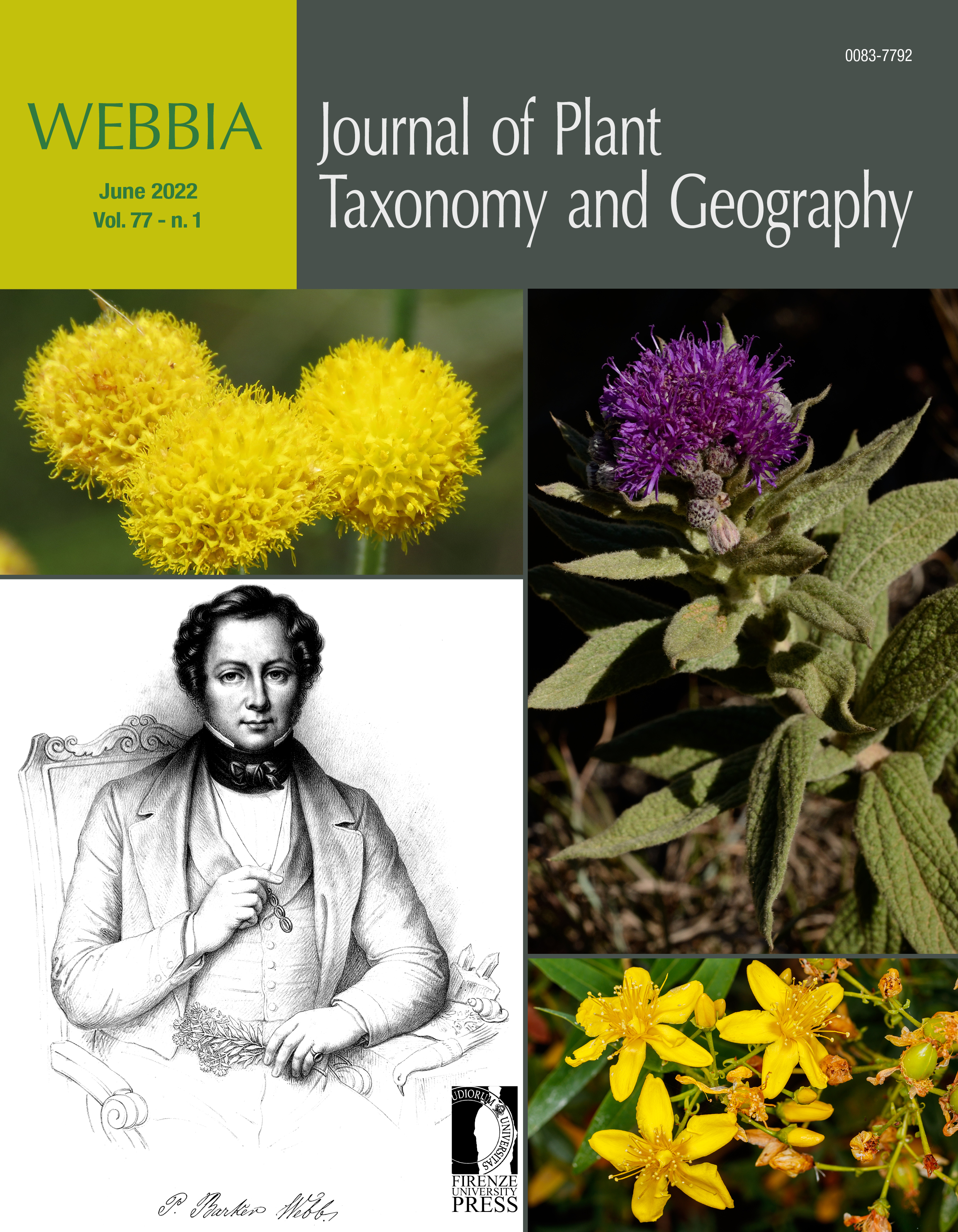 Keywords
conservation monitoring

,

endemism

,

naturalization

,

plant introduction

,

protected areas
How to Cite
Antar, G. M., Almeida, R. B. P., Accardo-Filho, M. A. P., & Barbosa-Silva, R. G. (2022). Tracking Brazil's Colonization Footprints: First record of the tea plant (Camellia sinensis (L.) Kuntze – Theaceae) naturalized in the Atlantic Forest Hotspot. Webbia, 77(1), 177-183. https://doi.org/10.36253/jopt-12854
Copyright (c) 2022 Guilherme Medeiros Antar, Roberto Baptista Pereira Almeida, Marco Antonio Palomares Accardo-Filho, Rafael Gomes Barbosa-Silva
This work is licensed under a Creative Commons Attribution 4.0 International License.
Abstract
The colonization of Brazil by Portugal left deep marks in Brazil's current society and economy. The same applies to the country's biodiversity, with several introduced plants persisting as naturalized or invasive species. Among these, the tea plant, Camellia sinensis, is a notable case. The species was first cultivated in Rio de Janeiro state during the 19th century, but the crops were later abandoned mostly due to the presence of parasite fungi in cultivations, so that the species' cultivation continued in other states only. During recent fieldwork in the Atlantic Forest in the municipality of Petrópolis, Rio de Janeiro state, naturalized individuals of the tea plant were discovered. This finding, alongside ecological evidence, highlights a new threat to the biodiversity of an area of high species endemism. We provide historical information on the introduction of the species in Brazil and discuss the threats it imposes to the flora in a world hotspot. Our finding adds C. sinensis to the list of naturalized plants of Flora do Brasil 2020 and emphasizes the importance of monitoring the invasive potential of the species in the area, given its allelopathic potential on the germination of other species and competition with native plants. 
References
Accardo-Filho MAP. 2004. Theaceae no Estado do Rio de Janeiro [dissertation]. Rio de Janeiro (RJ): Universidade Federal do Rio de Janeiro, Museu Nacional.
Artigos de Offício. 1830. Império do Brasil; Diário Fluminense, Rio de Janeiro, 13 de novembro de 1830. 15th ed. vol. 116. Rio de Janeiro (RJ). [Acessed 2021 Oct. 29] http://memoria.bn.br/DocReader/DocReader.aspx?bib=706744.
Bediaga B 2007. Conciliar o útil ao agradável e fazer ciência: Jardim Botânico do Rio de Janeiro – 1808 a 1860. História, Ciências, Saúde-Manguinhos. 14: 1131–1157.
Bediaga B, Drummond RP. 2007. Cronologia: Jardim Botânico do Rio de Janeiro. Rio de Janeiro (RJ): Instituto de Pesquisas Jardim Botânico do Rio de Janeiro.
BFG- Brazilian Flora Group 2015. Growing knowledge: an overview of seed plant diversity in Brazil. Rodriguésia. 66: 1085–1113.
Cerdan MA. 2019. O cultivo do chá: breves considerações a partir do município de Itu - século XIX. Semina: Ciências Sociais e Humanas, 40(1): 121–138.
Cicciza D, Kokotos S. 2007. The invasive potential of tea: naturalization and spread of Camellia sinensis in natural and logged forests of the Amani Nature Reserve. [acessed 2021 Sep. 16]. http://www.tropical-biology.org/admin/documents/pdf_files/ Tanz_abstracts/1_Daniele%20&%20Stef_Final.pdf
Dean W. 1989. A Botânica e a Política Imperial: Introdução e Adaptação de Plantas no Brasil Colonial e Imperial. Instituto de Estudos Avançados da Universidade de São Paulo, São Paulo. 20 p. [accessed 2022 Jan. 4]. https://antigo.mdr.gov.br/images/stories/ArquivosSNPU/Biblioteca/ReabilitacaoAreasUrbanas/Historia_Botanica_Politica_Imperial.pdf
Flora do Brasil 2020. Jardim Botânico do Rio de Janeiro. [accessed 2022 Jan 22]. http://floradobrasil.jbrj.gov.br/.
Fidalgo O, Bononi VLR. 1989. Técnicas de coleta, preservação e herborização de material botânico. Reimpressão. Instituto de Botânica, São Paulo. 62p
[FAO] Food and Agriculture Organization 2018. Global tea consumption and production driven by robust demand in China and India. New report also warns of climate change threat to tea production. Rome. 16 p.
Freitas B. 1987. Santa Cruz: fazenda jesuítica, real e imperial: vice-reis e reinado (1760-1821). Rio de Janeiro: Asa Artes Gráficas. 2.
Fundação SOS Mata Atlântica e Instituto Nacional de Pesquisas Espaciais (INPE). 2015. Atlas dos remanescentes florestais da Mata Atlântica: período de 2014–2015. [accessed: 2022 Jan. 20]. http://mapas.sosma.org.br.
Gama JS. 1869. Biografia do botânico brasileiro Fr. Leandro do Sacramento. Memória lida no Instituto Histórico perante S. M. o Imperador. Revista do Instituto Histórico e Geográfico Brasileiro, tomo XXXII – Parte Segunda: p. 181-230. [accessed 2020 Oct 29] .
GBIF.org (2022) GBIF Home Page. [accessed 2022 Jan. 10]. https://www.gbif.org
JABOT. JBRJ - Instituto de Pesquisas Jardim Botânico do Rio de Janeiro. Jabot - Banco de Dados da Flora Brasileira. [accessed 2022 Jan. 22]. http://jabot.jbrj.gov.br/.
Junqueira MCC. 2018. O primeiro e único Conde da Barca Um iluminado na corte de Dom João [Ph.D thesis]. Rio de Janeiro (RJ). Universidade Federal do Rio de Janeiro.
Keller HA, Delucchi G, Romero HF. 2011. Camellia sinensis (Theaceae) en la Argentina: naturalización y usos locales. Boletín de la Sociedad Argentina de Botánica. 46: 145–150.
Lima PA. 1828. Discurso. Annaes do Parlamento Brasileiro, Rio de Janeiro, 3 de junho de 1828. Ed. 00002, p. 17–20 [accessed 2020 Oct 29]. http://memoria.bn.br/DocReader/DocReader.aspx?bib=132489
Loyola R, Machado N, Ribeiro BR, Martins E, Martinelli G. 2018. Áreas prioritárias para conservação da flora endêmica do estado do Rio de Janeiro. Graficci, Rio de Janeiro. 60p
Martinelli G, Martins E, Moraes M, Loyola R, Amaro R. 2018. Livro Vermelho da Flora Endêmica do estado do Rio de Janeiro. Andrea Jakobsson estúdio, Rio de Janeiro. 456p.
Majumdar A, Bera B, Rajan A. 2012. "Tea Statistics: The Chinese Scenario", The International Journal of Tea Science. 8(1): 73–75. [accessed 2021 Sept 15]. http://teaboard.gov.in/pdf/Tea%20Statistics-The%20Chinese%20Scenario.pdf
Meegahakumbura MK, Wambulwa, MC, Thapa KK, Li MM, Möller M, Xu JC, Yang JB, Liu BY, Ranjitkar S, Liu J, Li DZ, Gao KM. 2016. Indications for Three Independent Domestication Events for the Tea Plant (Camellia sinensis (L.) O. Kuntze) and New Insights into the Origin of Tea Germplasm in China and India Revealed by Nuclear Microsatellites. PLOS ONE 11(5): e0155369. https://journals.plos.org/plosone/article?id=10.1371/journal.pone.0155369.
Namita P, Mukesh R, Vijay KJ. 2012. Camellia sinensis (green tea): a review. Global journal of pharmacology. 6(2): 52–59.
Reflora - Herbário Virtual 2022. Accessed 22 Jan 2022. http://reflora.jbrj.gov.br/reflora/herbarioVirtual/
Rezaeinodehi A, Khanghol S, Aminidehaghi M, Kazemi H. 2017. Allelopathic potential of tea (Camellia sinensis (L.) Kuntze) on germination and growth of Amaranthus retroflexus L. and Setaria glauca (L.) P. Beauv. Journal of Plant Diseases and Protection, Special Issue 20: 447–454.
Rodrigues JB. 2017. Hortus fluminensis. Revista Do Serviço Público. 40(4): 209–224.
Rugendas JM. 1835. Voyage pittoresque dans le Bresil. Paris, Lith. de G. Engelmann. 190 p.
Sha J, Chen Q, Miao Y, Qu R, Tang X, Fang W, 2020. Journal of Nuclear Agricultural Sciences 6: 1327-1336. [accessed: 2021 Sept 16] http://www.hnxb.org.cn/EN/abstract/abstract13274.shtml.
Silva RB. 2013. Biologia de Ceratobasidium spp. associada à doença queima dos fios no chá (Camellia sinensis L.) [dissertation]. Botucatu (SP). Universidade Estadual Paulista, Faculdade de Ciências Agronômicas de Botucatu.
SpeciesLink 2022. [acessed 2022 Jan. 11]. http://www.splink.org.br.
Thiers B, continuously update. Index Herbariorum: a global directory of public herbaria and associated staff. New York Botanical Garden's Virtual Herbarium. [accessed 2022 Jan. 2].
Tropicos.org 2022. Missouri Botanical Garden. Available from. [accessed 2022 Sep. 9].
Werneck FPL. 1863. Memória sobre a fundação de uma fazenda na Província do Rio de Janeiro, Rio de Janeiro, Eduardo e Henrique Loemmert, 2 ed., 252 pp. [accessed 20 Nov 30]. https://play.google.com/books/reader?id=4kU7AAAAcAAJ&hl=pt
Zenni RD, Ziller SR. 2011. An overview of invasive plants in Brazil. Brazilian Journal of Botany. 34(3): 431–446.