Vol. 75 No. 1 (2020)
Articles
Sempervivum guillemotii Lamotte (Crassulaceae), a rediscovered houseleek of the French-Italian Alps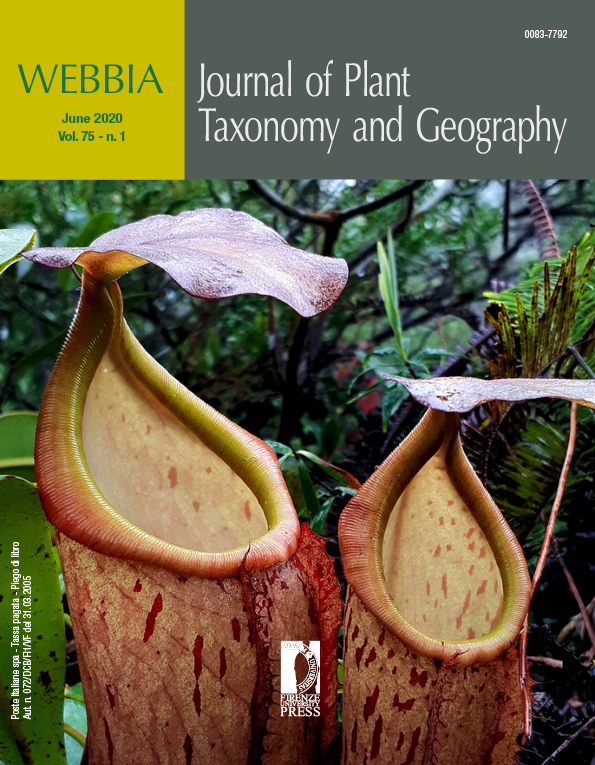 Keywords
Crassulaceae

,

Sempervivum adenotrichum

,

S. guillemotii

,

Western Alps
How to Cite
Gallo, L. (2020). Sempervivum guillemotii Lamotte (Crassulaceae), a rediscovered houseleek of the French-Italian Alps. Webbia, 75(1), 69-76. https://doi.org/10.36253/jopt-7940
Copyright (c) 2020 Lorenzo Gallo
This work is licensed under a Creative Commons Attribution 4.0 International License.
Abstract
Sempervivum guillemotii (Crassulaceae) was discovered and described by Martial Lamotte in the French Alps, but apart from Rouy & Camus, it was never cited in the French floras. Burnat later rediscovered it, but unaware of Lamotte's name, he published it under the name S. adenotrichum; this name, too, did not find its way into the floras until the recent Flora Gallica. The author rehabilitates this name and designates a neotype for the name S. guillemotii and a lectotype for its synonym S. adenotrichum.
References
Baker JG. 1879. A synopsis of the hardy forms of Sempervivum now in cultivation in England. Gard. Chron., 12:10, 38-39, 85,107, 135-136, 166, 268-269, 428-429, 650.
Burnat E. 1906. Flore des Alpes Maritimes. 4:1-51, 286-287. Genève: H. Georg.
Correvon H. 1924. Les Joubarbes. Burgess Hill: Sempervivum Soc.
Crépin F. 1865. Review. Bull. Soc. Roy. Bot. Belgique 4:60-67.
Dayrat B. 2003. Les botanistes et la flore de France. Paris: Mus. nat. Hist. nat.
Euro+Med (2006-). Euro+Med PlantBase - the information resource for Euro-Mediterranean plant diversity.
[accessed 14/11/2019]. Published on the Internet http://ww2.bgbm.org/EuroPlusMed/.
Favarger C. 1969. Le role d'un jardin botanique dans les recherches de cytotaxinomie. Boissiera, 14:99-108.
Favarger C. 1971. Heurs et malheurs d'un jardin expérimental. Bull. Jard. Bot. Natl. Belg., 41:27-41.
Favarger C, Maeder AM, Zesiger F. 1968. Hybrides interspecifiques et intergeneriques chez les Joubarbes. Jahresber. Schweiz. Ges. Vererbungsf. 3/4:18-30.
Fournier G. 2015. Antoine Guillemot entomologiste thiernois; Editions Revoir [Not seen].
Gallo L. 2001. Le Crassulaceae della Valle d'Aosta. Distribuzione, morfologia ed ecologia. Monogr. Mus. Reg. Sci. nat. S. Pierre. 3:264.
Gallo L., Crassulaceae. In: Conti F, Abbate G, Alessandrini A, Blasi C. (Eds.) 2005. Annotated Checklist of the Italian Vascular Flora. Roma: Palombi ed.
Gallo L. 2012. Sempervivum ×luisae Gallo (Crassulaceae) hybr. nov.: endemico dell'Italia centrale. Ann. Mus. Civici-Rovereto, 27:287-296.
Gallo L. 2017. Crassulaceae: 915-950. In: Pignatti et al. Flora d'Italia, 2° ed. 1. Bologna: Edagricole.
Gallo L. 2019 ['2018']. Crassulaceae italiane. Aggiornamenti e correzioni alla seconda edizione della Flora d'Italia di Sandro Pignatti e al Portale della Flora d'Italia. Ann. Mus. civ. Rovereto, 34:143-167.
Hart H 't, Bleij B, Zonneveld B. 2003. Sempervivum. In: Eggli U. (Ed.). Illustrated Handbook of Succulent Plants. Crassulaceae:332-349. Berlin: Springer-Verlag.
Jacobsen H. 1977. Lexicon of succulents plants. 2° ed. Blandford Press, Poole, 682 pp.
Jeanmonod D. 2018. Typification des noms de taxons corses de l'herbier Burnat (G-BU). Candollea, 73:61-74.
Jeanmonod D., Charpin A. 2017. L'Herbier Burnat (G-BU). Candollea, 72:143-153.
Kerguelen M. 1999. Index synonymique de la flore de France. [accessed 14/11/2019]. https://www2.dijon.inra.fr/flore-france/sea-sep.htm.
Lamotte M. 1856. Communication. Bull. Soc. Bot. Fr., 3:457-458.
Lamotte M. 1864. Etudes sur le genre Sempervivum. Mém. Acad. Sci. Clermont-Ferrand, 6:257-311.
Loret H. 1858. Des hybrides et spécialement de l'hybridation mutuelle de deux Sempervivum. Bull. Soc. Bot. France, 5:146-151.
Pignatti S. 1982. Flora d'Italia, 1: 488-504. Bologna: Edagricole.
Polidori J-L Arnoux J-C, Bellone GT. 2018. Sempervivum adenotrichum Burnat ou Joubarbe à poils glanduleux, taxon méconnu des Alpes occidentales, observé dans les Alpes maritimes. Bull. Naturalistes Alpes-Maritimes [Riviera Scientifique], 102:3-32.
Praeger RL. 1932. An Account of the Sempervivum group. The Royal Horticultural Society. Colchester, London & Eton: The Ballantyne Press.
Roskov Y, Abucay L, Orrell T, Nicolson D, Bailly N, Kirk PM, Bourgoin T, DeWalt RE, Decock W, De Wever A, Nieukerken E van, Zarucchi J, Penev L (Eds.). 2018. Species 2000 & ITIS Catalogue of Life, 2018 Annual Checklist. [accessed 14/11/2019]. www.catalogueoflife.org/annual-checklist/2018. Species 2000: Naturalis, Leiden, the Netherlands. ISSN 2405-884X.
Roux C. 2010. La conservation et le recensement des types nomenclaturaux du Massif central dans les herbiers de M. Lamotte et de H. Lecoq. Conservation and inventory of nomenclatural types from the French central massiv in the herbaria of M. Lamotte and H. Lecoq:99-104. Actes des Rencontres végétales du Massif central / 28-30 avril 2010.
Rouy G, Camus EG. 1901. Flore de France. 7:126-147. Paris: Les Fils d'E. Deyrolle.
Rowley GD. 1982. Intergeneric hybrids in succulents (conclusion). Natl. Cact. Succ. J., 37:76-80 + 119.
Tison JM, Foucault B de. 2014. Flora Gallica. Flore de France. Mèze: Biotope Ed.
Vaccari L 1905. Il Sempervivum gaudinii Christ e la sua distribuzione nelle Alpi. Ann. Bot. (Roma), 3:21-41.