Vol. 75 No. 1 (2020)
Special section on Araceae
Two new endemic species of Monstera (Araceae: Monsteroideae: Monstereae) from Golfito in southern Costa Rica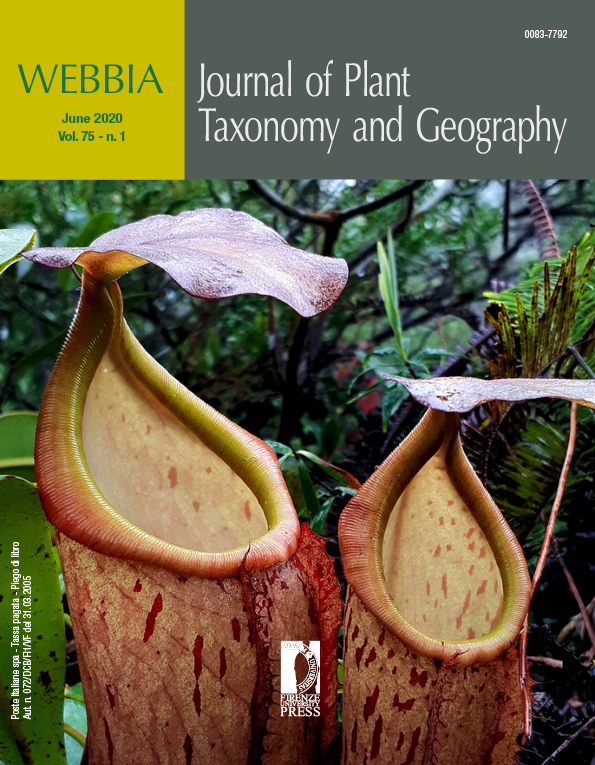 Keywords
Aroids

,

Central America

,

Osa Peninsula
How to Cite
Cedeño-Fonseca, M., Hay, A., Grayum, M. H., & Blanco, M. A. (2020). Two new endemic species of Monstera (Araceae: Monsteroideae: Monstereae) from Golfito in southern Costa Rica. Webbia, 75(1), 123-132. https://doi.org/10.36253/jopt-8091
Copyright (c) 2020 Marco Cedeño-Fonseca, Alistair Hay, Michael H. Grayum, Mario A. Blanco
This work is licensed under a Creative Commons Attribution 4.0 International License.
Abstract
Monstera croatii M.Cedeño & A.Hay and M. gambensis M.Cedeño & M.A.Blanco (Araceae: Monsteroideae: Monstereae) are newly described and illustrated from cantón Golfito in the Pacific lowlands of southern Costa Rica. Notes are provided on how they can be differentiated from similar species. Monstera croatii is unique in the genus because it reaches its adult vegetative morphology while growing as a terrestrial plant on the forest floor, and climbs only to a very limited height before flowering. Monstera gambensis is one of the smallest species in the genus.
References
Cedeño-Fonseca M. 2019. Revisión Taxonómica del género Monstera (Araceae: Monsteroideae) en Costa Rica. Unpublished M.Sc. thesis, Universidad de Costa Rica.
Cedeño-Fonseca M, Karremans AP, Ortíz OO. 2018. Monstera limitaris (Araceae), a new species from the border between Costa Rica and Panama. Phytotaxa 376: 37–42.
Croat TB. 1992. Species diversity of Araceae in Colombia: a preliminary survey. Ann. Missouri Bot. Gard. 79: 17–28.
Croat T, Krömer T, Acebey A. 2010. Monstera florescanoana (Araceae), a new species from central Veracruz, Mexico. Revista Mex. Biodivers. 81: 225–228.
Grayum MH. 2003. Araceae. Pp. 59–200 in, Hammel BE, Grayum MH, Herrera C, Zamora N, editors. Manual de Plantas de Costa Rica. Volumen II: Gimnospermas y Monocotiledóneas (Agavaceae–Musaceae). Monogr. Syst. Bot. Missouri Bot. Gard. 92: 1–694.
Hay A. 2019. Durianology, discovery, and saltation: the evolution of aroids. Gard. Bull. Singapore 71 (Suppl. 2): 257–313.
Jácome J, Croat TB. 2002. Notes on Monstera minima Madison (Araceae) in Colombia and Panama. Aroideana 25: 60–62.
Madison M. 1977. A revision of Monstera (Araceae). Contr. Gray Herb. 207: 3–100.
Mayo SJ, Bogner J, Boyce PC. 1997. The genera of Araceae. Kew (UK): Royal Botanic Gardens.
Ortiz OO, Croat TB, Baldini RM. 2018. Current status of aroid species diversity in Panama, including new records for the country. Webbia 73:141–153.
Tam SM, Boyce PC, Upson TM, Barabé D, Bruneau A, Forest F, Parker JS. 2004. Intergeneric and infrafamilial phylogeny of subfamily Monsteroideae (Araceae) revealed by chloroplast trnL-F sequences. Amer. J. Bot. 91: 490–498.
Zotz, G. 2013. 'Hemiepiphyte': a confusing term and its history. Ann. Bot. (Oxford) 111: 1015–1020.
Zuluaga A, Llano M, Cameron K. 2019. Systematics, biogeography and morphological character evolution of the hemiepiphytic subfamily Monsteroideae (Araceae). Ann. Missouri Bot. Gard. 104: 33–48.