Vol. 75 No. 2 (2020)
Articles
A synopsis of the native Combretaceae in the Malay Peninsula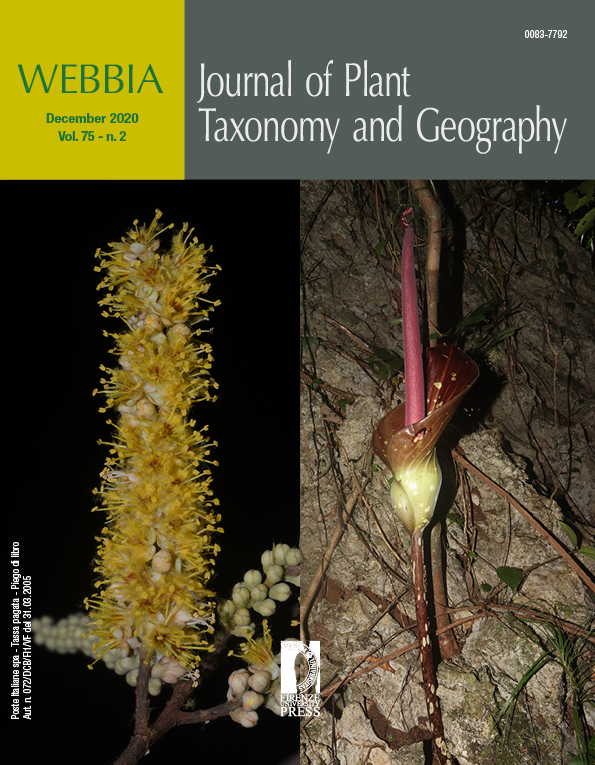 Published
November 18, 2020
How to Cite
Turner, I. (2020). A synopsis of the native Combretaceae in the Malay Peninsula. Webbia, 75(2), 263-280. https://doi.org/10.36253/jopt-8891
Copyright (c) 2020 Ian Turner
This work is licensed under a Creative Commons Attribution 4.0 International License.
Abstract
A synopsis of the native species of Combretaceae in the Malay Peninsula (Peninsular Thailand, Peninsular Malaysia and Singapore) is presented. A total of 29 species in four genera (Combretum, Getonia, Lumnitzera and Terminalia) are recognised. Keys to genera and species are included with synonymy and typification. In total 63 lectotypifications, three second-step lectotypifications and 11 neotypifications are proposed in the paper.
References
Byng JW. 2014. The flowering plants handbook. Hertford: Plant Gateway Ltd.
Byrnes NB. 1977. A revision of Combretaceae in Australia. Contr Queensland Herb. 20:1-88.
Chen J, Turland NJ. 2007. Combretaceae. Fl. China 13: 309-320.
Du Puy DJ, Telford IRH. 1993. Combretaceae. Fl. Aust. 50: 243-247.
Don G. 1827. A review of the genus Combretum. Trans Linn Soc London. 15: 412-441.
Exell AW. 1931. The genera of Combretaceae. J Bot. 69:113-128.
Exell AW. 1954. Combretaceae. Fl Males. 4:533-589.
Exell AW, Stace CA. 1966. Reorganisation of the genus Quisqualis. Bol Soc Brot, Sér 2. 38:139-143.
Exell AW, Stace CA. 1966. Revision of the Combretaceae. Bol Soc Brot, Sér 2. 40:1-25.
Fischer CEC. 1932. The Koenig collection in the Lund Herbarium. Bull Misc Inform, Kew.1932: 49–76.
Gagnepain F. 1916. Quelques Combrétacées nouvelles. Not. Syst. 3: 284-289.
Gangopadhyay M, Chakrabarty T. 1997. The family Combretaceae of Indian Subcontinent. J Econ Taxon Bot. 221:281-364.
Guillaumin A, Beauvisage G. 1914. Species montrouzieranae seu enumeratio plantarum in Nova Caledonia terrisque adjacentibus a R.P. Montrouzier lectarum. Publ. Soc. Linn. Lyon 38: 75-130.
Hepper, FN. 1976. The West African herbaria of Isert and Thonning. Kew: Bentham-Moxon Trust.
Jongkind CCH. 1990. Novitates gabonenses 6. Some critical observations on Combretum versus Quisqualis (Combretaceae) and description of two new species of Combretum. Bull Mus Natl Hist Nat, B, Adansonia Sér 4 12: 275-280.
Jordaan M, van Wyk AE., Maurin O. 2011. Generic status of Quisqualis (Combretaceae), with notes on the taxonomy and distribution of Q. parviflora. Bothalia. 41: 161-169.
Kochummen KM. 1972. Combretaceae. Tree Fl Malaya. 1:172-178.
de Lanessan J.-L. 1886. Les plantes utiles des Colonies françaises. Paris: Imprimerie Nationale.
Lecompte O. 1969. Combretaceae R. Brown. Fl Cambodge Laos Vietnam. 10:3-119.
Maurin O, Chase MW, Jordaan M, van der Bank M. 2010. Phylogenetic relationships of Combretaceae inferred from nuclear and plastid DNA sequence data: implications for generic classification. Bot J Linn Soc. 162: 453-476.
Maurin O, Turner IM, Boatwright JS, Christenhusz MJM. 2020. New combinations in Combretaceae subtribe Combretinae from Africa and Asia. Phytotaxa
Merrill ED. 1917. An interpretation of Rumphius;s Herbarium amboinense. Manila: Burea of Printing.
Nanakorn W. 1985. The genus Terminalia (Combretaceae) in Thailand. Thai For Bull Bot. 15: 59-107.
Nanakorn W. 1986. The genus Combretum (Combretaceae) in Thailand. Thai For Bull Bot. 16: 154-204.
Persoon HC. 1805. Synopsis plantarum. Volume 1.
Ridley HN. 1922. Flora of the Malay Peninsula. Volume 1.
Roxburgh, W. 1814. Hortus bengalensis. Serampore: Mission Press.
Roxburgh 1832. Flora indica. Calcutta: W. Thacker & Co.
Stace CA. 2007. Combretaceae. Fam. Gen. Vasc. Pl. 9: 67-82
Stace, CA. 2010. Combretaceae. Fl Neotrop Monogr. 107:1-369.
Tulasne, R-B. 1856. Florae madagascariensis fragmenta. Ann Sci Nat. Sér. 4 6: 75-138.
Turland NJ, Wiersema JH, Barrie FR, Greuter W, Hawksworth DL, Herendeen PS, Knapp S, Kusber WH, Li DZ, Marhold K, May TW, McNeill J, Monro AM, Prado J, Price MJ, Smith GF. 2018. International Code of Nomenclature for algae, fungi, and plants (Shenzhen Code) adopted by the Nineteenth International Botanical Congress Shenzhen, China, July 2017. Regnum Vegetabile 159. Glashütten: Koeltz Botanical Books.
Turner IM. 2014. John Fleming, William Roxburgh and the Catalogue of Indian Medicinal Plants and Drugs. Kew Bull. 69: 9489.
Wickens GE. 1973. Flora of Tropical East Africa. Combretaceae, 1-99.
Wickens GE. 1990. 91. Combrétacées. Fl Mascareignes 91:1-13.