Articles
Rediscovery of a lost type: solving the mysterious identity of Amorphophallus longispathaceus Engl. & Gehrm. (Araceae)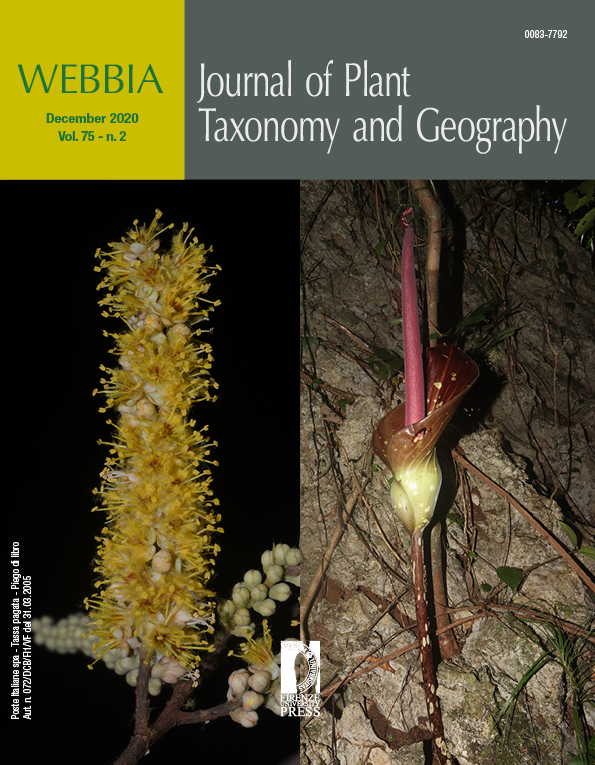 Published 2020-11-18
How to Cite
Bustamante, R. A. A., Tamayo, M. N., & Hetterscheid, W. (2020). Rediscovery of a lost type: solving the mysterious identity of Amorphophallus longispathaceus Engl. & Gehrm. (Araceae). Webbia, 75(2), 287–292. https://doi.org/10.36253/jopt-9446
Abstract
The taxonomic identity of the incompletely described Amorphophallus longispathaceus Engl. & Gehrm. has been a mystery for almost 109 years. Types were assumed destroyed during WWII, other than a sterile isotype at K, the recent discovery of a fertile isotype at NY, here designated the lectotype, has enabled the identity of this species to be clarified. Amorphophallus longispathaceus is conspecific with and takes priority over the more recent A. dactylifer Hett.
References
Engler A. 1911. Das Pflanzenreich, Regni vegetabilis conspectus. Araceae-Lasioideae. IV: 23C: 91.

Engler A. 1912. Notizblatt des Königl. botanischen Gartens und Museums zu Dahlem bei Steglitz (Berlin). 5: 253–278.

Hetterscheid WLA. 1994. Notes on the genus Amorphophallus (Araceae) -21 new species from tropical Asia. Blumea. 39:237–281.

Hetterscheid WLA, Medecilo MP, Callado JRC, Galloway A. 2020. New species of Amorphophallus (Araceae) in the Philippines and an updated key. Blumea. 65:1–9.

Merrill ED. 1915. New or noteworthy Philippine plants, X. Philippine Journal of Science, section C, Botany 10: 287–349.

Merrill ED. 1923. An enumeration of Philippine flowering plants. Bureau of Printing, Manila. 18(1): 1–463.

Pelser PB, Barcelona JF, Nickrent DL. (Eds.) (2011 onwards). Co's Digital Flora of the Philippines. Available from: www.philippineplants.org (accessed 12 June 2020).

Turland NJ, Wiersema JH, Barrie FR, Greuter W, Hawksworth DL, Herendeen PS, Knapp S, Kusber W-H, Li D-H, Marhold K, May TW, McNeill J, Monro AM, Prado J, Price MJ, Smith GF. (ed.) 2018. International code of nomenclature for algae, fungi and plants (Shenzhen Code) adopted by the Nineteenth International Botanical Congress Shenzhen, China, July 2017. Regnum Vegetabile 159: 1–227.