Articles
Application of antiperspirants to improve the condition of ornamental plants subject to medium- and long-distance transport in refrigerated container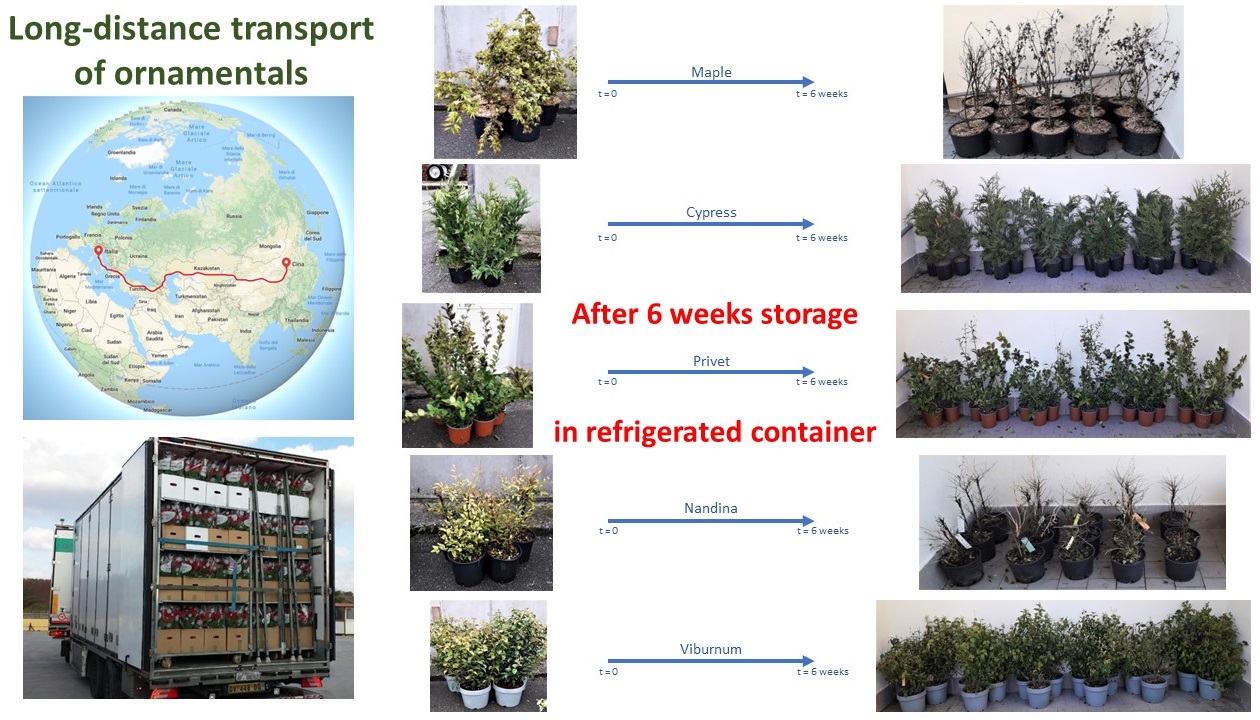 Published 2023-05-10
Keywords
cold storage

,

nursery industry

,

post-harvest physiology

,

potted sh
How to Cite
Ghiselli, L., Bonetti, D., Prisa, D., Nin, S., & Burchi, G. (2023). Application of antiperspirants to improve the condition of ornamental plants subject to medium- and long-distance transport in refrigerated container. Advances in Horticultural Science, 37(1), 101–109. Retrieved from https://oaj.fupress.net/index.php/ahs/article/view/14258
Copyright (c) 2023 Stefania Nin, Lisetta Ghiselli, Daniele Bonetti, Domenico Prisa, Gianluca Burchi
This work is licensed under a Creative Commons Attribution 4.0 International License.
Funding data
Regione Toscana
Grant numbers In.Tra.Viva (PSR 2014-2020 - Measure 16.2 PS-GO 37/2017)
Abstract
The ornamental nursery sector sells and delivers its products not only within the European Union but throughout the world, thus shipping for long distances has become commonplace in the industry. Extended transport times may result in loss of quality and reduced longevity. Consequently, an effective logistics strategy is of competitive importance for nursery production. This research was carried out with the aim of improving long-distance transport conditions (up to 6 weeks) of ornamental plants produced in the nurseries of the Pistoia District. Phenotipic and physiological parameters of plants during transport were studied, testing three biodegradable antiperspirants and a biodegradable microfilm to protect plants on five important pot ornamental species: maple (Acer palmatum), cypress (Cupressocypari leylandii), privet (Ligustrum texanum), nandina (Nandina domestica) and viburnum (Viburnum tinus). Plant tolerance to storage conditions in refrigerated cell or container (T° = 8-12°C) varied considerably according to the considered species, with cypress resulting extremely tolerant and maple and nandina very sensitive. Treatments with antiperspirants did not exhibit particularly evident effects on the tested species. The use of biodegradable film was inadequate to protect plant quality during long-distance shipments. Even in cases of total or partial loss of leaves by species such as maple and nandina, an optimal recovery of vegetative development was highlighted once these species were relocated in outdoor cultivation. Among physiological parameters, MDA and phenols contents were the most stress-related variables, being negatively correlated to the quality decay of plants transported in dark refrigerated cells for 2-6 weeks.