Vol. 35 No. 2 (2021): Advances in Horticultural Science
Short note
Impact of Moroccan Crocus sativus L. tepals, corms, and stigmas extract on growth and photosynthetic pigments in tomato seedling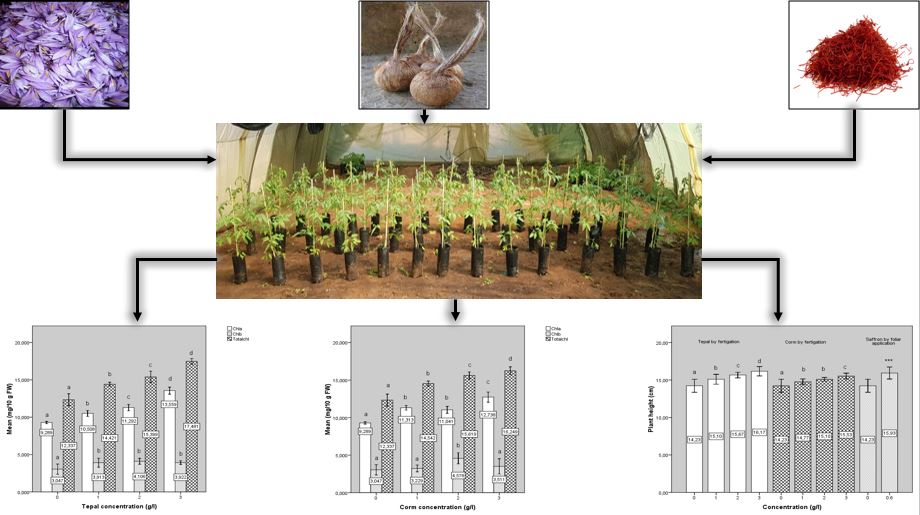 Keywords
Biostimulant

,

chlorophyll

,

Saffron by-product

,

Solanum lycopersicum L.
How to Cite
Khoulati, A., & Saalaoui, E. (2021). Impact of Moroccan Crocus sativus L. tepals, corms, and stigmas extract on growth and photosynthetic pigments in tomato seedling. Advances in Horticultural Science, 35(2). https://doi.org/10.36253/ahsc-9981
Copyright (c) 2021 amine khoulati
This work is licensed under a Creative Commons Attribution 4.0 International License.
Abstract
An experiment was carried out in a greenhouse to study the effect of aqueous extracts of Crocus sativus L. by-products on tomato plants. Three concentrations of tepals and corms were used by fertigation: 1 g/L, 2 g/L, and 3 g/L. The aqueous extract of the stigmas was used as a foliar application at 0.6 g/L. The experiment was carried out in a completely randomized block with three repetitions for each concentration. The concentration of tepal extract at 3 g/L significantly (p≤0.05) increased the plants' height, the chlorophyll a, b content. The same results were observed for the foliar treatment with stigmas; however, there was no effect of tepal extract on the carotenoid content. On the other hand, the concentration 2 g/L of the corms extract had a positive impact (p≤0.05) in the chlorophyll b content while the concentration of 3 g/L increased the plant's height, the chlorophyll a (p≤0.05). Current results indicate that Crocus sativus by-products could improve certain physiological aspects of the recipient plants and new and natural biostimulants.