Articles
A midsummer night's dream: political communication during the Italian 2022 electoral campaign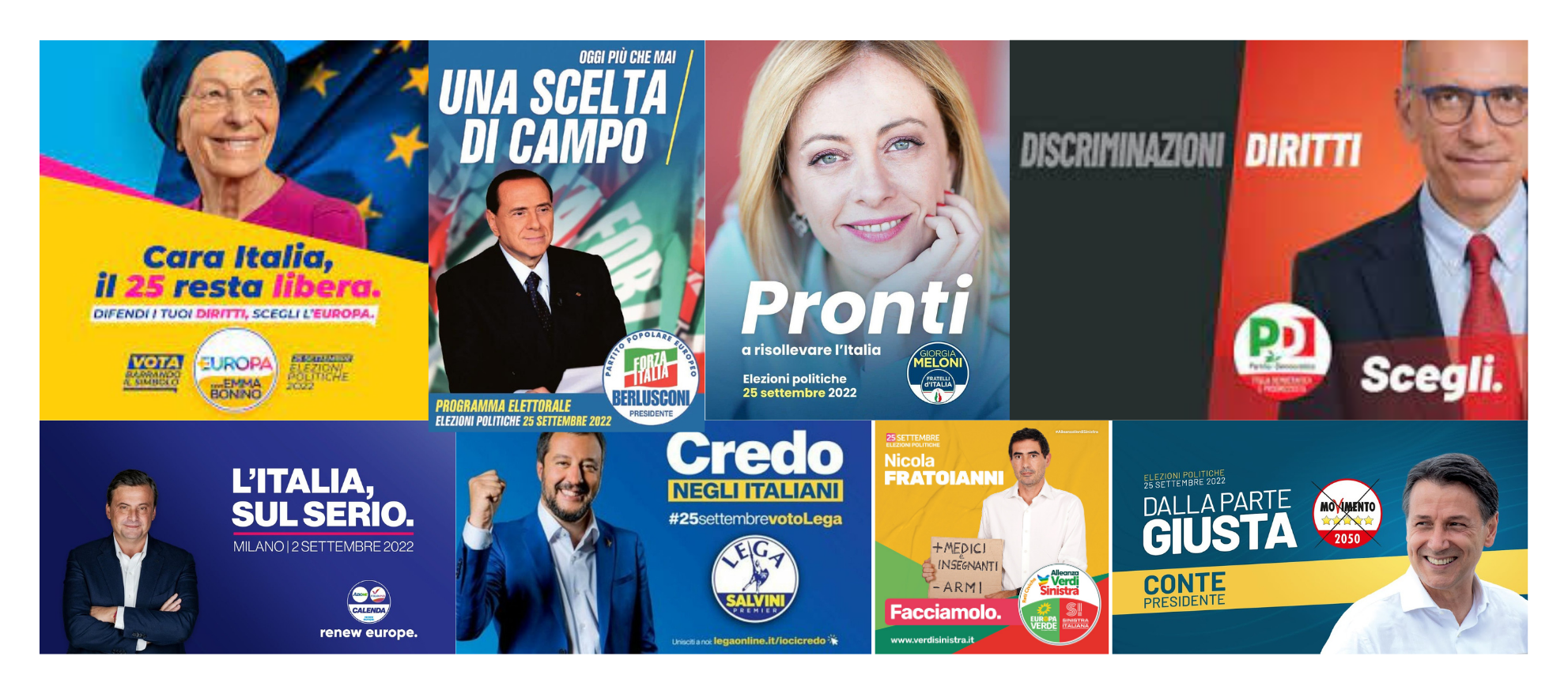 Published 2023-06-12
Keywords
Italian Elections

,

Political Communication

,

Social Media

,

Legacy Media

,

Electoral Campaign
How to Cite
Bertero, A., & Scaduto, G. (2023). A midsummer night's dream: political communication during the Italian 2022 electoral campaign. Italian Journal of Electoral Studies (IJES), 86(1), 13–28. https://doi.org/10.36253/qoe-14224
Copyright (c) 2023 Arturo Bertero, Gaetano Scaduto
This work is licensed under a Creative Commons Attribution 4.0 International License.
Abstract
By adopting a political communication perspective, this article describes the Italian electoral campaign of 2022. First, we reconstruct the coalition formation phase and discuss the issues at the center of the electoral campaign. Second, we describe the communicative macro-frames at the heart of the political strategies of Italian political actors and how these macro-frames are used to campaign on more specific issues. Third, we delve into the hybrid communication strategies of Italian politicians. To do so, we integrate the analysis of legacy media, showing their enduring centrality, and that of social media. We conclude that the 2022 election was marked by many novelties, such as the unusual national summer campaign, the massive use of Instagram, and the introduction of TikTok in the parties' communication strategies. At the same time, elements of continuity were present, such as leaders' reliance on traditional media and the high political instability forcing the Italian political system to intense and hurried electoral campaigns.
References
Albertazzi, D., & Bonansinga, D. (2023). Beyond anger: the populist radical right on TikTok. Journal of Contemporary European Studies, 1-17.
Altheide DL, Snow RP (1979) Media logic. SAGE, Beverly Hills
Baldini, G., Pedrazzani, A., & Pinto, L. (2020). How Italy experienced (yet another) electoral system and why it may soon change it again.
Battista, D. (2023). For better or for worse: politics marries pop culture (TikTok and the 2022 Italian elections). Society Register, 7(1), 117-142.
Bertero, A. (2021). The COVID-19 Related Communication of Italian Politicians and Its Success on Facebook.
Blumler, J. G., & Kavanagh, D. (1999). The third age of political communication: Influences and features. Political communication, 16(3), 209-230.
Bobba, G. (2019). Social media populism: Features and 'likeability'of Lega Nord communication on Facebook. European Political Science, 18, 11-23.
Bonfreschi, L. (2019). Becoming the 'party of civil rights': the Radical Party, 1962–1979. Journal of Modern Italian Studies, 24(4), 600-617.
Bordignon, F., & Ceccarini, L. (2021). Where has the protest gone? Populist attitudes and electoral flows in Italian political turmoil. Quaderni dell'Osservatorio elettorale QOE-IJES, 84(2), 41-64.
Bordignon, F., & Ceccarini, L. (2015). The Five-Star Movement: A hybrid actor in the net of state institutions. Journal of Modern Italian Studies, 20(4), 454-473.
Bruns, A. (2008). Blogs, Wikipedia, Second Life, and beyond: From production to produsage (Vol. 45).
Cacciotto, M. (2019). Il nuovo marketing politico: vincere le elezioni e governare al tempo della politica veloce. Il mulino.
Castells, M. (2013). Communication power. OUP Oxford.
Chadwick, A. (2017). The hybrid media system: Politics and power. Oxford University Press.
Chiaramonte, A., Emanuele, V., Maggini, N., & Paparo, A. (2023). Radical-Right Surge in a Deinstitutionalised Party System: The 2022 Italian General Election. South European Society and Politics, 1-29.
Chiaramonte, A. (2022). Ritorno al proporzionale?. il Mulino, 71(2), 47-56.
Coleman, R., McCombs, M., Shaw, D., & Weaver, D. (2009). Agenda setting. In The handbook of journalism studies (pp. 167-180). Routledge.
Congleton, R. D., Grofman, B. N., & Voigt, S. (Eds.). (2018). The Oxford Handbook of Public Choice, Volume 2. Oxford University Press.
Damiani, M., & Viviani, L. (2019). Populism and Euroscepticism in Podemos and in the Five Star Movement. Faraway, so close?. Partecipazione e conflitto, 12(1), 197-216.
Decreto Legislativo 23 dicembre 2020, n. 177. (2020, December 29th). "Determinazione dei collegi elettorali uninominali e plurinominali per l'elezione della Camera dei deputati e del Senato della Repubblica, a norma dell'articolo 3 della legge 27 maggio 2019!". Italy. Gazzetta ufficiale (321).
De Sio, L. (2018). Il ritorno del voto di classe, ma al contrario (ovvero: Se il PD è il partito delle élite). In V. Emanuele e A. Paparo, Gli sfidanti al governo. Disincanto, nuovi conflitti e diverse strategie dietro il voto del 4 marzo 2018. Rome: LUISS University Press.
Froehlich, R., & Rüdiger, B. (2006). Framing political public relations: Measuring success of political communication strategies in Germany. Public Relations Review, 32(1), 18-25.
Garzia, D., & Passarelli, G. (2021). Italy in times of protest and negative voting: An introduction. Quaderni dell'Osservatorio elettorale–Italian Journal of Electoral Studies, 84(2), 3-7.
Gerbaudo, P. (2018). Social media and populism: an elective affinity?. Media, culture & society, 40(5), 745-753.
Giannetti, D., Pedrazzani, A., & Pinto, L. (2018). The rising importance of non-economic policy dimensions and the formation of the Conte government in Italy.
Giannetti, D. (2013). Mario Monti's Technocratic Government. Italian Politics, 28(1), 133-152.
Gianpietro, M., & Bracciale, R. (2019). La politica pop online. I meme e le nuove sfide della comunicazione politica. Il mulino.
Gratton, G., Guiso, L., Michelacci, C., & Morelli, M. (2021). From Weber to Kafka: Political instability and the overproduction of laws. American Economic Review, 111(9), 2964-3003.
Garzia, D., & Karremans, J. (2021). Super Mario 2: comparing the technocrat-led Monti and Draghi governments in Italy. Contemporary Italian Politics, 13(1), 105-115.
Green, J. (2007). When Voters and Parties Agree: Valence Issues and Party Competition. Political Studies, 55(3), 629–655. https://doi.org/10.1111/j.1467-9248.2007.00671.
Grosso, E. (2021). I problematici effetti della riduzione del numero dei parlamentari: spunti introduttivi. Iris Unito.
Improta, M., Mannoni, E., Marcellino, C., & Trastulli, F., (2022). Voters, issues, and party loyalty: the 2022 Italian election under the magnifying glass. Italian Journal of Electoral Studies QOE – IJES, Just Accepted. https://doi.org/10.36253/qoe-13956
Ippolito, M., & Cicatiello, L. (2019). Political instability, economic inequality and social conflict: The case in Italy. Panoeconomicus, 66(3), 365-383.
Jenkins, H., Ford, S., & Green, J. (2018). Spreadable media: Creating value and meaning in a networked culture (Vol. 15). NYU press.
Klinger U, Svensson J (2015) The emergence of network media logic in political communication: A theoretical approach. New Media Soc 17(8):1241–1257
Klinger, U., & Svensson, J. (2018). The end of media logics? On algorithms and agency. New Media & Society, 20(12), 4653-4670.
Lami, G., & Sahota, S. K. (2022). The Russian invasion of Ukraine: some readings from Italian newspapers (20 February–5 March 2022). Modern Italy, 27(3), 199-206.
Sani, G., & Sartori, G. (1978). Frammentazione, polarizzazione e cleavages: democrazie facili e difficili. Italian Political Science Review/Rivista Italiana Di Scienza Politica, 8(3), 339-361.
Schmitt, H., Segatti, P., & van der Ejik, C. (2021). Consequences of context: How the social, political, and economic environment affects voting. ECPR Press.
McDonnell, D., & Valbruzzi, M. (2014). Defining and classifying technocrat‐led and technocratic governments. European Journal of Political Research, 53(4), 654-671.
Maggini, N., & Chiaramonte, A. (2019). Euroscepticism behind the Victory of Eurosceptic Parties in the 2018 Italian General Election: Not Exactly. J. Common Mkt. Stud., 57, 77.
Marangoni, F., & Kreppel, A. (2022). From the 'yellow-red' to the technocratic government in the pandemic era. The formation and activity of the Draghi government during its first nine months in charge. Contemporary Italian Politics, 14(2), 133-150.
Mazzoleni, G. (2008). Populism and the media. In Twenty-first century populism (pp. 49-64). Palgrave Macmillan, London.
Mazzoleni, G. (2012). La Comunicazione Politica. Il Mulino.
Mazzoleni, G. (2014). Mediatization and political populism. In Mediatization of politics (pp. 42-56). Palgrave Macmillan, London.
Mazzoleni, G. e Bracciale, R. (2019). La politica pop online. I meme e le nuove sfide della comunicazione politica. Bologna: Il Mulino.
Mazzoleni, G., & Bracciale, R. (2018). Socially mediated populism: the communicative strategies of political leaders on Facebook. Palgrave Communications, 4(1), 1-10.
Mazzoleni, G., & Sfardini, A. (2009). Politica pop. Il Mulino, Bologna.
Mbah, R. E., & Wasum, D. F. (2022). Russian-Ukraine 2022 War: A review of the economic impact of Russian-Ukraine crisis on the USA, UK, Canada, and Europe. Advances in Social Sciences Research Journal, 9(3), 144-153.
McNair, B. (2017). An introduction to political communication. Routledge.
McPherson, M., Smith-Lovin, L., & Cook, J. M. (2001). Birds of a feather: Homophily in social networks. Annual review of sociology, 27(1), 415-444.
Newman, N., Fletcher, R., Robertson, C. T., Eddy, K. & Nielsen, R. K. (2021). Reuters Institute digital news report 2022. Reuters Institute for the study of Journalism.
Novelli, E. (2021). I manifesti politici. Storie e immagini dell'Italia repubblicana. Carrocci.
Panarari, M. (2022). A Voce Alta. Sguardi sulla campagna. Campaigning, marketing e framing delle elezioni politiche del 25 settembre 2022. Comunicazione politica, 23(3), 441-448.
Petrocik, J. R. (1996). Issue ownership in presidential elections, with a 1980 case study. American journal of political science, 825-850.
Reif, K., & Schmitt, H. (1980). Nine second‐order national elections–a conceptual framework for the analysis of European Election results. European journal of political research, 8(1), 3-44.
Roncarolo, F., & Mancini, P. (2018). The traditional media, political parallelism and public opinion on contentious issues in the 2018 Italian election campaign. Contemporary Italian Politics, 10(3), 243-266.
Russo, L., & Valbruzzi, M. (2022). The impact of the pandemic on the Italian party system. The Draghi government and the 'new'polarisation. Contemporary Italian Politics, 14(2), 172-190.
Sanchez, O. (2002). An open-ended transition: the effects of electoral reform in Italy. Journal of European Area Studies, 10(2), 259-281.
Scaduto, G., & Mancosu, M. (2022). Lacrime di coccodrillo? Variazioni nel contenuto visuale su Instagram dei politici populisti e mainstream durante la pandemia. Comunicazione politica, 23(2), 255-276.
Stokes, D. (1963). Spatial Models of Party Competition. American Political Science Review, 57(2), 368-377. doi:10.2307/1952828
Valbruzzi, M. (2018). When populists meet technocrats. The Italian innovation in government formation. Journal of Modern Italian Studies, 23(4), 460-480.