Vol 27 No 1 (2019)
Articles
Conservative data on polychrome stucco, stone and clay sculptures and architectonical decoration of Gandharan art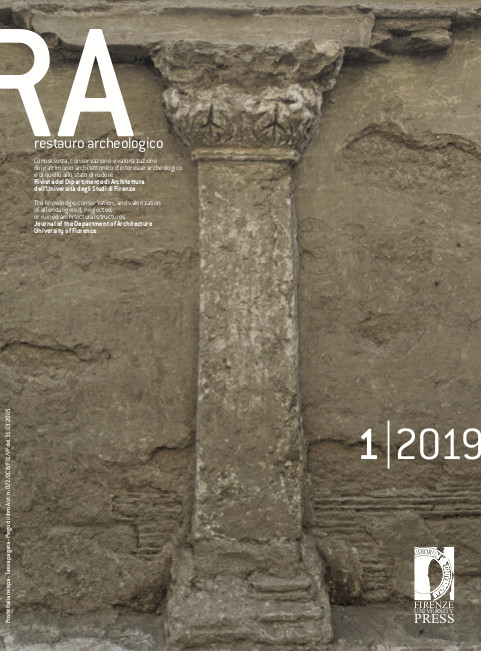 Published
October 29, 2019
How to Cite
Festa, L., & Pannuzi, S. (2019). Conservative data on polychrome stucco, stone and clay sculptures and architectonical decoration of Gandharan art. Restauro Archeologico, 27(1), 100-111. https://doi.org/10.13128/RA-25171
Copyright (c) 2019 Luciana Festa, Simona Pannuzi
This work is licensed under a Creative Commons Attribution 4.0 International License.
Abstract
the first phase of study on Gandharan artefacts (2014-15), the Istituto Superiore per la Conservazione ed il Restauro (ISCR) was focused on technological and conservative issues of some schist stone and stucco sculptures belonging to the collection of the Museum of Oriental Art of Rome (ex MNAO, now merged into the Museo delle Civiltà). Experts of different disciplines evaluated the conditions of the stone artworks, to define the best conservation approaches and treatments. Chemists and restorers compared cleaning methods and evaluated consolidation and sticking practices.
In our further studies we also consider stucco and clay artworks, deepening our research through scientific analyses and observation carried out on both archaeological founds (Afghanistan, Pakistan) and musealized sculptures (Civic Archaeological Museum of Milan, Oriental Art Museum of Turin and Guimet Museum of Paris).
This further work allowed, through the characterization of the materials and the observation of the working techniques, to deepen the study of the Gandharan stone, stucco and clay artworks and to formulate operational hypothesis for their conservation.