Articoli
The Origin of Friulanisms of the Type medih 'doctor' and lampadarih 'chandelier' in Dialectal Slovenian in the Slavic-Romance Contact Area in Friuli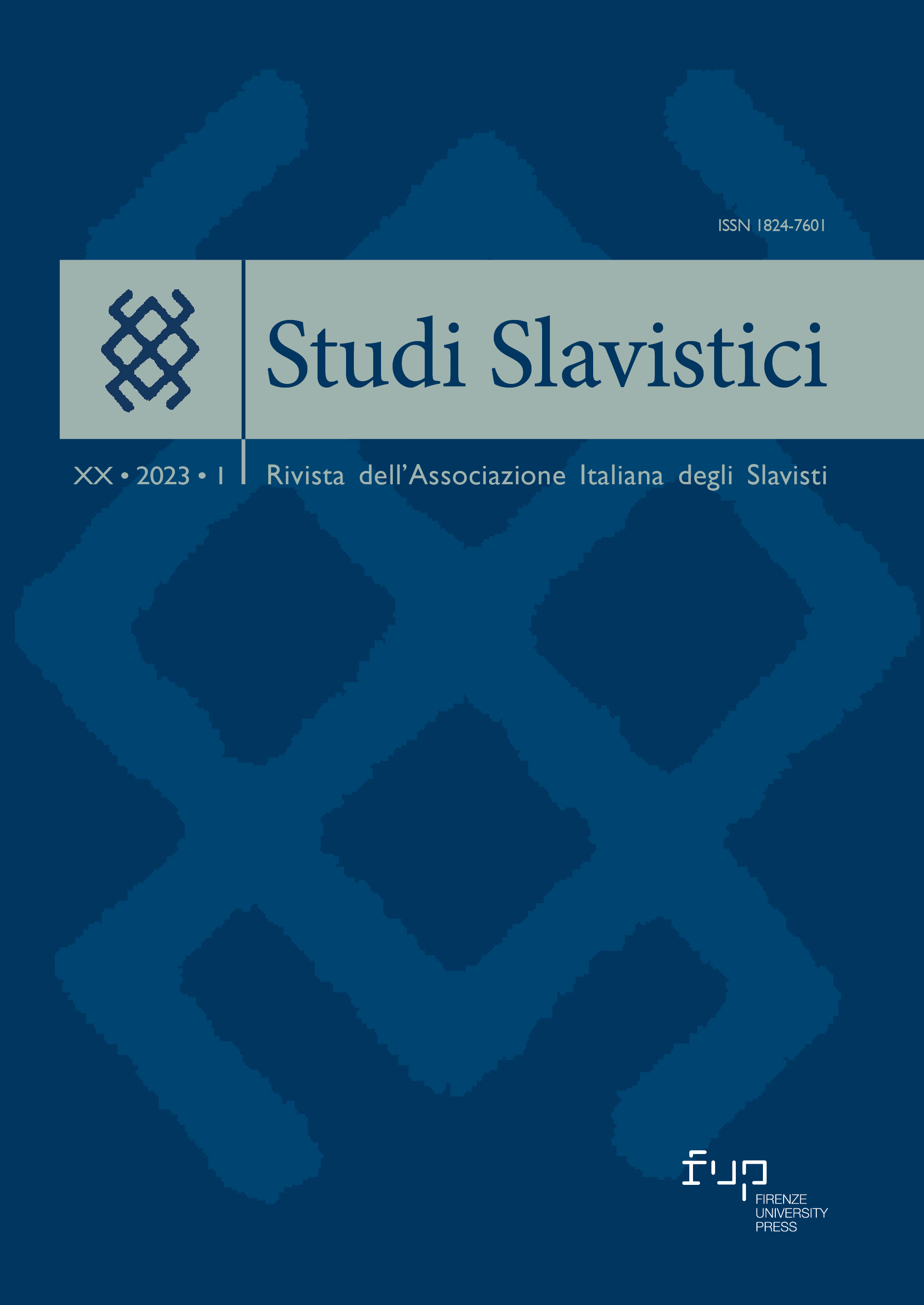 Published 2023-07-12
Keywords
Language Contact

,

Friulian

,

Slovenian

,

medih

,

lampadarih
How to Cite
Šekli, M. (2023). The Origin of Friulanisms of the Type medih 'doctor' and lampadarih 'chandelier' in Dialectal Slovenian in the Slavic-Romance Contact Area in Friuli. Studi Slavistici, 20(1), 39–56. https://doi.org/10.36253/Studi_Slavis-13993
Copyright (c) 2023 Matej Šekli
This work is licensed under a Creative Commons Attribution 4.0 International License.
Abstract
The article discusses the origin of the nominal forms ending in -ih [iχ] of the type medih 'doctor' and lampadarih 'chandelier' in dialectal Slovenian on the Slovenian-Friulian language boundary. Regarding their origin, these forms represent loanwords from Friulian, where they typically end in -i (cf. Friul. mièdi 'doctor', lampadàri 'chandelier'), reflecting their original Romance pre-forms MEDICU(M) and LAMPADĀRIU(M). The contribution tries to account for the presence of the voiceless velar fricative h [χ] in both groups of borrowings, taking into consideration the linguistic history of both Friulian and Slovenian. While the voiceless velar fricative χ in the medih-type can most probably be explained by assuming a more archaic phonetic reflex of the original MEDICU(M) in Old Friulian, the origin of χ in the lampadarih-type seems to be the result of analogical processes in the linguistic history of Slovenian.
References
Ascoli 1873: G.I. Ascoli, Saggi Ladini, "Archivio Glottologico Italiano", i, 1873, pp. 1-573.
Balloch 2018: B. Balloch, Lučice na oknah: naš sviet pouan naposebnosti/Il nostro mondo pieno di meraviglia, Čedad/Cividale del Friuli 2018.
Benacchio 2002: R. Benacchio, Dialetti sloveni del Friuli tra periferia e contatto, Udine 2002.
Benincà 1989: P. Benincà, Friaulisch: Interne Sprachgeschichte. i (Grammatik), in: Lexikon der romanistischen Linguistik, iii, Tübingen 1989, pp. 563-585.
Bezlaj 1974: F. Bezlaj (a cura di), Začasni slovar slovenskih priimkov, Ljubljana 1974.
Bonini 2001: F. Bonini Kovačov, Imena v Garmiškem kamune/Nomi in Comune di Grimacco, Špeter/San Pietro al Natisone 2001.
Cadorini 2015: G. Cadorini, Friulano, veneto e toscano nella storia del Friuli, in: S. Heinemann, L. Melchior (a cura di), Manuale di linguistica friulana, Berlin-Boston 2015, pp. 316-337.
Chinese 2003: S. Chinese Huǵjöu, Rośajanskë-laškë bysidnjäk/Repertorio lessicale italiano-resiano, Resia 2003.
Costantini, Fantini 2011: E. Costantini, G. Fantini, I cognomi del Friuli, Pasian di Prato 2011.
Del Medico 2006: D. Del Medico, Naše besiede. Vocabolareh po našin-italiano/Vocabolario italiano-po našin, Lusevera/Bardo 2006.
Doria 1987: M. Doria, Grande dizionario del dialetto triestino, Trieste 1987.
Finco 2009: F. Finco, Cimitieri o Simitieri, "Sot la Nape", lxi, 2009, 1, pp. 25-30.
Francescato 1966: G. Francescato, Dialettologia friulana, Udine 1966.
Gamillscheg 1934-1936: E. Gamillscheg, Romania germanica: Sprach- und Siedlungsgeschichte der Germanen auf dem Boden des alten Römerreiches, i-iii, Berlin 1934, 1935, 1936.
Gartner 1883: Th. Gartner, Rätoromanische Grammatik, Heilbronn 1883.
Grad 1958: A. Grad, Contribution au problème de la sonorisation des consonnes intervocaliques latines, "Linguistica", iii, 1958, 2, pp. 33-40.
Heinemann, Melchior 2015: S. Heinemann, L. Melchior (a cura di), Manuale di linguistica friulana, Berlin-Boston 2015.
Hock 2021: H.H. Hock, Principles of Historical Linguistics, Berlin-Boston 20213.
Ježovnik 2020: J. Ježovnik, Samostalniške izpeljanke v terskem narečju slovenščine (govor kraja Ter/Pradielis), "Philological Studies", xviii, 2020, 2, pp. 253-272.
Ježovnik 2022: J. Ježovnik, Glasovne in naglasne značilnosti terskega narečja, Ljubljana 2022.
Logar 1974: T. Logar, Pregled zgodovine slovenskega jezika, in: Seminar slovenskega jezika, literature in kulture, Ljubljana 1974, pp. 103-113.
Logar, Rigler 1983: T. Logar, J. Rigler, Karta slovenskih narečij, Ljubljana 1983.
Madriz, Roseano 2003: A. Madriz, P. Roseano, Scrivere in friulano, Udine 2003.
Marchetti 1967: G. Marchetti, Grammatica friulana, Udine 1967.
Merkù 1982: P. Merkù, Slovenski priimki na zahodni meji, Trst 1982.
Merkù 1993: P. Merkù, Svetniki v slovenskem imenoslovju, Trst 1993.
Piccini 2006: D. Piccini, Lessico latino medievale in Friuli, Udine 2006.
Pirona 1996: G.A. Pirona, Il nuovo Pirona: vocabolario friulano, Udine 19962.
Ramovš 1924: F. Ramovš, Historična gramatika slovenskega jezika, ii (Konzonantizem), Ljubljana 1924.
Renzi 1994: L. Renzi, Nuova introduzione alla filologia romanza, Bologna 1994.
Repanšek 2016: L. Repanšek, Keltska dediščina v toponimiji jugovzhodnega alpskega prostora, Ljubljana 2016.
Rohlfs 1937: G. Rohlfs, La struttura linguistica dell'Italia, Leipzig 1937.
Rohlfs 1966: G. Rohlfs, Historische Grammatik der italienischen Sprache und ihrer Mundarten, i (Lautlehre), Bern 1966 (trad. it. Grammatica storica della lingua italiana e dei suoi dialetti: fonetica, Torino 1966).
Skubic 1997: M. Skubic, Romanske jezikovne prvine na zahodni slovenski meji, Ljubljana 1997.
Skubic 2007: M. Skubic, Uvod v romansko jezikoslovje, Ljubljana 20074.
Sławski 1974: F. Sławski, Zarys słowotwórstwa prasłowiańskiego. ii. Rzeczownik, in: Id. (red.), Słownik prasłowiański, i, Wrocław-Warszawa-Kraków-Gdańsk 1974, pp. 58-141.
Spinozzi Monai 2009: L. Spinozzi Monai, Il glossario del dialetto del Torre di Jan Baudouin de Courtenay, Udine 2009.
Steenwijk 1990: H. Steenwijk, The nominal declension of Friulian loans in the Slovene dialect of Resia, "Slovene Studies", xii, 1990, 1, pp. 23-31.
Steenwijk 1992: H. Steenùwijk, The Slovene dialect of Resia: San Giorgio, Amsterdam-Atlanta 1992.
Steenwijk 1994: H. Steenwijk, Ortografia resiana/Tö jošt rozajanskë pïsanjë, Padova 1994.
Steenwijk 2005: H. Steenwijk, Piccolo dizionario ortografuico resiano/Mali bisidnik za tö jošt rozajanskë pïsanjë, Padova 2005.
Šega 1998: A. Šega, Contributo alla conoscienza dei latinismi e romanismi antichi in sloveno, "Linguistica", xxxviii, 1998, 2, pp. 63-85.
Šekli 2005: M. Šekli, Odraz medjezikovnih stikov v poimenovanjih za vaške poklice in dejavnosti v nadiškem narečju, in: M. Stabej (ured.), Večkulturnost v slovenskem jeziku, literaturi in kulturi, Ljubljana 2005, pp. 176-181.
Šekli 2021: M. Šekli, I nomi casato e in nomi in vulgo delle case di Stolvizza/Solbica in Val Resia, in: E. Caffarelli, F. Finco (a cura di), Atti del terzo convegno di toponomastica friulana (Gorizia, Nova Gorica, 7-9 novembre 2019), Udine 2021, pp. 285-316.
Špehonja 2009: N. Špehonja, Vocabolario Nediško-Italiano, [manoscritto] 2009.
Štrekelj 1887: K. Štrekelj, Morphologie des Görzer Mittelkarstdialektes mit besonderer Berücksichtigung der Betonungsverhältnisse, Wien 1887.
Šturm 1928: F. Šturm, Romanska lenizacija medvokaličnih konzonantov in njen pomen za presojo romanskega elementa v slovenščini, "Časopis za slovenski jezik, književnost in zgodovino", vii, 1928, pp. 21-46.
Ursini 1988: F. Ursini, Italienisch: Arealinguistik iv: b) Varietäten des Veneto in Friuli-Venezia Giulia, in: Lexikon der romanistischen Linguistik, iv, Tübingen 1988, pp. 538-550.
Ursini 1989: F. Ursini, Istroromanisch: a) Interne Sprachgeschichte, in: Lexikon der romanistischen Linguistik, iii, Tübingen 1989, pp. 537-548.
Vicario 2007: F. Vicario, Lezions di lenghistiche furlane, Udine 2007.
Vicario 2015: F. Vicario, Testi antichi, in: S. Heinemann, L. Melchior (a cura di), Manuale di linguistica friulana, Berlin-Boston 2015, pp. 136-154.
Wartburg 1950: W. von Wartburg, Die Ausgliederung der romanischen Sprachräume, Bern 1950.
Zamboni 1979: A. Zamboni, Le caratteristiche essenziali dei dialetti veneti, in: M. Cortelazzo (a cura di), Guida ai dialetti veneti, Padova 1979, pp. 9-43.
Zamboni 1988: A. Zamboni, Italienisch: Arealinguistik iv: a) Venezien, in: Lexikon der romanistischen Linguistik, iv, Tübingen 1988, pp. 517-538.
Zingarelli 2013: N. Zingarelli, Lo Zingarelli: Vocabolario della lingua italiana, Bologna 2013.
Zudini, Dorsi 1981: D. Zudini, P. Dorsi, Dizionario del dialetto muglisano, Udine 1981.