Dossier
Residential building renovation market, new and old drivers for the construction sector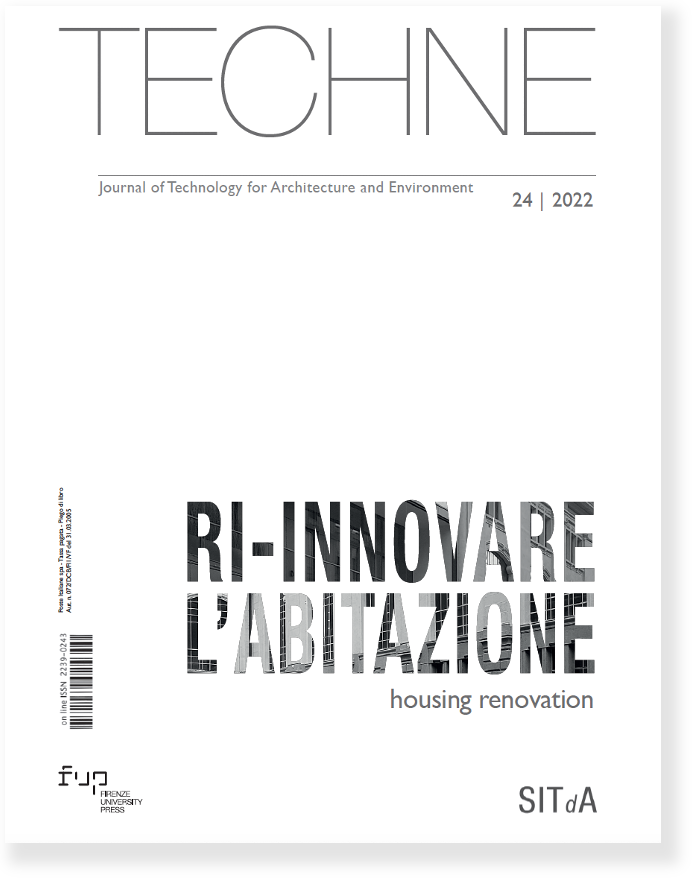 Published 2022-07-26
How to Cite
Bellicini, L. (2022). Residential building renovation market, new and old drivers for the construction sector. TECHNE - Journal of Technology for Architecture and Environment, (24), 26–32. https://doi.org/10.36253/techne-13438
Abstract
According to CRESME estimates in 2021, the value of construction production in Italy was of
231.2 billion euros and 174.1 of these, equal to 75.3% of the total amount, are interventions that
can be classified as extraordinary (130.2 billion) and ordinary (43.9 billion) maintenance while only
24.7% can be ascribed to investments in new buildings.
The recovery wave, as CRESME began to call it thirty years ago, became a real tidal wave in
2021 and in 2022, and it will be probably the same in 2023. The basic assumptions have been the
same for so long, guaranteeing the certainty and the increasing size of the wave: age and antiquity
of the building stock; irregular maintenance cycles; energy inefficiency; vulnerability and exposure
to seismic and hydrogeological risk. At the same time, the pandemic has brought the house at the
centre of the family thinking with a more important role than before.
The pandemic has also generated a new economic policy, which for maintenance has meant a
new period of incentives with an exceptional, unbalanced effect on the market. The incentives
allowed to reduce the price gap between the "micro-demand/micro-offer" model and the
industrial one and they changed the game rules by shifting the centre of gravity of a part of the
market towards a more complex, formally bureaucratized structure, and financially structured in a
new way.
Downloads
Download data is not yet available.