---
The Journal of Plant Taxonomy and Geography (Webbia) is a full open access peer-reviewed journal on Plant Systematics, Nomenclature, Phylogeny, Phytogeography contributions deal with the Vascular Plants. It aims to allow research in botanical topics such as Taxonomy, Nomenclature, Systematics, Molecular Phylogeny, Conservation, Biogeography, and History fo Botany and Botanical collections.
---
A first assessment after returning home: 2020-2021
Two years have passed since Webbia returned home with Firenze University Press and it is time to take stock of the state of the art in which she finds herself. During the two-year period 2020-2021 and in the middle of the Covid-19 pandemic, Webbia managed to maintain an excellent editorial level by publishing a total of 49 articles, 1 review, 2 comments and 1 point of view. Overall, 48 new taxa (including species, hybrids, series) and 16 nomenclatural updates (including new combinations and status nomenclatural, new synonyms, new names) were published.
All this was possible thanks to the sensitivity and interest of an audience of scholars who gave breath and increased the global credibility of the journal by believing in Webbia's role as a communication tool in the international botanical community in the field of plant taxonomy. Thanks to all those who have allowed this success. Here a special thanks goes to all the Associated Editors who have accepted to join the journal with their prestigious credentials, as well as to those who have directly worked in the review process by making their professionalism and their time available to Webbia. A special thanks goes to the FUP managerial staff who followed me in the transfer from a previous publishing house to a new editorial experience, as well as to the one dedicated to copyediting without which nothing would have been possible with excellent editorial outcomes.
On these premises and on the results achieved in these two years with FUP, Webbia is preparing to face a new year with ambitious actions including the beginning of the publication of "special issues" dedicated to monographic contributions of international importance, in the hope of consolidating and stimulating its growth. We believe in this project to be shared with those who have supported us until now and will want to do it in the future, remembering Webbia as one of the first European journals in Plant taxonomy that will soon see its 120th anniversary from its foundation (1905- 2025).
Thank you all, and let me say ... Ad Maiora!
April 26, 2022
R. M. Baldini
---
ISSN 2169-4060 (print) ISSN 0083-7792 (online)
Editor-in-Chief:
Riccardo Maria Baldini, Università di Firenze, Italy
---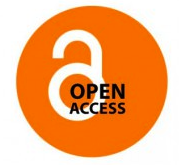 Webbia is indexed in:





Current Issue
Vol 77, No 1 (2022)