Vol. 77 No. 2 (2022)
Articles
Wurfbainia rubrofasciata (Zingiberaceae), a new species from Palawan, Philippines: A new species of Wurfbainia from the Philippines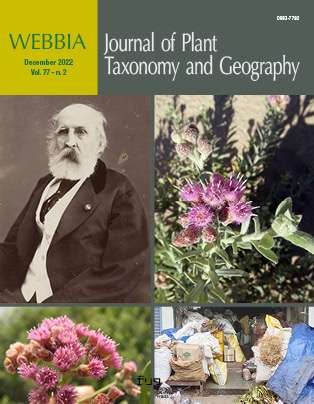 Published
December 15, 2022
Keywords
Amomum s.l.

,

endemic

,

endangered

,

taxonomy

,

Wurfbainia
How to Cite
Docot, R. V. A., Domingo, C. B. M., Moran, C. B., Camangeg, L. M., & Poulsen, A. D. (2022). Wurfbainia rubrofasciata (Zingiberaceae), a new species from Palawan, Philippines. Webbia, 77(2), 277-283. https://doi.org/10.36253/jopt-13461
Copyright (c) 2022 Rudolph Valentino A. Docot, Carl Bryan M. Domingo, Cecilia B. Moran, Lea M. Camangeg, Axel Dalberg Poulsen
This work is licensed under a Creative Commons Attribution 4.0 International License.
Abstract
A ginger species collected in Palawan, Philippines was initially thought to be Wurfbainia palawanensis but differs by the dark brown fertile bracts and red spinose fruits. This species is also morphologically similar to the continental Asian Wurfbainia microcarpa but can be distinguished from this by the entire ligule, petiolate lamina, congested rachis, and presence of red stripes at the base of the labellum. Therefore, we here describe Wurfbainia rubrofasciata providing colour plates, data on phenology, distribution, habitat, and a provisional conservation assessment. A key to five species of Wurfbainia in the Philippines is provided and we discuss the likely closest relatives of Wurfbainia palawanensis.
References
Bachman, S., Moat, J., Hill, A.W., de Torre, J. & Scott, B. 2011. Supporting Red List threat assessments with GeoCAT: Geospatial conservation assessment tool. In: Smith, V. & Penev, L. (eds.), e-Infrastructures for data publishing in biodiversity Science, pp. 117–126. Zoo Keys: Bulgaria
De Boer, H.J., Newman, M.F., Poulsen, A.D., Droop, A.J., Fér, T., Lê Thị Thu Hiền, Hlavatá, K., Lamxay, V., Richardson, J.E., Steffen, K. & Leong-Škorničková, J. 2018. Convergent morphology in Alpinieae (Zingiberaceae): Recircumscribing Amomum as a monophyletic genus. Taxon 67(1): 6–36.
Elmer, A.D.E. 1915. Notes and descriptions of Zingiberaceae. Leaflets of Philippine Botany 2: 2885‒2919.
IUCN Standards and Petitions Subcommittee. 2019. Guidelines for using the IUCN Red List categories and criteria, version 14. https://nc.iucnredlist.org/redlist/content/attachment_files/RedListGuidelines.pdf
Kaewsri, W. & Sangvirotjanapat, S. 2022. Six new species of Wurfbainia (Zingiberaceae) from
Thailand. Edinburgh Journal of Botany 79: 1−23.
Pelser, P.B., Barcelona, J.F. & Nickrent, D.L. (eds). 2011 onwards. Co's Digital Flora of
the Philippines. http://www.philippineplants.org.
Ridley, H.N. 1905. Scitimineae Philippinenses. [Publication] Bureau of Government Laboratories 35(1): 83‒87.
Shorthouse, D.P. (2010). SimpleMappr, an online tool to produce publication-quality point
maps. http://simplemappr.net/
Turner, I.M. (2000). The plant taxa of H.N. Ridley, 3. The Zingiberales. Asian Journal of Tropical Biology 4(1): 1−47.