Vol. 8 No. 2 (2019)
Original Research Article
Winescape perception and big data analysis: An assessment through social media photographs in the Chianti Classico region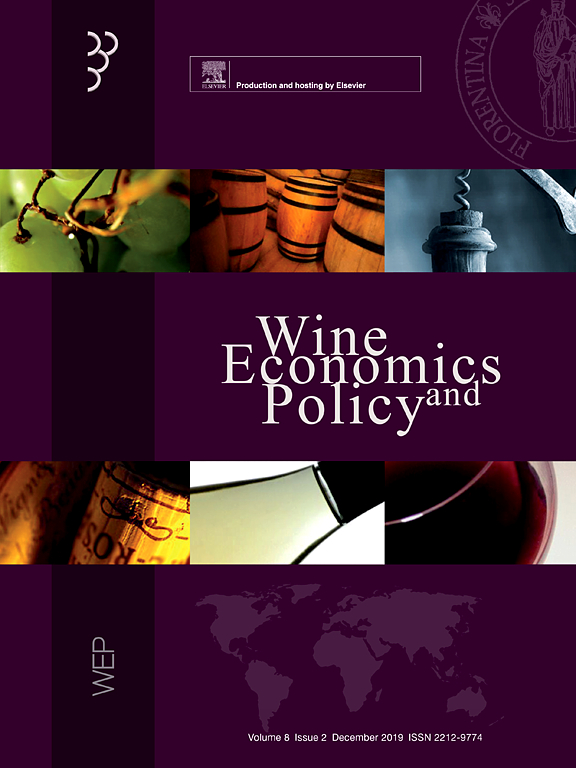 Published
December 31, 2019
How to Cite
Alampi Sottini, V., Barbierato, E., Bernetti, I., Capecchi, I., Fabbrizzi, S., & Menghini, S. (2019). Winescape perception and big data analysis: An assessment through social media photographs in the Chianti Classico region. Wine Economics and Policy, 8(2), 127-140. https://doi.org/10.14601/web-8203
Abstract
Quantifying and mapping the relevant landscape attributes of winescape is difficult due to both the complex identity characterization of the places and the multidimensionality of the pursued perceptive experience on the emotional level. Although the quality of the rural landscape is recognized as an essential element of winescape, in the literature there are no methodological and applicative studies on the identification of the most significant characteristics of a wine region that are fundamental attributes in the preferences of visitors. The aim of the work is to propose a methodology to link the environmental and cultural landscape characteristics of the territory with the concept of winescape to improve the image of wine tourism adopting a systematic approach for territorial branding starting from the analysis of the visitors' preferences. The analysis is conducted through the geographical information data shared on the social media Flickr. Different methods of analysis are applied in an integrated way to:
analyze the demand for winescape in its different dimensions;

identify the territorial variables that are part of the winescape supply;

build a spatial relationship model between winescape demand and supply to quantify the territorial suitability and provide useful information for rural development strategies.