Vol. 9 No. 18 (2019): Narrating Science: Risks and Opportunities in the Information Society
Monographic Section
Nebulose di pseudoscienza. Incertezza, pseudo-fatti e tensioni nella governance tecnoscientifica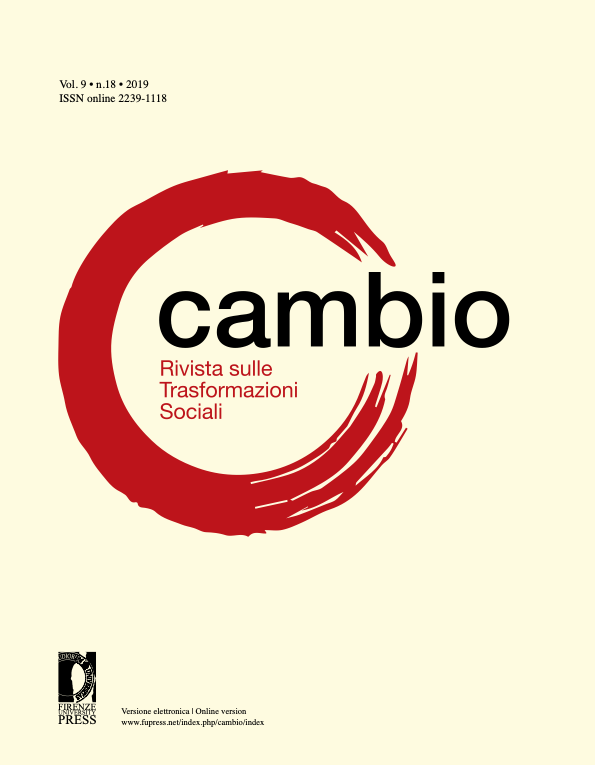 Keywords
governance of technoscience

,

pseudoscience

,

disintermediation
How to Cite
Picardi, I. (2020). Nebulose di pseudoscienza. Incertezza, pseudo-fatti e tensioni nella governance tecnoscientifica. Cambio. Rivista Sulle Trasformazioni Sociali, 9(18), 19-31. https://doi.org/10.13128/cambio-7467
Copyright (c) 2020 Ilenia Picardi
This work is licensed under a Creative Commons Attribution 4.0 International License.
Abstract
For some decades, science communication has been at the center of the academic reflection articulating the debate on the role of science in contemporary society and its renewing need for legitimacy. Today different strategies coexist in communication activities promoted by scientific institutions and researchers to communicate the results of their work. Such communication models seem to be overtaken by disintermediation processes and by new forms of mediation implemented by digital platforms.
This paper reflects on the recent debate on pseudoscience. It analyses the phenomenon in connection to the more general transformation of technoscientific governance. Through complex mediation and negotiation activities, changes in scientific governance transform both scientific knowledge and practices and the processes through which policy is looking for technoscientific legitimation, while science itself is being continuously constrained to look for its own legitimacy in the public arena (through fund raising and trust seeking). The intersection between pseudoscience and tensions inside the governance of technoscience identifies three main issues: the role of scientific expertise in society, trust in technoscience, and the relationship between technoscience and democracy. These concerns define the main current challenges of technoscience communication.