Vol. 10 No. 20 (2020): Prospettive weberiane. Uno sguardo sul presente a partire da Max Weber
Monographic Section
Max Weber e la "questione razziale"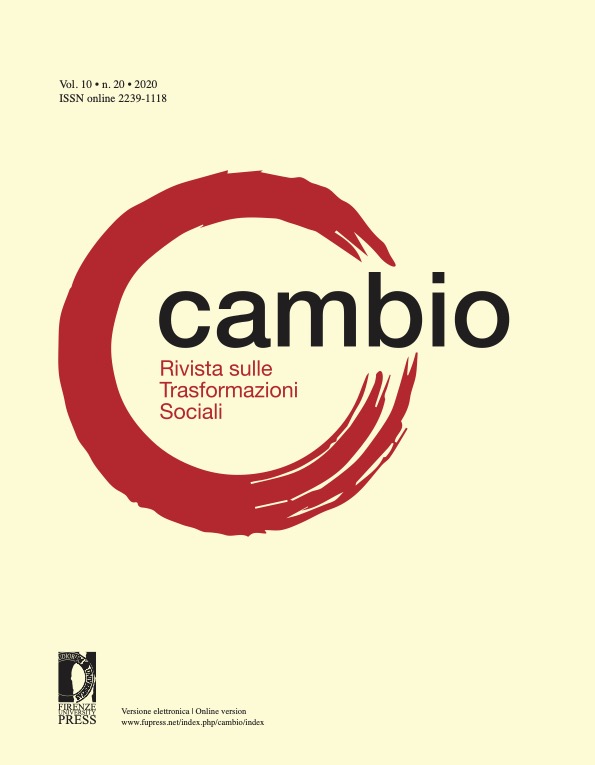 Keywords
race

,

ethnic community

,

charismatic authority

,

american negro
How to Cite
Laurano, P. (2021). Max Weber e la "questione razziale". Cambio. Rivista Sulle Trasformazioni Sociali, 10(20), 29-40. https://doi.org/10.13128/cambio-9814
Copyright (c) 2020 Patrizia Laurano
This work is licensed under a Creative Commons Attribution 4.0 International License.
Abstract
This paper analyzes one less important topic Weberian thought (especially in the Italian studies): the concepts of "ethnicity" and "race". In particular, the essay focuses the problem of black Americans, around which Weber reflected starting from the information and experiences personally lived during his trip to the United States in 1904, invited by the Congress of Arts and Sciences of the Universal Exposition of St. Louis. The German scholar has the opportunity to know directly US society, to travel the South of the country, to discuss with members of the African American community. All this contributes to moving Weber away from the initial youthful positions - when the biological element of "race" is evident - to an analysis of the social and cultural implications of "ethnic community", in which, rather than the blood, "ethnic honor" is important. According to Weber, the only way to bring about a change in racial and ethnic relations is a charismatic authority, empowered to give orders that are typically obeyed (Weber, 1947). If, through the process of routinization, the charismatic authority is systematically transformed into rational authority, ethnicity can disappear; while if it is routinized in a traditional order, ethnicity can be further highlighted.