Studi Slavistici XVI (2019) 2
Articoli
The Evolution of Il'ja Zdanevič's Thought in His Early Work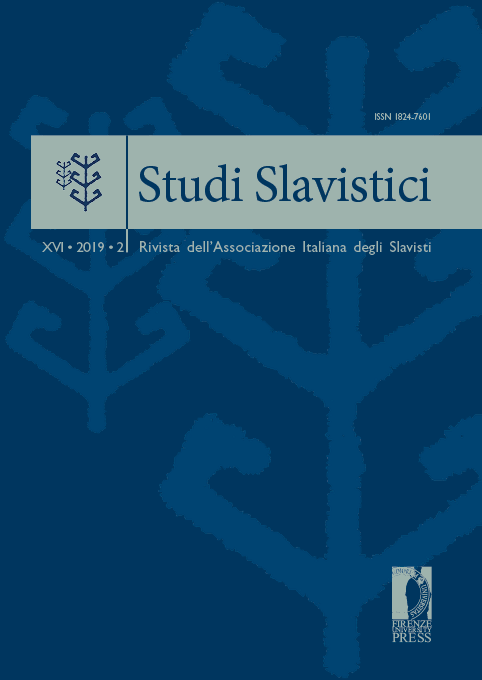 Published
January 20, 2020
How to Cite
Magarotto, L. (2020). The Evolution of Il'ja Zdanevič's Thought in His Early Work. Studi Slavistici, 16(2), 37-53. https://doi.org/10.13128/Studi_Slavis-7471
Copyright (c) 2019 Luigi Magarotto
This work is licensed under a Creative Commons Attribution 4.0 International License.
Abstract
At the age of seventeen, Il'ja Zdanevič (1894-1975), best known as Iliazd, had the chance to read the Italian futurist manifestos and was immediately converted. In September 1911, impassioned by these new futurist ideas, he left Tiflis and went to Petersburg to study law. In addition to being influenced by Filippo Tommaso Marinetti, Zdanevič was also fascinated by Natal'ja Gončarova's neo-primitivism, which drew inspiration from icons, folk woodcuts (lubki) and illuminations, and by Michail Larionov's paintings, i.e., the art of signs and drawings on walls. As many futurists of the time, such as the members of "Gileja", Zdanevič was attracted by the aesthetic of the future, on the one hand, and enchanted by icons and folk culture, on the other. Although Russian avant-gardists defined themselves with forward-looking names, such as budetljane, buduščniki and futuristy, in literature they sought the sources of language in its primitive manifestations, of which zaum is the prime example, and in painting they mainly investigated the basic elements, such as lines, figures, and light: Russian avant-garde research was dominated by the ἀρχή (archē).
From January 1912 until the summer of 1913, Zdanevič was intensely active as a proponent of the new futurist theory. He wrote a short book on Larionov's and Gončarova's paintings, gave lectures on futurism, and added a controversial element to his creed: the fundamental principles of Russian art were Asian. The futurist propagandist introduced the bizarre and paradoxical idea that only victory of the ἀρχή could give rise to authentic avant-garde experimentation. However, during the summer of 1913, Zdanevič left futurism and founded a new movement called Everythingism (Vsëčestvo). He proposed a simultaneous literature (Mnogovaja slovesnost') and, to achieve this purpose, he suggested to place words outside time and space and to set sound as their foundation.  For this reason, his zaum language will always be anchored in phonetics, as we can see in his phonetic dramas of the well-known pentalogy aslaablIchya. It will be the theories of Everythingism that lead to Zdanevič's participation in the group 41º a few years later, at the height of absurdist creation.