Materiali e discussioni
Towards Demarcating Emigrantology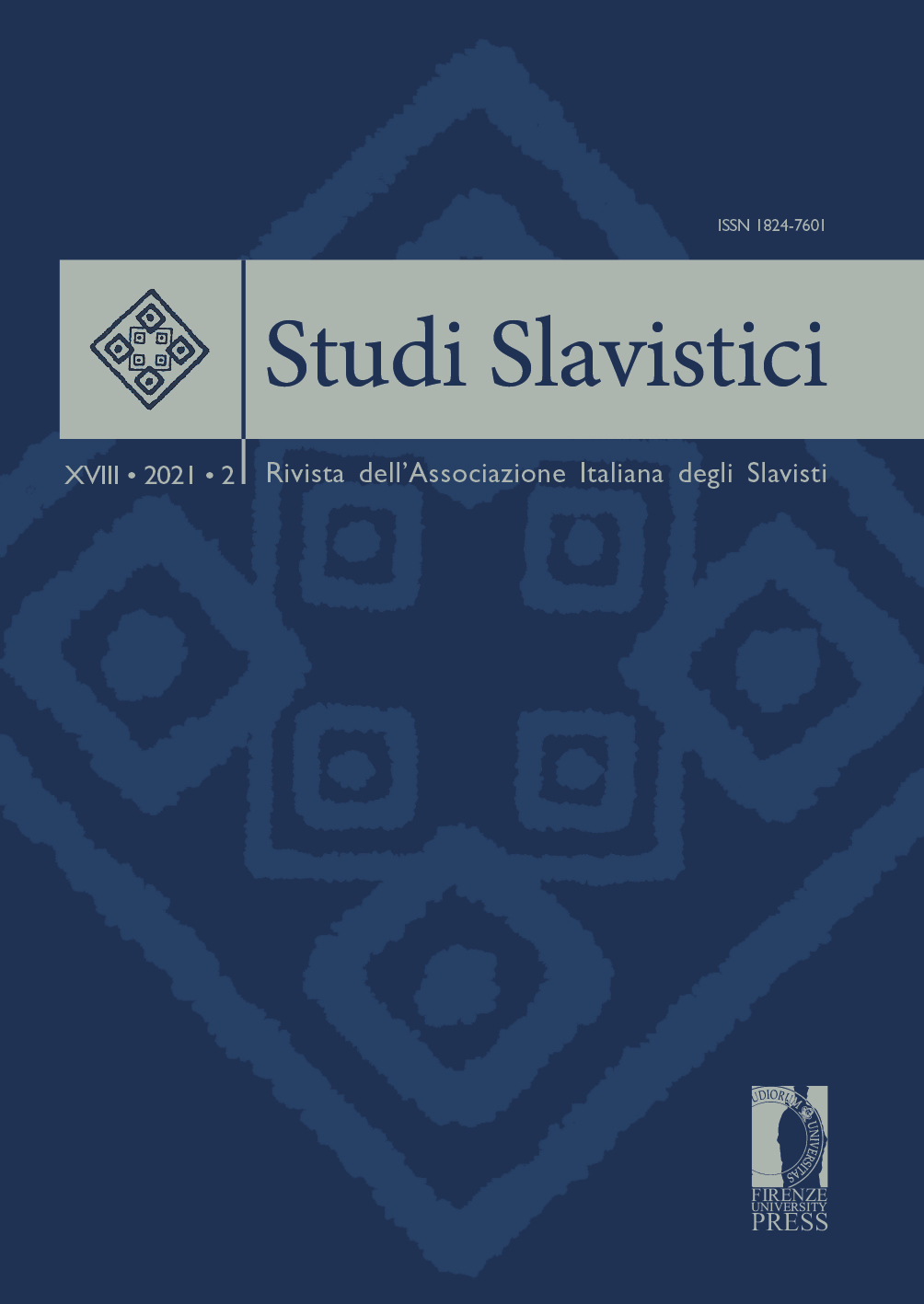 Published 2022-02-02
Keywords
'Somewhere-Else-ness'

,

'Being Without the Situation'

,

Special Settlements

,

Multilingual Writing

,

Symbolic Economy of Exile
How to Cite
Ljuckanov, J. (2022). Towards Demarcating Emigrantology. Studi Slavistici, 18(2), 261–289. https://doi.org/10.36253/Studi_Slavis-8870
Abstract
In this article I propose viewing '(Russian P/)philology', 'Russia(n) Studies' and '(Russian E/)emigrantology' as three separate and equally valid approaches to (Russian) literature and writers; I maintain that each of them is charged with its own interdisciplinary perspective.
I elaborate a new definition of 'emigrantology', based on reassessment of its subject matter (not exilic experiences, but experiences of 'somewhere-else-ness') and the range of its objects (not only emigration / exile, but a family of diverse experiences, from camp incarceration, to trips to the otherworld and translingual writing). I seek to overcome physical determinism of Russian literary studies in Russian language and, at the same time, to forestall certain 'counter-sedentary' bias perceivable in post-modern contemplation of exile and related phenomena in the English language. I link the literary-theoretic raison d'être of 'emigrantology' to the property of 'non-in-situatedness' that differentiates 'literature' from 'wording' ("writings") according to the literary ontology of S. Averincev.
I define the subject matter of 'emigrantology', as 'unselfliness', 'unplaceliness' and 'somewhere-else-ness' (the former two concepts are deliberate neologisms, shaped after "untimely"). I conceptualise 'backing' notions as 'place-boundness' and 'place-conscience' and explain the two theoretic assumptions which give my own theorisation sense: the irreducible territoriality of exile in particular and of 'somewhere-else-ness' in general, and their basic property of being both psychic and bodily. I also compare 'somewhere-else-ness' to das Unheimliche and fictional worlds.
Prioritising the standpoint of sociology of literature and with the case of Russian literature / literature in Russia in mind, I delineate some 'core' types of 'being-somewhere-else' experiences: besides inciting to be thematised by literature and hosting individual literary creativity, these types can sustain circulation and reception of literature (the state of being an émigré; inner emigration; exile; camp incarceration; translingual writing/transnational belonging). As a counterpoint, I trace the option of diagrammic typology of 'somewhere-else-ness' experiences, one which brings to the fore commonalities with rites of passage.
Taking the condition of being an émigré (community) as a benchmark and distancing my model from both liberal-individualist and nationalist mythologisations of that latter condition, I analyse what I believe are the basic parameters of symbolic economy of an individual and community experiencing 'somewhere-else-ness'.