Editorial
Transizione circolare e progetto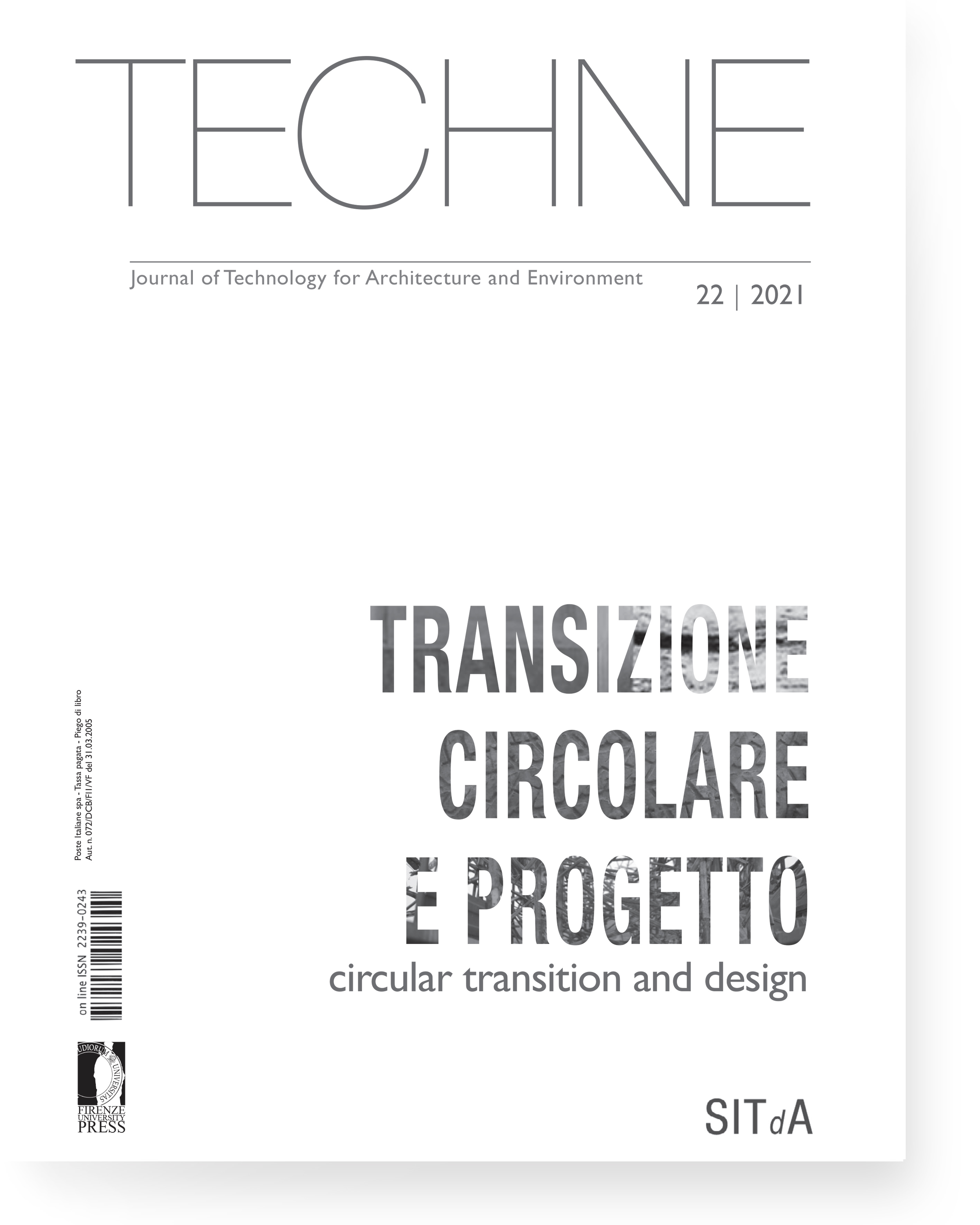 Published 2021-07-29
How to Cite
Mussinelli, E. (2021). Transizione circolare e progetto. TECHNE - Journal of Technology for Architecture and Environment, (22), 10–15. https://doi.org/10.36253/techne-11533
Copyright (c) 2021 Elena Mussinelli
This work is licensed under a Creative Commons Attribution 4.0 International License.
Abstract
Every crisis at the same time reveals, forewarns and implies changes with cyclical trends that can be analyzed from different disciplinary perspectives, building scenarios to anticipate the future, despite uncertainties and risks. And the current crisis certainly appears as one of the most problematic of the modern era: recently, Luigi Ferrara, Director of the School of Design at the George Brown College in Toronto and of the connected Institute without Boundaries, highlighted how the pandemic has simply accelerated undergoing dynamics, exacerbating other crises – climatic, environmental, social, economic – which had already been going on for a long time both locally and globally. In the most economically developed contexts, from North America to Europe, the Covid emergency has led, for example, to the closure of almost 30% of the retail trade, as well as to the disposal and sale of many churches. Places of care and assistance, such as hospitals and elderly houses, have become places of death and isolation for over a year, or have been closed. At the same time, the pandemic has imposed the revolution of the remote working and education, which was heralded – without much success – more than twenty years ago. In these even contradictory dynamics, Ferrara sees many possibilities: new roles for stronger and more capable public institutions as well as the opportunity to rethink and redesign the built environment and the landscape. Last but not least, against a future that could be configured as dystopian, a unique chance to enable forms of citizenship and communities capable of inhabiting more sustainable, intelligent and ethical cities and territories; and architects capable of designing them... see more
Downloads
Download data is not yet available.