Dossier
A new vision of living and living spaces in the RRP (Recovery and Resilience Plan)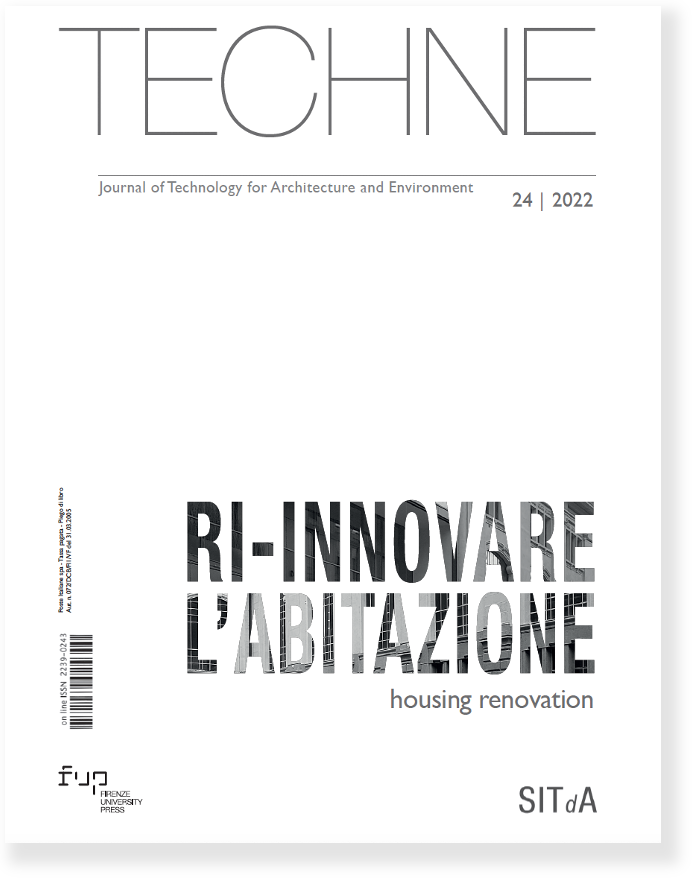 Published 2022-07-26
How to Cite
Baratta, A. F. L. . (2022). A new vision of living and living spaces in the RRP (Recovery and Resilience Plan). TECHNE - Journal of Technology for Architecture and Environment, (24), 20–25. https://doi.org/10.36253/techne-13435
Abstract
The governance of housing policies is changing. This change is necessary so as to
protect and enhance the role of citizens and living spaces. To date, in fact, 1 family
out of 13 still lives in conditions of absolute poverty and 2 million of families in housing
hardship.
The theme of housing is a government priority that benefits from the investments of
the Recovery and Resilience Plan (RRP) and the National Plan for Complementary
Investments to the RRP (PNC). Housing policy, together with urban regeneration, are
two important themes, towards which the country has invested a large part of its
resources.
The large allocations for residences, e.g., for university students (0.9 billion euros),
outline the framework of these investments in which the renewed approach to the
theme of housing is can be represented by the "National Innovative Program for
Quality of Housing" (2.8 billion euros) and the "Safe Green Social ERP Program" (2
billion euros).
Both programs highlight the rethinking of housing policy today understood as social
infrastructure. In them we can identify some of the most recent lines of research in the
discipline of architectural technology: from the renewed demand approach, which
leads to the identification of indicators to guide the design and evaluation of
proposals, to the consolidation of process management, which allows the
identification of a temporal and organizational structure immediately comprehensible,
up to the environmental and digital transition.
Downloads
Download data is not yet available.