Research and Experimentation
Resilience strategies for energy adequacy, between energy storage and conscious behaviours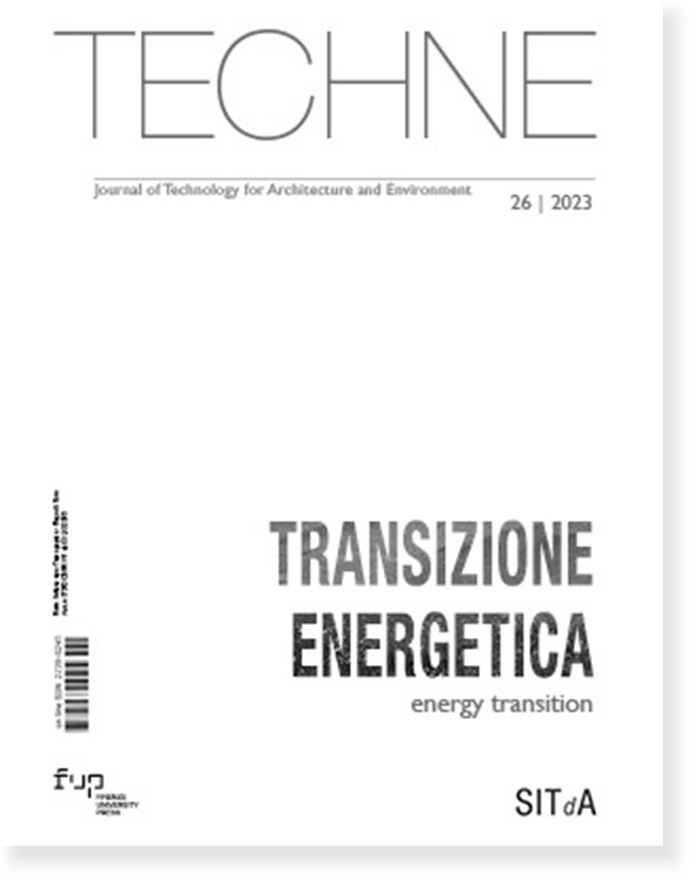 Published 2023-10-31
Keywords
Energy decoupling

,

Energy storage

,

Multifunctional systems

,

"User" management

,

Energy inertia
How to Cite
Pozzi, G., & Vignati, G. (2023). Resilience strategies for energy adequacy, between energy storage and conscious behaviours. TECHNE - Journal of Technology for Architecture and Environment, (26), 227–236. https://doi.org/10.36253/techne-14422
Copyright (c) 2023 gianluca pozzi, Giulia Vignati
This work is licensed under a Creative Commons Attribution 4.0 International License.
Abstract
This paper examines the technical and economic sustainability aspects of energy transition on two different scales. On the one hand, it investigates the topic of RES in the national energy system, describing structure, limits and possibilities. On the other hand, it presents the energy requalification case study of a small public building as an exemplary case of a systemic approach that adopts extraordinary solutions in terms of design process. The aim of the paper is to propose a methodological approach to improve site potential, assuming that short-term strategies must necessarily involve all the actors (including end-users) through local energy storage systems.
Downloads
Download data is not yet available.
References
- Andersson, O. (2012), The ATES Project at Stockholm Arlanda Airport – Technical design and environmental assessment, SWECO Environment AB, Malmo.
- Daglio, L., Ginelli, E. (2018), "The architecture of energy systems between technological innovation and environment", City Territ Archit, 5:12.
- Liberatore, R., Mongibello, L. (2020), "Tecnologie e sistemi per l'accumulo termico", Energia e Green New Deal, n. 2 mag - set 2020.
- Schüppler, S., Fleuchaus, P., Blum, P. (2019), "Techno-economic and environmental analysis of an Aquifer Thermal Energy Storage (ATES) in Germany", Geotherm Energy 7, 11.
- Campagna, N., Caruso, M., Castiglia, V., Miceli, & Viola, F. (2020), "Energy management concepts for the evolution of smart grids", in 8th International Conference on Smart Grid, icSmartGrid 2020, 208-213.
- Bu, X., Jiang, K., & Guo, Z. (2022), "Storing high temperature solar thermal energy in shallow depth artificial reservoir for space heating", Scientific Reports, 12(1).
- Stemmle, R., Hammer, V., Blum, P., & Menberg, K. (2022), "Potential of low-temperature aquifer thermal energy storage (LT-ATES) in Germany", Geothermal Energy, 10 (1).
- Ramos-Escudero, A., & Bloemendal, M. (2022), "Assessment of potential for aquifer thermal energy storage systems for Spain", Sustainable Cities and Society, 81.