Vol. 34 No. 1S (2020): Special issue on postharvest
Articles
New active packaging for improving the shelf life and quality of tomato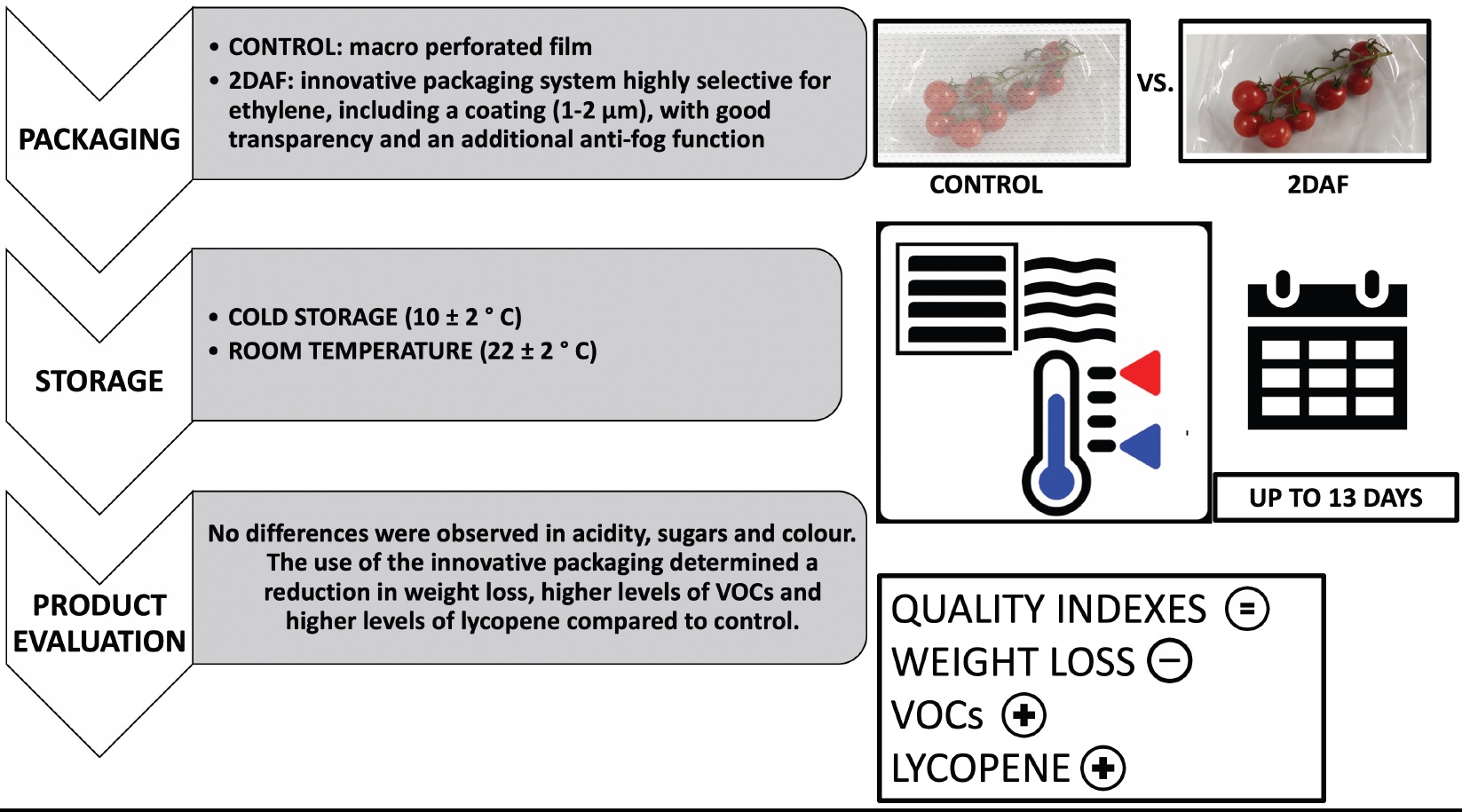 Keywords
modified atmosphere packaging

,

postharvest

,

respiration

,

shelf life

,

Solanum lycopersicum
How to Cite
Cocetta, G., Riva, M., Castelli, G., & Ferrante, A. (2020). New active packaging for improving the shelf life and quality of tomato. Advances in Horticultural Science, 34(1S), 53-59. https://doi.org/10.13128/ahsc-8292
Copyright (c) 2020 Giacomo Cocetta
This work is licensed under a Creative Commons Attribution 4.0 International License.
Abstract
Packaging materials play an important role in the quality preservation during postharvest storage and shelf life of fruits and vegetables. The properties of film can affect the gas composition and indirectly the physiology of the products. Nowadays, several additives can be used for improving the film permeability or reducing certain gases such as ethylene. The Group Research Labs of SAES Getters S.p.A. have developed, in collaboration with its affiliate company SAES Coated Films S.p.A. a highly selective packaging system for ethylene, including an integrated absorber in the form of a coating (1-2 µm), with good transparency and an additional anti-fog function, which can be deposited on various plastic films. The objective of the work was the evaluation of this new active packaging on 'cherry' type tomato berries (Solanum lycopersicum L.) during storage. The control consisted of a macro-perforated polypropylene film used for flow-pack packaging. Two experimental tests were conducted, the first during cold storage (10 ± 2 ° C) and the second at room temperature (22 ± 2 ° C). The analyses carried out included visual appearance, weight loss, gas exchanges, relative humidity, volatile organic compounds (VOC), colour, titratable acidity, refractometric index (° Brix) and the concentration of lycopene and β-carotene.
The use of the innovative packaging did not alter the main quality indicators of the tomato (° Brix, acidity, colour). In general, the parameter that had the greatest impact on the product metabolism was the storage temperature. The VOC concentration was influenced by packaging film, with a greater accumulation in the samples packed with active packaging compared to the control. Moreover, the same material determined a reduction in weight loss, a greater accumulation of CO2 and a significant reduction in O2, especially at 22 °C. At the end of the storage, the berries stored in the active packaging showed higher levels of lycopene, compared to controls, and a reduction in β-carotene, indicating an active role of the packaging in modulating the content of bioactive compounds in the fruits. It can be concluded that the use of this innovative material can represent an effective tool for improving the postharvest management of tomato berries.