Research and Experimentation
Energy Communities: energy and economic development laboratories in the Tortona valleys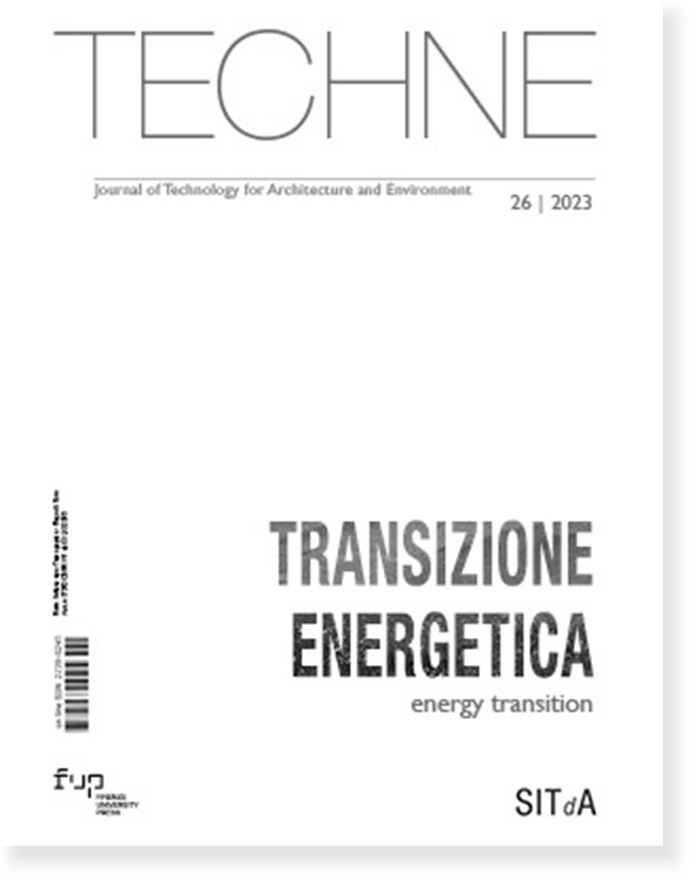 Published 2023-10-31
Keywords
Energy Transition

,

Local Energy Systems

,

Community Empowerment

,

Decarbonisation

,

Prosumer
How to Cite
Battisti, A., Antonini, M., Calvano, A., & Canducci, A. (2023). Energy Communities: energy and economic development laboratories in the Tortona valleys. TECHNE - Journal of Technology for Architecture and Environment, (26), 131–141. https://doi.org/10.36253/techne-14454
Copyright (c) 2023 Alessandra Battisti, Marco Antonini, Angela Calvano, Andrea Canducci
This work is licensed under a Creative Commons Attribution 4.0 International License.
Abstract
Clean Energy for All Europeans, Green Deal and Fit for 55 at European level and the Piano Nazionale Integrato per l'Energia e il Clima have identified essential decarbonisation goals that are achievable by broadening the audience of actors involved and the ability to innovate in terms of the evolution of products/services and production processes. In this sense, decentralised energy production technologies together with Renewable Energy Communities (RECs) and bottom-up initiatives play a strategic role in the establishment of local energy systems. The objective of the paper is to illustrate these dynamisms within the territorial system, and the characteristics of local initiatives and RECs as means of energy transition and economic development.
Downloads
Download data is not yet available.
References
ARERA (Autorità di Regolazione per Energia Reti e Ambiente) (2020), Interventi per il perfezionamento della disciplina delle perdite di rete per il triennio 2019-2021. Available at: https://www.arera.it/it/docs/20/209-20.htm (Accessed on 01/02/2023).
MISE (Ministero dello Sviluppo Economico) (2019), Piano Nazionale Integrato per l'Energia e il Clima. Available at: https://www.mise.gov.it/images/stories/documenti/PNIEC_finale_17012020.pdf (Accessed on 01/02/2023).
AIEE (Associazione Italiana Economisti dell'energia), Federmanager (2021), Il ruolo delle Comunità energetiche nel processo di transizione verso la decarbonizzazione, AIEE Federmanager Report, n.4.
Barroco, F., Cappellaro, F., & Palumbo, C. (2020). Le comunità energetiche in Italia. Una guida per orientare i cittadini nel nuovo mercato dell'energia. Available at: https://www.enea.it/it/seguici/pubblicazioni/pdf-volumi/2020/guida_comunita-energetiche.pdf (Accessed on 01/02/2023).
Becker, S., Kunze, C., Vancea, M. (2017). Community energy and social entrepreneurship: Addressing purpose, organisation and embeddedness of renewable energy projects, Journal of Cleaner Production, vol. 147, pp. 25-36.
Billi, A., Tricarico, L. (2021). Come organizzare le comunità energetiche? Un'ipotesi di prospettiva metodologica osservando due casi studio italiani, Rivista Geografica Italiana, n. 3, pp. 105-137.
EC (European Commission) (2018). Final Report of the High-Level Panel of the European Decarbonisation Pathways Initiative, EU Publishing, Brussels.
ENEA (2021), La comunità energetica. Vademecum 2021. Available at: https://www.enea.it/it/seguici/pubblicazioni/pdf-volumi/2021/opuscolo-comunita-energetica.pdf (Accessed on 01/02/2023).
IEA (International Energy Agency) (2021). Emissioni Nette pari a Zero entro il 2050. Una Tabella di Marcia per il Settore Energetico Globale, IEA Publications, Parigi.
JRC – European Commission. (2020). Social innovations for the energy transition: An overview of concepts and projects contributing to behavioural changes, and increased well-being, EU Publications, Brussels.
Müller, D., Monti, A., Stinner, S., Schlӧsser, T., Schütz, T., Matthes, P., Wolisz, H., Molitor, C., Harb, H., Streblow, R. (2015). Demand side management for city districts, Building and Environment vol. 91, pp. 283-293.
Nielesen, B.F., Resch, E., Andresen, I. (2018). The role of utility companies in municipal planning of smart energy, International Journal of Sustainable Development and Planning, vol. 13, pp. 695-706
RSE (Ricerca Sistema Energetico) e Luiss Business School (2021). Community Energy Map. Una ricognizione delle prime esperienze di comunità energetiche rinnovabili, FrancoAngeli, Milano.