Research and Experimentation
Photovoltaic Thermo-Electric (PTE) panel: a low-tech approach for the energy transition in Architecture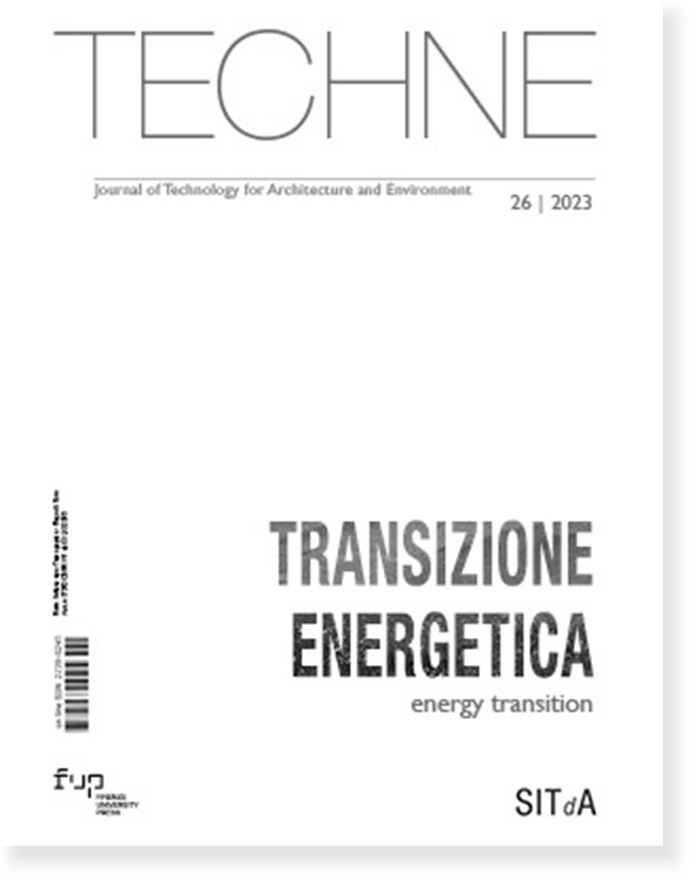 Published 2023-10-31
Keywords
thermoelectric photovoltaic panel

,

building envelope

,

integrated façade

,

circular architecture
How to Cite
Incelli, F., & Rossetti, M. (2023). Photovoltaic Thermo-Electric (PTE) panel: a low-tech approach for the energy transition in Architecture. TECHNE - Journal of Technology for Architecture and Environment, (26), 217–226. https://doi.org/10.36253/techne-14468
Copyright (c) 2023 Francesco Incelli, Massimo Rossetti
This work is licensed under a Creative Commons Attribution 4.0 International License.
Abstract
This paper presents the results of the "Thermo-Electric Photovoltaic Panel" research conducted by Università Iuav di Venezia in partnership with four companies. The research examined a new device that combines the photoelectric properties of photovoltaic panels with those of thermoelectric cells to increase the efficiency of energy production. This technology exploits heat exchange to produce energy in the absence of solar radiation, and marks a significant improvement in photovoltaic panel and thermoelectric cell technology. The research also verified the feasibility of the technology, and identified proposals for its use in architectural envelopes and in the transport sector.
Downloads
Download data is not yet available.
References
Çengel, Y., & Cirillo, E. (2005). Termodinamica e trasmissione del calore (Seconda ed.). Milano: McGraw-Hill.
ABB SACE. (2013). Quaderni di applicazione tecnica N.10 - Impianti fotovoltaici. Bergamo: ABB SACE. Tratto da https://library.e.abb.com/public/131946ab9ae0a2f0c1257bba00325a36/1SDC007109G0903.pdf
Ai, Y., Liu, Y., Cui, T., & Varahramyan, K. (2004). Thin film deposition of an n-type organic semiconductor by ink-jet printing technique. Thin Solid Films, 450, p. 312-315. doi:https://doi.org/10.1016/j.tsf.2003.11.187
Barry H. Lynn, I. M. (2020). The impact of cool and green roofs on summertime temperatures in the cities of Jerusalem and Tel Aviv. Science of The Total Environment, 743. doi:https://doi.org/10.1016/j.scitotenv.2020.140568
Kasap, S. O. (2018). PRINCIPLES OF ELECTRONIC MATERIALS AND DEVICES (FOURTH EDITION ed.). New York: McGraw-Hill Education.
Narayanan, R. (2017). Clean Energy for Sustainable Development (Vol. Chapter Seven - Heat-Driven Cooling Technologies). (A. k. Mohammad G. Rasul, A cura di) Academic Press. doi:https://doi.org/10.1016/B978-0-12-805423-9.00007-7
Tercan, Ş. H., Eid, B., Heidenreich, M., Kogler, K., & Akyürek, Ö. (2021). Financial and Technical Analyses of Solar Boats as A Means of Sustainable Transportation. Sustainable Production and Consumption, 25, p. 404-412. doi:https://doi.org/10.1016/j.spc.2020.11.014
Tiano, F. A., Rizzo, G., Marino, M., & Monetti, A. (2020). Evaluation of the potential of solar photovoltaic panels installed on vehicle body including temperature effect on efficiency. eTransportation, 5. doi:https://doi.org/10.1016/j.etran.2020.100067