Vol. 19 No. 2 (2021): n° 2 luglio-dicembre 2021
Articles
Distance Education and Parental Role, in Italy. Evidence-Based Reflections from an International Survey, after the First Lockdown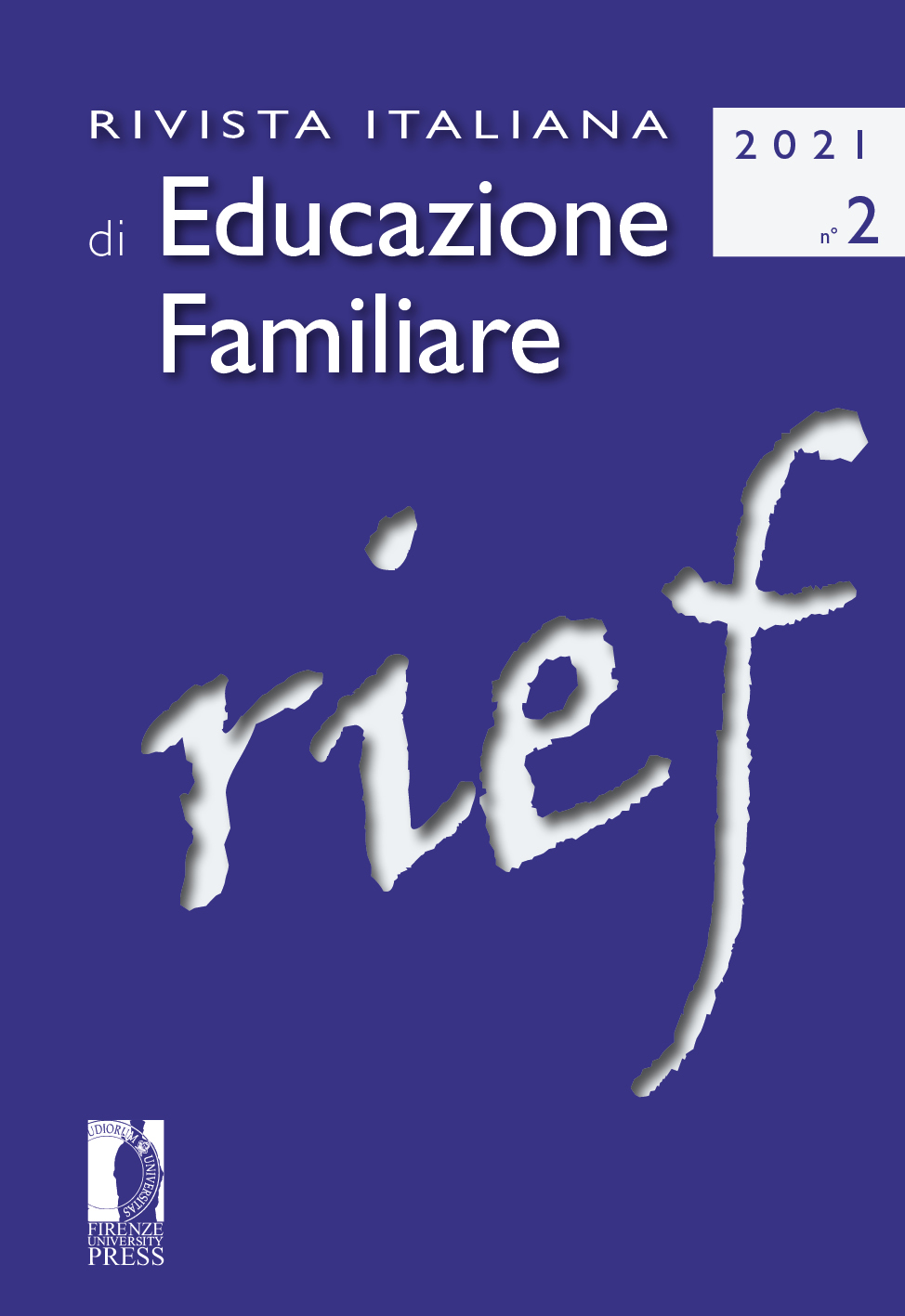 Published
December 23, 2021
Keywords
Covid-19 pandemic

,

ICIPES

,

school-family relations

,

distance education

,

parental engagement
How to Cite
Mori, S., Panzavolta, S., & Rosa, A. (2021). Distance Education and Parental Role, in Italy. Evidence-Based Reflections from an International Survey, after the First Lockdown. Rivista Italiana Di Educazione Familiare, 19(2), 179-200. https://doi.org/10.36253/rief-10292
Copyright (c) 2021 Sara Mori, Silvia Panzavolta, Alessia Rosa
This work is licensed under a Creative Commons Attribution 4.0 International License.
Abstract
This paper presents the analysis of the data from the International Covid-19 Impact on Parental Engagement Study (ICIPES) 2020, an international survey investigating the ways in which parents and caregivers were able to build capacity to engage with children's learning during the period of social distancing arising from the global Covid-19 pandemic. The survey was coordinated by the University of Bath and involved 23 partner countries, among which the "IUL- Italian University Line" representing Italy. The domains investigated were parental engagement; school support for parents and children; home-schooling and family life balance, and confidence in the use of technology. The pandemic has shown several obstacles that families had to face daily in their attempt to educate their children, especially in a period where no previous models could be taken as a reference point. Therefore, it represents a unique historical opportunity for researchers and policymakers to understand all the lessons learnt from this global emergency and work closely with families, to support them in
engaging with children's learning. The Authors of this contributions, as well as the other partners worldwide, believe that school-family relations are far from being collaborative and supportive, especially in certain age levels, and that much needs to be done to co-design learning opportunities bearing in mind a more ecological vision, with formal, informal and non-formal learning occasions be intertwined and interconnected. In sight of the abovementioned framework, the analysis shown in this paper focuses on the Italian data set.