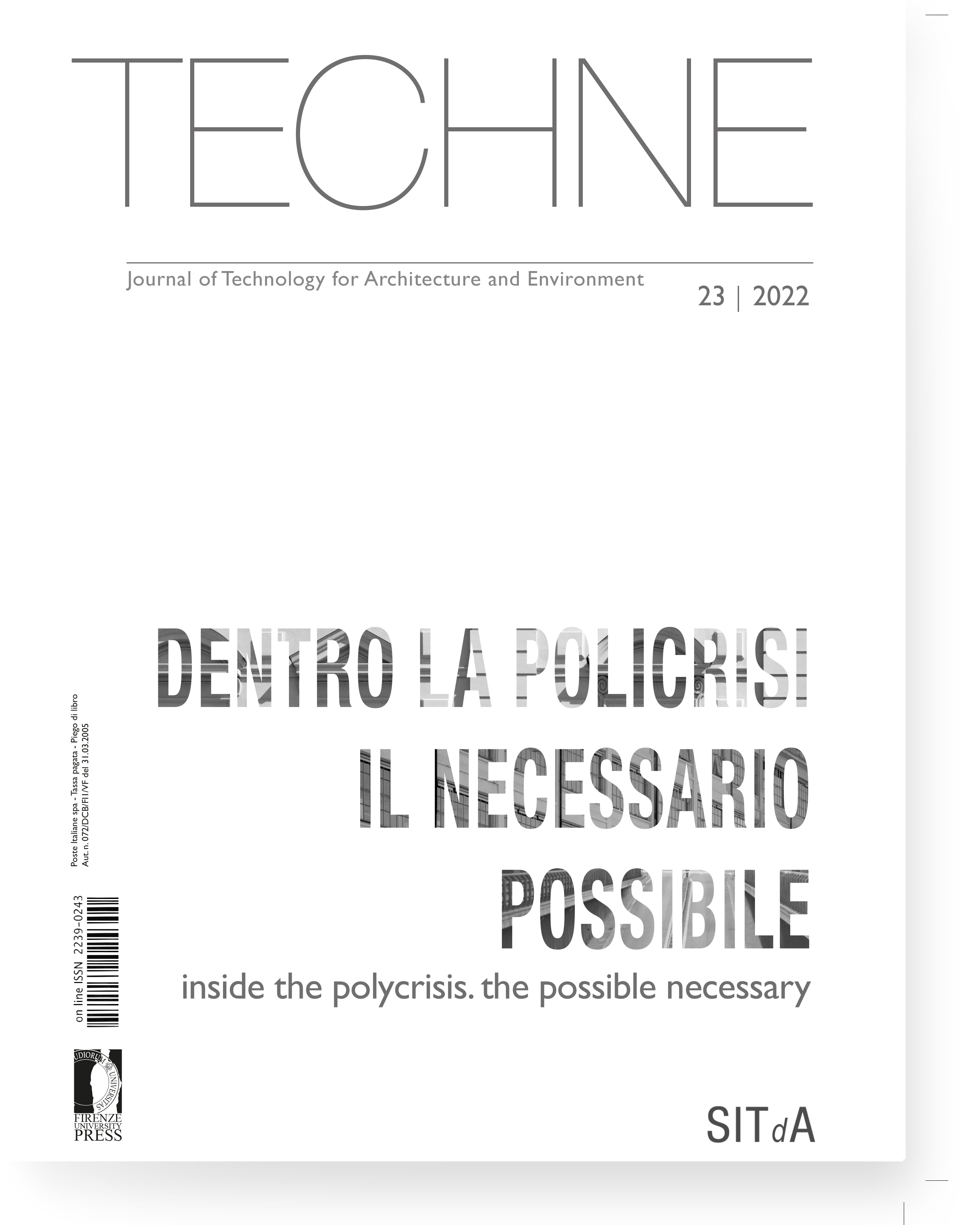 Published 2022-03-17
How to Cite
Violano, A., Alini, L., & Portoghesi, P. (2022). Living poetically places. TECHNE - Journal of Technology for Architecture and Environment, (23), 270–280. https://doi.org/10.36253/techne-12920
Abstract
The changing and evolving forms of crisis, to which Architecture is asked to give an answer, lead to a metamorphosis not only of the spaces of contemporary living but also of the way of thinking about them as an opportunity to design a "Possible Quality". Abandoning the logic of waste and increasing awareness of "responsible freedom" by coming to terms with the "roots of change" is the mission to which we are called by current events. In relation to these events, we must have an optimistically concrete, feasible vision of the future, founded on historical memory and aware that progress and innovation have both strengths and weaknesses that must be managed with wisdom and humility. 
As Paolo Portoghesi tells us: Architecture is not only a noble mental exercise. The deep knowledge of the places, on which the architect's work has the responsibility and the privilege of leaving its imprint, leads to the prudent and responsible consideration: we must satisfy real human needs and not false demands. A responsible ecological vision leads us to recognize that every place on the planet is a sensitive receptor and the impulse of transformation rather than metamorphosis, whether beneficial or harmful, inevitably has repercussions in all the other part of the system, in a condition of preordained unstable equilibrium as in Alexander Calder's Mobiles.
In synthesis, architecture is an involving and infinite dialogue; on this issue, Paolo Portoghesi takes the floor, the predestined of architecture that "breathes, communicates, inflects and embraces us" with the awareness of the responsibilities we have towards future generations.
Downloads
Download data is not yet available.